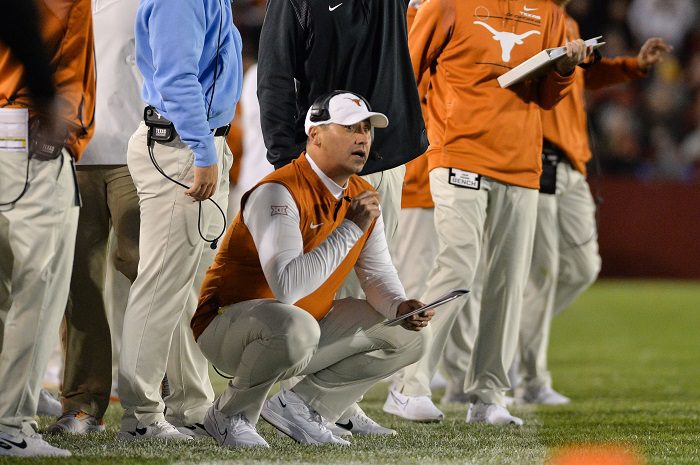 As we make our way into the final month of the regular season, the Big 12 title picture is starting to clear up. There are still plenty of important games left including a massive one in Manhattan, Kansas on Saturday night.
Texas is still fighting for their Big 12 title hopes as they already have two losses in conference play. Meanwhile, Kansas State is still in a great position to get to Arlington with a 4-1 record in the conference. A loss for either team would be devastating but a win would be huge as the conference title picture starts to clear up. Here are my three thoughts on Texas' 34-27 win over Kansas State.
1. Bijan Robinson Can't Be Stopped
Coming into this game, we all knew who the best player was on offense for Texas. It's running back Bijan Robinson, and it isn't even close. He's got the size, the speed, and the agility to make any defender look silly trying to tackle him. It's not easy making Kansas State's defense look silly but somehow Bijan managed to do that on Saturday night. He got 30 carries as he ran for 209 yards and a score while averaging an eye popping seven yards per carry. Not only did he get the job done on the ground, but he did it through the air as well with two key catches for 34 yards. The offense for Texas was all about Bijan Robinson and he delivered with a monster performance.
2. Kansas State's Comeback Fell Short
I will give credit to this Kansas State team because at one point in this game, I thought they were going to get blown out at home. The Wildcats were down 31-10 at halftime and they found a way to get back into the game. The defense buckled down and the offense finally found some life. Kansas State took advantage of a short field thanks to a fumble and Adrian Martinez punched one into the end zone for a score. Then late in the third quarter going into the fourth quarter, it took the offense just four plays to get another score to make it a 31-24 game. Both teams would trade a pair of field goals to make it 34-27 and somehow Kanas State found themselves with the ball down by seven with 2:30 left in the game. Adrian Martinez marched them down the field before fumbling the ball. It was a heck of a comeback for Kansas State, but they just couldn't quite complete it.  
3. Can Texas get to Arlington?
This game was big for the conference title picture. Texas already had two losses in conference play so a loss would have knocked them out of the race. But with the win over Kansas State (who also now has two losses), it puts them in second place in the Big 12 standings along with Baylor and Kansas State. Since they own the tie breaker against Kansas State, that means if Texas wins out then they will find themselves in Jerry World on December 3rd playing for a Big 12 championship. That is a long way from their 5-7 record a year ago. Of course, it is easier said than done and Texas has been an inconsistent team at times this season. Their next three games are against TCU, Kansas, and Baylor. By no means are those going to be easy games, but I am interested to see how this team builds off a big win like this.