Baylor Bears
Nebraska Considering Two Former Big 12 Coaches: Report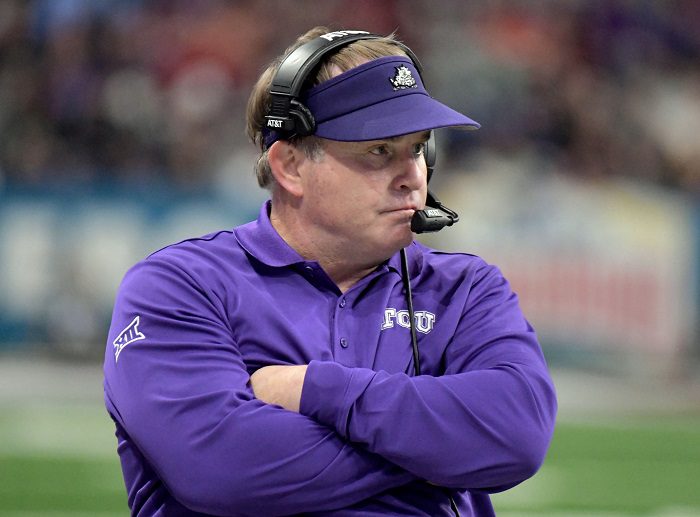 The Nebraska Cornhuskers are still searching for a full-time head coach after firing Scott Frost following a 1-2 start in 2022 and a 16-31 overall record.
For now, Mickey Joseph is serving as the interim head coach and has led the Huskers to a 2-4 record since he took over and a 3-6 overall record. Barring the possibility of Joseph being named the full-time guy, Nebraska will be looking for its next head coach from somewhere outside of Lincoln.
According to a report from John Brice from FootballScoop, there are two former Big 12 head coaches that are getting a look for the job: Gary Patterson and Matt Rhule.
Patterson, who is currently serving as a Special Assistant to the Head Coach at Texas, is reportedly being targeted as a candidate for the Nebraska coach and would certainly bring plenty of experience with him. Patterson spent 22 seasons as the TCU Horned Frogs head coach and was responsible for building the TCU program into what it is today.
Over his two decades of work, Patterson built a 181-79 record, a 113-59 record in conference play over four different conferences (WAC, C-USA, MWC, and Big 12), and a 11-5 record in bowl games, including a win in the 2011 Rose Bowl to cap off a perfect 13-0 season. At 62, Patterson is still plenty young enough to turn a program like Nebraska around, but would he take the job if offered?
Unlike Patterson, former Baylor head coach Matt Rhule has been all over the country as a head coach in both college football and the NFL. Most recently, Rhule served as the head coach for the Carolina Panthers from 2020-22 but was fired after a 1-4 start this season. Rhule's overall record in the NFL was 11-27 and his winning percentage got worse in each year with the Panthers.
The story of Rhule's career at the college level is quite different, as he took both Temple and Baylor from cellar dwellers to conference contenders. In Rhule's first year at Temple, the Owls were 2-10, but in his final year Temple went 10-3 and won the AAC. Similarly, Rhule was 1-11 in his first year in Waco but was 11-3 and played in the Big 12 Championship in his third year. His overall record between Temple and Baylor was 47-43, but he has proven his ability to take over programs and get them to the top quickly. Will he get the chance to do that at Nebraska, and if so, can he turn the Huskers into a Big Ten contender?