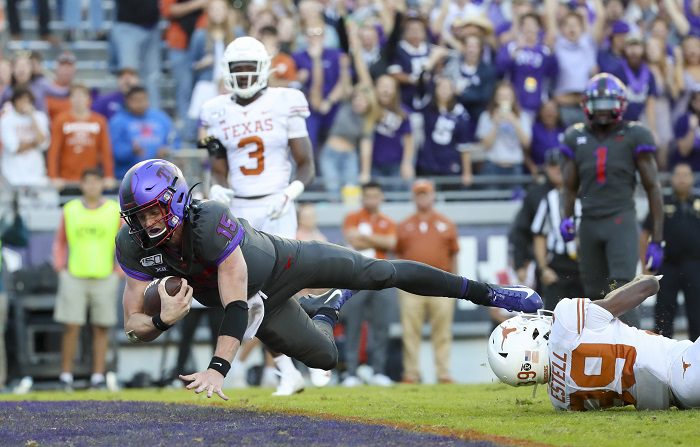 After winning one of the largest games of the season against K-State on Saturday, the Texas Longhorns find themselves just behind the TCU Horned Frogs in odds to win the Big 12 Conference. These odds come from Caesars Sportsbook and currently have the Horned Frogs listed at -120 odds to win the title, followed by Texas with +140 odds.
While TCU has been sitting firmly atop the Big 12 this season with a perfect 9-0 record, the Longhorns have clawed their way into a three-way tie for second place in the Big 12. Texas took down the Kansas State Wildcats (6-3) in Manhattan on Saturday 34-27 in what was likely their most important game of the season. With Kansas State and Baylor both sharing a 6-3 record (4-2 CONF), the Texas Longhorns now hold the tiebreaker over the Wildcats and have a matchup with Baylor to close out the season on November 25th.
Big 12 Championship Odds (Nov. 7)
TCU -120
Texas +140
Baylor +650
Kansas State +1000
Oklahoma State +4000
Kansas +15000
With the last few weeks of the season approaching, the path to Arlington is starting to become more clear. Iowa State, Oklahoma, Texas Tech, and West Virginia have all been eliminated from that conversation but multiple teams still have an opportunity for a final push for the title.
The Kansas Jayhawks are the last team to check in on the list with +15000 odds to win following their win over Oklahoma State on Saturday.
Speaking of the Pokes, they're now +4000 odds to win the Big 12, trailing K-State at +1000 odds, then Baylor with +650. Texas and TCU look to be the match up anticipated for Arlington, and with three massive weeks left, the answers should start to show up this weekend with TCU playing Texas and K-State traveling to Baylor.