Basketball
Baylor, Kansas Lead Big 12 in Odds to Win NCAA Tournament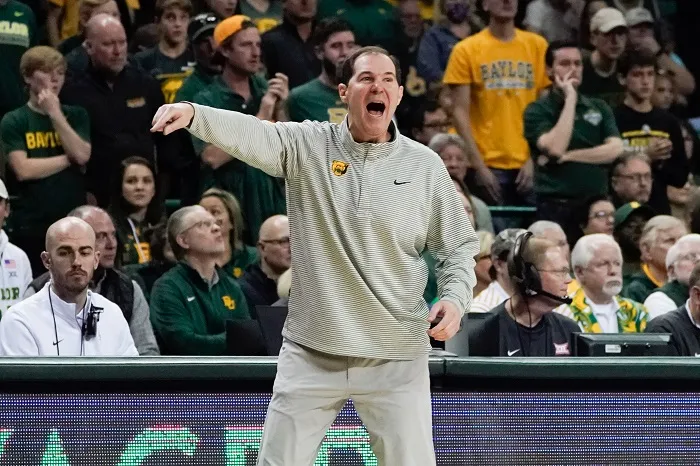 The Baylor Bears and Kansas Jayhawks have received the highest odds to win the 2023 NCAA Tournament. As the highly anticipated basketball season kicks off shortly, many fans anticipate the Big 12 having multiple dangerous teams with a shot to win the NCAA Tournament.
In an updated list from Bet Online, the Kansas Jayhawks and the Baylor Bears both share 14/1 odds to win the 2023 NCAA Tournament. Kansas looks to defend their title from last season in hopes of repeating with another talented roster. While Bill Self is suspended for the first four games of the season, the Jayhawks roster is primed and ready to go for another stellar year. With the Baylor Bears receiving odds equivalent to Kansas, the sentiment speaks volumes to the massive turnaround made in Waco.
Since the 2019-2020 season, Baylor is a combined 81-13 overall across all of college basketball. While Baylor and Kansas currently lead the pack from the Big 12, there are several other teams receiving odds from the conference.
Texas is currently listed with 28/1 odds to win, followed by Texas Tech with 50/1 odds, then TCU with 66/1 odds, Oklahoma with 100/1 odds, and all of the other Big 12 teams are receiving 150/1 odds or less to win the NCAA Tournament this season. As basketball season flares up the odds will start to fluctuate but for the moment, Kansas and Baylor are the co-favorites out of the Big 12 to win the title.