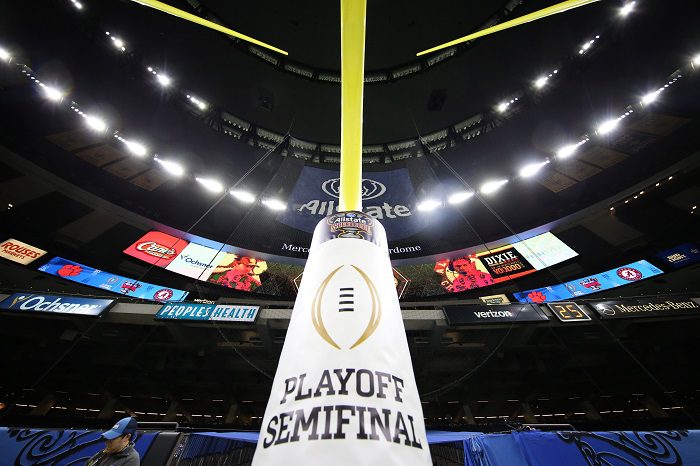 The month of November brings many things in the world of college sports. College football is in full swing, the start of college basketball begins and then of course we get the College Football Playoff rankings every Tuesday night.
There have been plenty of head scratching moments from the playoff committee on a weekly basis so I thought it would be fun to share my three thoughts on this week's playoff rankings.
1. Win and Get In
Due to all the movement in the top ten and their 9-0 record, TCU came in at number four for the College Football Playoff rankings on Tuesday night. The Horned Frogs are sitting behind Georgia, Ohio State, and Michigan as it stands. Plus, Ohio State and Michigan will play each other so there is a chance for TCU to move up another spot. However, TCU getting into the playoff will not be possible if they don't win out. The Horned Frogs have three games left on their schedule with Texas, Baylor, and Iowa State. They will need to win all three of those games and win a Big 12 championship game to stay in the top four. That will be a lot easier said than done but at least this team has a chance to do it because they are the Big 12's only hope to get into the playoff.
2. Texas is on the Move
After their win against a ranked Kansas State team, the Texas Longhorns moved up six spots from 24 to 18. There's no chance for Texas to make the playoff but they could play spoiler for TCU on Saturday night to completely ruin their playoff hopes. However, if they lose on Saturday, it will only help TCU's chances for a playoff berth as it will strengthen their resume.
3. Kansas State is Still Respected
There are only three teams in the top 20 who have three losses. Those teams are Texas, Notre Dame, and Kansas State. As much as I respect this Kansas State team, I was a bit shocked to see them still inside the top 20 despite suffering their third loss of the year. Why? Because they aren't one of those blueblood programs who always seem to be overrated because of the logo on their helmet.
4. Keep an eye on Tennessee
After being ranked as the number one team in the country, Tennessee got manhandled against Georgia last Saturday. Don't let that 27-13 score fool you because that game really wasn't that close at all. The reason I find their number five ranking interesting is because they are in the same division as Georgia who is the new number one team. That means Tennessee may not even have to play in the SEC title game and still make the playoff because Michigan and Ohio State will play each other on November 26th. All Tennessee needs is for Georgia to run the table and win an SEC title. Maybe a Pac-12 team like USC or Oregon can jump them, but I will need to see it to believe it.
5. Goodbye ACC
Clemson was the ACC's lone team in the top ten going into last weekend. The Tigers were ranked number four last Tuesday and after their embarrassing loss to Notre Dame on Saturday, they slid down six spots to number ten. Outside of Clemson, the next highest ranked team from the ACC is North Carolina who sits at all the way at number fifteen. When you look at Clemson's schedule, they won't face another ranked team until the ACC title game where they will likely play North Carolina. Even if Clemson beats North Carolina on conference championship weekend, there is no chance that they will find their way into the top four. Unless mass chaos happens in the top ten, then you can kiss the ACC's playoff chances goodbye.