Baylor Bears
Three Thoughts on Opening Night of Big 12 Men's Basketball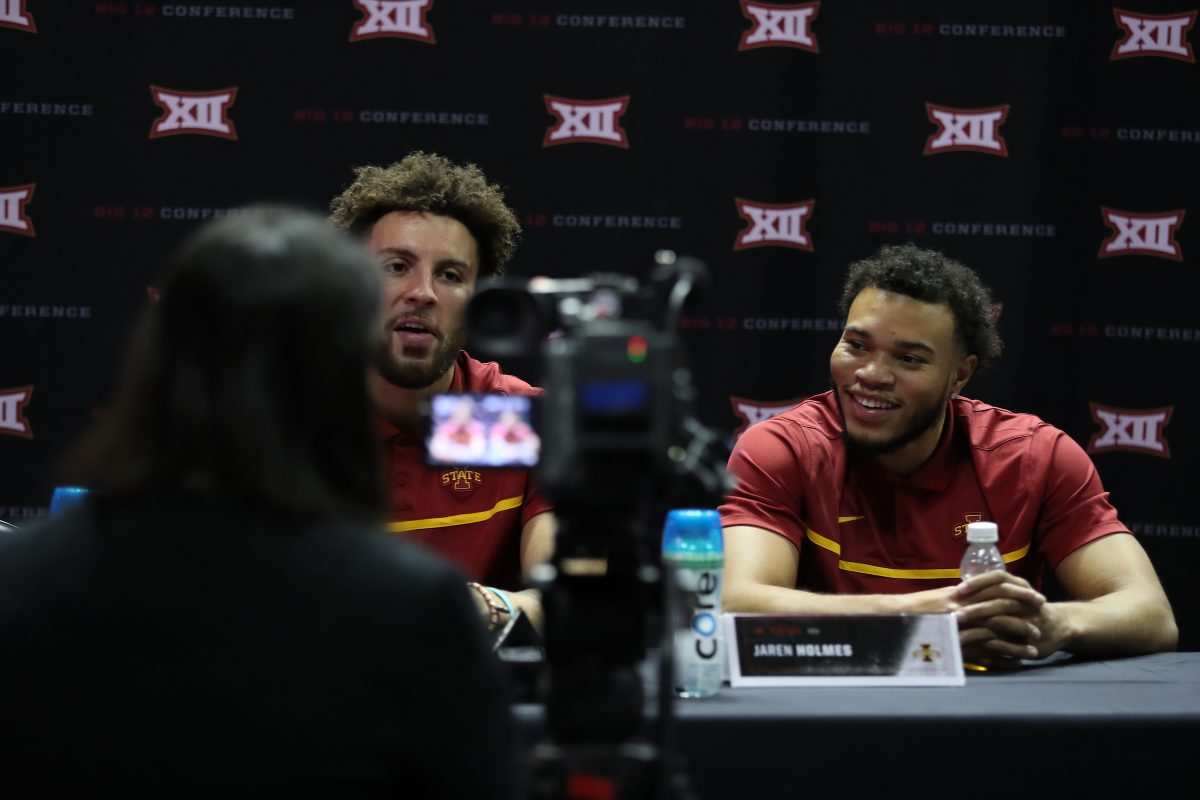 Monday was opening night for the Big 12 and men's college basketball. Here are three thoughts about how the Big 12 did on the night.
Don't forget — our Big 12 men's preview features the schedule, the results and other tidbits to keep track of throughout the week.
Jaren Holmes' Iowa State Debut
At Big 12 Media Day I asked Jaren Holmes a random question about the transfer portal. I asked him about the process and what happened when the former St. Bonaventure guard put his name in the portal. Well, it was a Friday night and his name dropped in the portal about 10 p.m., he said. Five minutes later, about to head out the door to a party, his phone rang.
I asked him who it was.
"Coach Otz," Holmes said, referring to Iowa State coach T.J. Otzelberger.
On Monday night Holmes showed everyone why Otz called him so fast.
Holmes scored 23 points on 8-of-16 shooting, including an eye-popping six 3-pointers as the Cyclones took care of business, 88-39. He also had four rebounds, two assists and three steals.
The Cyclones lost guards they expected to lose (Izaiah Brockington) and guards they didn't expect to lose (Tyrese Hunter) after last season's Sweet 16 run. Otzelberger had to rebuild the backcourt quick. Along with Holmes, he started holdover guard Caleb Grill and true freshman Tamin Lipsey, the Ames, Iowa product. Lipsey didn't score in his debut Grill had nine points, seven rebounds and two assists.
This was an auspicious debut for Holmes. The Cyclones need that scoring, and they'd love to see it stay at that level. He's averaged 13 points per game in his first two college seasons. Brockington averaged nearly 17 points per game last season. I think Otz and the Cyclones would settle for that from Holmes this season.
Baylor Lineup Thoughts
I figured Baylor would blow Mississippi Valley State out, as the Bears beat the Delta Devils (great nickname, by the way), 117-53. I was more interested in the rotation coach Scott Drew would use. In a game like this, it's easy to distribute minutes. But there's nuance in the deployment.
I was mildly surprised that he went with West Virginia transfer Jalen Bridges in the starting lineup, only because I thought BYU transfer Caleb Lohner might be a better fit. But Bridges has always run the floor well, and his 13 points was a good start to his season. Lohner played 15 minutes and scored seven points. But Lohner's overall line was intriguing — five rebounds, two assists and two steals.
Otherwise, I expected guard Langston Love to come off the bench, and he scored 13 points in 20 minutes.
But the truly intriguing piece was Josh Ojianwuna, a true freshman from Nigeria. The 6-foot-10 forward played 15 minutes, scored nine points and had seven rebounds. Is that an outlier, based on the opponent? We'll see. But he has special leaping ability, that's for sure.
Drew played seven players at least 20 minutes on Monday — Bridges, Love, Flo Thamba, Keyontae George, LJ Cryer, Adam Flagler and Dale Bonner. I'm interested to see if those seven get the highest concentration of playing time as the season gathers steam.
Is This the Real Emmitt Matthews Jr.?
Before Matthews transferred away from West Virginia to go to Washington, I always felt there was untapped potential there. It just never quite came together for him. In his final season with the Huskies, 2021-22, he finally cracked double figures, averaging 11.8 points. But his rebounding average was still below five per game.
His line against Mount St. Mary's caught my eye — 15 points, seven rebounds, five assists and two steals. The assists were really out of line with his college career, where he's averaged less than an assist per game. The Mountaineers won the game, 76-59.
Now, it's logical to not draw too many conclusions from one game, especially one against a mid-major opponent. The offense is supposed to flow through point guard Kedrian Johnson, who coach Bob Huggins said has greatly improved from last season.
But if the 6-foot-7 forward can deliver lines like that on a regular basis, then I'm going to be less worried about West Virginia this season.
Links to Use
Rankings
AP Top 25 | USA Today Top 25 | Ken Pomeroy
Team Schedules, Results
Baylor | Iowa State | Kansas | Kansas State | Oklahoma | Oklahoma State | TCU | Texas | Texas Tech | West Virginia
Tournaments
Big 12 Men's Tournament | NCAA Tournament
Bracketology
You can find Matthew Postins on Twitter @PostinsPostcard