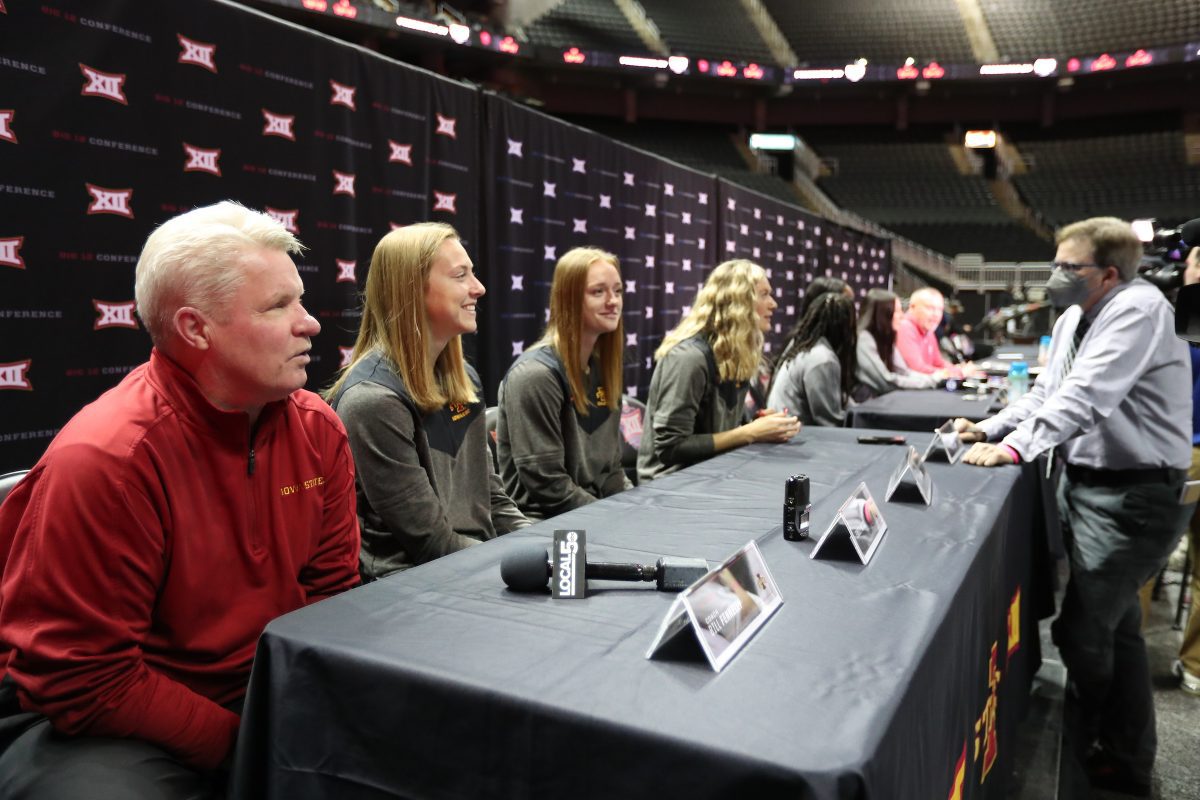 Monday was opening night for the Big 12 and women's college basketball. Here are three thoughts about how the Big 12 did on the night.
Don't forget — our Big 12 women's preview features the schedule, the results and other tidbits to keep track of throughout the week.
The Stephanie Soares Experiment Begins
I think Iowa State center Stephanie Soares is the single most intriguing new player in the Big 12. She's making the significant transition from NAIA basketball — where she was a two-time national player of the year and averaged a double-double — to Division I basketball. She's also doing it with a Top 10 team and the Iowa State Cyclones.
When I talked with coach Bill Fennelly at Big 12 media day, he acknowledged that the step-up in competition is going to be Soares' biggest hurdle. The talent is there, he told me. He also said he's been telling everyone to judge Soares by where she is in March — when ISU truly needs her — and not in November.
But, geez, she set an early bar against Cleveland State, an 87-54 win for the Cyclones. She had a double-double — 15 points and 14 rebounds. She also had three assists, four steals and four blocked shots. The 6-foot-6 center showed off the shooting range, too, with a 3-pointer.
This is still Ashley Joens' team, of course, and she filled it up — 28 points, 11 rebounds and five assists. Fennelly's hope is that Soares can rebound and defend at a high enough level to take some of the heat off Joens in those areas so that the fifth-year senior can score just a little bit more and be a rebounder just a little bit less.
It could make a difference come March.
Oklahoma's Defense
Also in Kansas City, I talked with Oklahoma coach Jennie Baranczyk about the Sooners' defense from a year ago. I asked her if the six-point differential between her team's points per game (82.6) and her opponents' points per game (76.9) was a product of the way they play offense or a need for improvement on defense.
She laughed and said, "It's a little of both."
Well, welcome to a little of both. The Sooners scored 105 points against Oral Roberts, but they also gave up 94. That's probably not sitting well with Baranczyk.
ORU is a good team. But the Sooners are much better and giving up 94 points in a season opener isn't the start that Baranczyk was hoping for.
Now, the Sooners don't need to become a lock-down defense in the mold of Texas. But, if they can carve out a scoring differential that is double last year's six points, it would indicate their defense has improved. That can certainly still happen. But I think the takeaway is that there's more work to do.
Meanwhile, Taylor Robertson continued her pursuit of the NCAA's 3-point record, draining three more. Meanwhile, Ana Llanusa is back in the starting lineup after missing most of last season due to injury and scored 13. I didn't expect her to start, honestly. She played 22 minutes. Madi Williams led with 19 points, and Skyler Vann came off the bench with 18 points.
So, no offensive issues, obviously.
Jacie Hoyt's OSU Debut
Jacie Hoyt's first game leading Oklahoma State went well, as the Cowgirls defeated UT-Rio Grande Valley, 95-63.
Five different players were in double figures, most notably forward Lior Garzon, who came off the bench to lead them with 19 points. The Villanova transfer made that impact in 23 minutes. She also drained five 3-pointers.
Hoyt has to like what she got out of a couple of holdover players, Taylen Collins and Lexy Keys. Collins had a double-double — 10 points and 12 rebounds. Keys had 13 points, along with three 3-pointers.
It's going to take a while to see where this team goes. When I talked with Hoyt in Kansas City, she has a clear direction she wants to go, and it starts with tough defense. Holding UTRGV to 63 points is a pretty good start.
Notably, another holdover, forward Kassidy De Lapp, did not play for undisclosed reasons, per the Tulsa World. Hoyt described her as "day-to-day" right now. De Lapp was complimentary of the changes that Hoyt had made to the program during media day interviews.
Links to Use
Rankings
AP Top 25 | USA Today Coaches | NCAA NET
Team Schedules, Results
Baylor | Iowa State | Kansas | Kansas State | Oklahoma | Oklahoma State | TCU | Texas | Texas Tech | West Virginia
Tournaments
Big 12 Women's Tournament | NCAA Women's Tournament
Bracketology
You can find Matthew Postins on Twitter @PostinsPostcard