featured
Tirade Tuesday: The 'State' of Oklahoma and Oklahoma State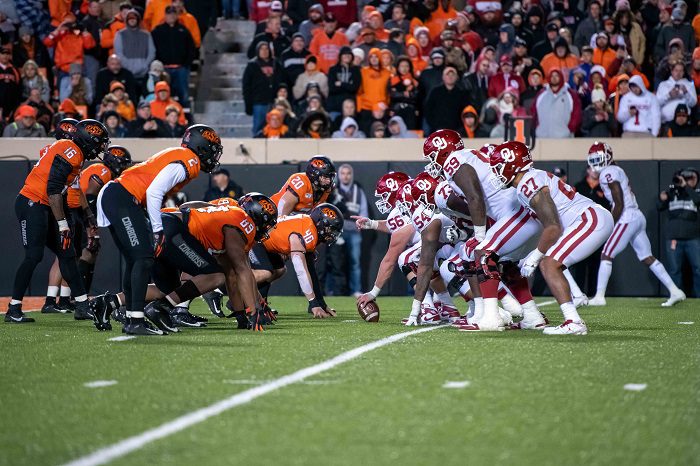 In this week's edition of Tirade Tuesday, we check in on the 'State' of Oklahoma, both in means of the two schools that reside in the physical state of Oklahoma and the mental state of the fan bases that don Crimson and Cream or America's Brightest Orange.
Both the Sooners and the Cowboys are coming off of crushing defeats at the hands of Baylor and Kansas respectively and with that are starting to fade into obscurity.
Oklahoma was mathematically eliminated from Big 12 contention with their loss this week, although they were never going to make it there playing the quality of defense they have been.
Meanwhile, Oklahoma State will need to win each of its next three games to even have a chance at getting in, but are we confident they can win even one of those games with the way they have looked in each of the last two weeks?
Let's check in on the fanbases and see how things are going in Norman and Stillwater.
Sooner Schooner in Shambles
After a 38-35 loss to Baylor, Oklahoma sits at 5-4 through nine games and 2022 now marks the first time since 2014 that OU has lost more than twice in a season. In fact, in every year since 2014, the Sooners lost exactly two games. That's not relevant, just an odd statistic.
Since Bob Stoops took over the Oklahoma program in 2000, the Sooners have been a model of consistency. In 18 of the last 22 years, OU had won double-digit games, but for the fifth time in 23 years, that won't happen in Norman. No, statistically speaking, Oklahoma has been due for a "rebuilding" year for about three years now. Since 2000, on an average of about every five years, the Sooners will lose four or five games and turn things back around the following year. In 2022, OU was heading into its eighth year without doing so, so naturally, it was bound to happen.
Well, if you ask PicklemansCafe69 on Oklahoma's Rivals message board, this isn't what's happening. No, the Sooners are paying for their sins and are set to enter a dark age in Oklahoma athletics.
There is an entire group of individuals (rather vulgar I must add) that are ready to sell Brent Venables down the river, for a second time no less, because his defense "sucks."
Yes, the same defense that led Clemson to two national championships and ranked in the top 10 statistically nearly every year that Venables called the defense in Clemson, South Carolina. Perhaps this isn't a scheme issue, but a personnel issue in a coach's first year (Is that too rational?).
Sooner fans were due for a bad year and they aren't taking it too well. Although, how can they be expected to act? They've won the Big 12 title 15 times in the last 22 (make it 23) years.
Cowboys' "Culture Problem"
The Oklahoma State Cowboys have won more games over the last decade than 120 other FBS programs. Between 2012 and 2021, Oklahoma State won 90 games, which ranks 10th in the country, just behind Oregon (91) and tied with LSU (90).
Pokes' head coach Mike Gundy has built a program that has stood the test of time and since he took over in 2005, OSU has been to a bowl game in every year (sans his first). That is a sign of a strong culture and one of the nation's most underrated programs that seemingly does more with less each and every year.
However, after two bad losses, the most recent being a 37-16 loss at Kansas, pokefan4life believes that there is a culture problem in Stillwater and that Gundy has lost his team.
Osucowboys344 agrees, and says that any good coach will "beat Gundy to a pulp."
I would argue that Mike Gundy is one of the best coaches in America, and he is just a year removed from a 12-2 season and a Fiesta Bowl victory. How on earth is there a culture problem in Stillwater? Here's an idea: maybe the turnover from last year's roster and coaching staff was too much to overcome in one offseason?
If you want to make the argument that Gundy should change his mindset toward the portal, or something to that effect, then I will hear you out. But to simply slap a sticker on the issue and call it a culture problem is lazy fandom. Be better.
Bedlam is coming up next weekend, and one of these teams will have to lose another game, which means that fanbase will likely end up right back here, but until then let's hope that things get better in the Panhandle State.