Baylor Bears
Big 12 Football Bowl Projections Entering Week 11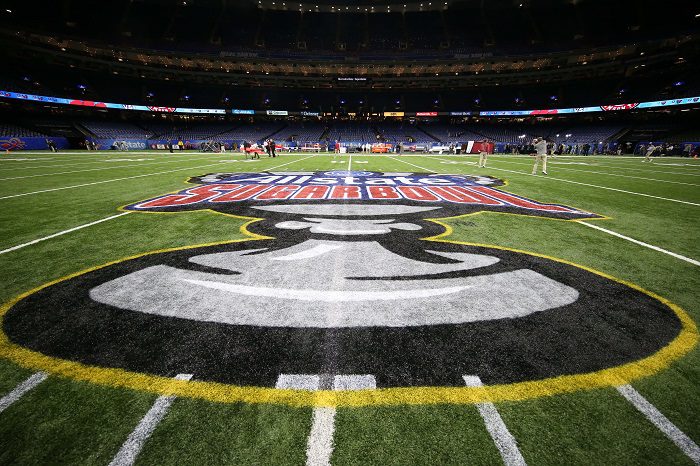 We are now ten weeks into the college football season, and it is time to start thinking about bowl games. There are still plenty of important games to get through and three weeks of the season left, but it is never too early to start thinking about the postseason.
Jerry Palm from CBS Sports recently released his latest college football bowl projections. It is always interesting to see how things change from week to week but here is what he currently has listed for the Big 12.
Fiesta Bowl (CFP)
TCU vs Ohio State
Finally, we have a Big 12 team back in the playoff. At the beginning of the season, Oklahoma was projected to get to the playoff. Now with TCU sitting at 9-0, they are the Big 12's only hope to get back into the final four. The Frogs still have some tough matchups ahead but as long as they keep winning, they will be in.
Sugar Bowl
Texas vs LSU
The last time Texas played in a NY6 bowl; this was the bowl game they were in. That year they faced Georgia and put a beat down on them. However, playing LSU in New Orleans is an extremely tough task for any team. With that said, getting Texas back to a big bowl game is a huge step for Steve Sarkisian getting this program back on track.
Alamo Bowl
Oklahoma State vs UCLA
I am sorry but I just don't see Oklahoma State playing in the Alamo Bowl this year. They are coming off embarrassing back-to-back losses and look like a team who is on a downward spiral. Maybe they can find their way back into the win column, but I don't see that happening with the injuries they have.
Cheez-It Bowl
Kansas State vs North Carolina
Don't be surprised to see Kansas State jump to the Alamo Bowl if they can win some more games. The Wildcats are still in the mix for a Big 12 title, but they will need some help getting there.
Texas Bowl
Baylor vs Arkansas
Much like Kansas State, Baylor has a chance to get to a better bowl spot on the list. The Bears still have Texas and TCU left on their schedule. If they win out, then they will be playing for a Big 12 title once again in December. Keep in mind that there are still some big games left on the Big 12 schedule coming up.
Liberty Bowl
Kansas vs Missouri
We longer need to worry about if Kansas will get to a bowl game because they will be playing in one after beating Oklahoma State last weekend. With that win, Kansas is now bowl eligible for the first time since 2008 and I know Jayhawk fans must be excited and so am I.
Guaranteed Rate Bowl
Oklahoma vs Iowa
This is certainly not the bowl game Oklahoma fans want to be in but at least they are playing a power five opponent. This program could use those extra bowl practices to help get ready for next season.
First Responder Bowl
Iowa State vs UNLV
I have said for weeks that it doesn't matter what bowl game Iowa State find itself in as long as they get to one. This team still must win two out of their final three games to get to six wins, but it is very possible with Oklahoma State, Texas Tech, and TCU left on their schedule.