featured
Kansas is Bowl Eligible, Still in Play for Big 12 Championship Appearance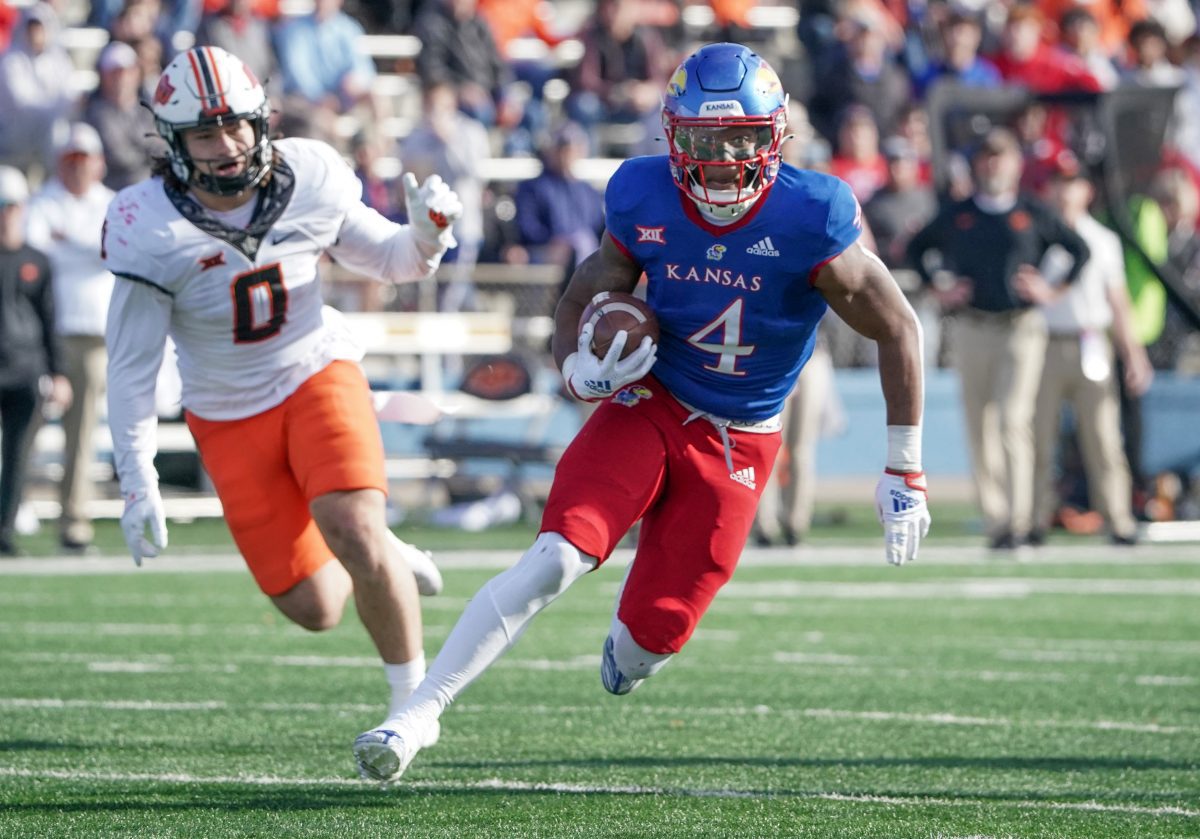 The Kansas Jayhawks are going bowling for the first time since 2008. A 37-16 win over Oklahoma State last Saturday put the Jayhawks in line to make their first bowl game in 14 years.
Led by one of the greatest performances in Kansas Jayhawk football history, Devin "the real deal" Neal finished the game with 224 yards rushing and 110 yards receiving and scored the game's first touchdown to get the Jayhawks off to a good start.
Before the game, there was speculation whether quarterback Jalon Daniels would be back in the lineup after practicing all week and joining the team for warmups, but backup quarterback Jason Bean made another start for the Jayhawks. Bean made the most of what could be his final start in a Kansas uniform.
Bean finished the game with 203 yards passing and two touchdowns along with 93 yards rushing, including one of the best plays of the day on a 73-yard read-option keeper where he broke one tackle and sprinted past several defenders all the way to the end zone to give the Jayhawks a 17-7 lead in the second quarter. This touchdown run by Bean came immediately following Oklahoma State's first and only touchdown in the first half, giving Kansas the momentum back.
The Jayhawks wouldn't relent and increased their lead to 31-7 by the midway point of the third quarter. Oklahoma State freshman quarterback Garrett Rangel made the first collegiate start of his career and looked rattled early and often. He ended up throwing for over 300 yards in his debut but the three interceptions were costly.
The return of cornerback Cobee Bryant, who was injured during the Oklahoma game a few weeks ago, made a huge impact. The "hawk mamba" was all over the field and made a critical interception early in the game as Oklahoma State was nearing the red zone. Rich Miller and Ra'Mello Dotson added interceptions as the game progressed.
The defense, which needed to show they could step up in a big way, did just that. Yes, it was against a freshman quarterback, but the Jayhawks did exactly what they needed to do throughout the game. Team captain Kenny Logan Jr led the team with eight tackles. Rich Miller not only had the takeaway but had a sack and tackle for loss. Ohio State transfer Craig Young was all over the field and added five tackles and a sack. Big-time players stepped up to make big-time plays on both sides of the ball for the Jayhawks.
Now this Kansas football team, and their fans, can officially look forward to a bowl game. However, there is a scenario in which Kansas can play its way into the Big 12 Championship game. The current standings see undefeated TCU (6-0) at the top followed by Texas (4-2), Baylor (4-2), and Kansas State (4-2) before Kansas (3-3). Stick with me here, this is what needs to happen.
To keep things simple, Kansas needs to win out against Texas Tech (away), Texas (home), and Kansas State (away).
In that scenario, Kansas would hold the tie-breaker against Texas and Kansas State if they all finished the season with three conference losses. However, Kansas would need help from Texas and Kansas State to get there.
Baylor plays Kansas State, TCU, and Texas to close out the season. Since Baylor beat Kansas head-to-head, they will need to lose two of their final three in this scenario, which is very possible.
If Kansas wins out and Baylor loses at least two more games, the Jayhawks would get a rematch against TCU in the Big 12 Championship game on December 3rd at 11 am at AT&T Stadium in Arlington, Texas. That would also put Kansas at nine wins on the season with a chance to get to double-digit wins.
Technically Kansas could lose to Texas Tech and then beat Texas and Kansas State in order to make it to the Big 12 Championship game, but then things would get pretty complicated. Baylor would then need to lose their final three games, Kansas State would need to lose at West Virginia, and Texas would need to lose at home to TCU this Saturday. All possible scenarios, but Kansas winning out would give them the best chance.
As the rest of this season still needs to be played out, the latest bowl projections for Kansas have been interesting. CBS Sports projects Kansas to play Missouri in the Liberty Bowl in Memphis, Tennessee on December 28th. 247 Sports has Kansas playing UNLV on December 27th in the First Responders Bowl in Dallas, Texas. The USA Today projects Kansas to play Iowa in the Guaranteed Rate Bowl in Phoenix, Arizona on December 27th. Sports Illustrated has Kansas playing Kentucky in the Texas Bowl in Houston on December 28th.
If Kansas keeps winning it will be interesting to see how these bowl projections continue to shake and shift each week. No matter what bowl the Jayhawks play in, fans will be sure to flock to it as they get their first chance at postseason football since 2008. Kansas has made the leap under head coach Lance Leipold and they want to continue to build even more through the end of the season.