featured
Fact or Fiction Friday: Neal Brown Out, Gonzaga In, Big 12 Adding Pac-12 Teams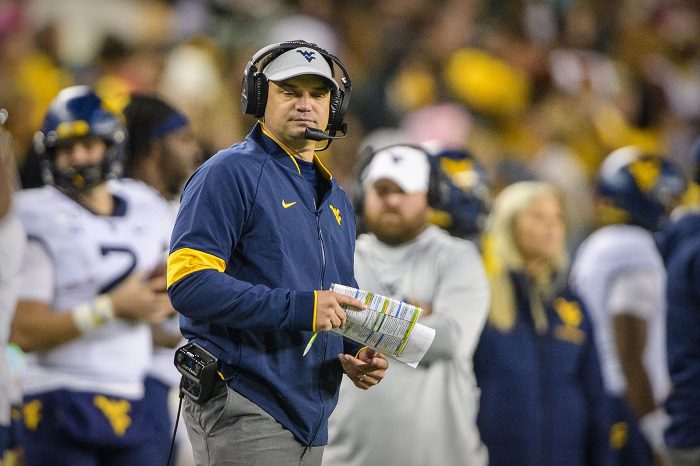 Welcome to Fact or Fiction Friday. Each Friday I give you the opportunity to ask the most intriguing questions in the Big 12 Conference and I will tell you whether they come true or if they are set to fail. Let's crack it open and see what we have in store this week.
The College Football Playoff selection process is a joke.
Fact: Anyone who roots for a Big 12 team (outside of Texas and Oklahoma) knows that this playoff committee is a complete joke. It doesn't matter who the chairman is or who the people are in the room because it is the same song and dance every single year. The bluebloods with the popular helmet logos get overrated while the others are often overlooked. It's obvious that the goalposts are moved to fit whatever flimsy narrative that the committee is trying to spew out. For instance, last week an undefeated TCU team had a better resume than five teams ahead of them and even a one-loss Alabama team was in front of them. The lack of respect for the Big 12 is sickening and I am so glad to be a part of something to help give the conference a backbone.  
West Virginia Head Coach Neal Brown will be fired after the season.
Fact: I will be completely honest; I have no idea if West Virginia has the cash to fork up the 20 million dollars owed to Neal Brown if he gets fired before January 1st of 2023. But it may not be a bad idea to start asking those donors if they can help out with the buyout because Neal Brown should be gone as soon as this 2022 season is over. Brown has a record of 20-24 in his fourth year in Morgantown and has a Big 12 record of 12-20. That is unacceptable and so is his 3-6 record this season. West Virginia still has three games left against Oklahoma, Kansas State, and Oklahoma State. As much as I hate to say it but there is no chance that this team will finish better than 4-8. In year four as the head coach, that record is a complete joke, and he should be gone.
Gonzaga will add football and join the Big 12.
Fiction: Gonzaga hasn't had a football team since 1941 and I don't think that is going to change anytime soon. I am clueless when it comes to college basketball because I don't keep up with it, but I do know that adding Gonzaga's basketball program would be huge for the Big 12 Conference. The Big 12 is always fairly deep when it comes to basketball and adding a program like Gonzaga would only make the conference even tougher.
TCU will stop the run game of Texas on Saturday.
Fact: Texas has a strong running game led by arguably the nation's top running back Bijan Robinson. He's big, quick, and has the moves to make defenders look silly trying to stop him. However, he can be contained, and I believe TCU will focus entirely on trying to slow him down. This is going to force Texas to throw the ball with Quinn Ewers which should be very interesting to see those Texas wide receivers go against TCU's secondary.
The Big 12 will add two Pac-12 schools in 2023.
Fact: When the Big 12 television deal news came out, it drew a lot of national attention. Why? Because nobody thought the Big 12 was going to get as much money as they did. The Pac-12 has yet to make a deal and I believe that it will be lower than what the Big 12 gets. Plus, the schools won't lose any money if the Big 12 does end up adding schools. At the end of the day, some of these Pac-12 schools are going to look at the money the Big 12 is going to get and want in. It is going to happen hopefully sooner rather than later.