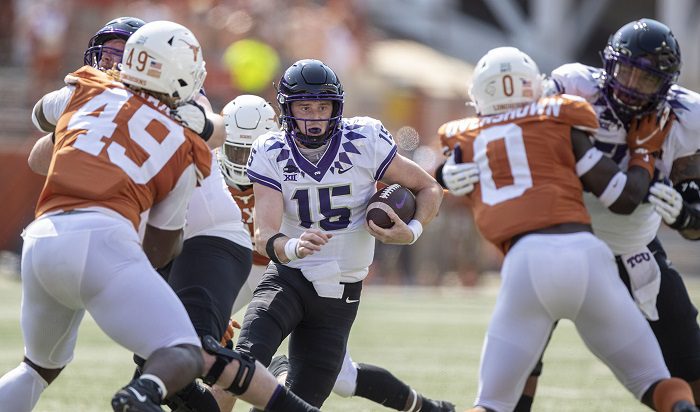 The Big 12 has been among the most unpredictable conferences in America this season, and that has really shown up on the boards in Vegas through seven weeks of football.
Coming into Week 11, underdogs in Big 12 play are 11-19 straight up, and just one team remains undefeated in conference play, as TCU sits atop the league at 8-0.
Despite this crazy season, the Heartland College Sports staff has weathered the weekly storm to stay ahead in its locks of the week. Through nine weeks, their combined record is 23-14-1, with Pete sitting at 8-2 on the year and Bryan just behind at 7-2-1. Let's see if they can keep things going here in Week 11.
PETE MUNDO (RECORD: 8-2)
I never thought I'd do this. NEVER. But Iowa State is a favorite in Stillwater this week and it actually makes sense. OSU is a reeling, banged-up team that has lost three of four and likely won't have Spencer Sanders as they go up against the Iowa State defense that finally got a win last week and has some confidence on the offensive side after scoring 31 vs. WVU last week. As for that offense, it goes up against an Oklahoma State defense that has been absolutely torched in recent weeks, giving up over 80 points the last two games, plus 350 yards in just the first half against Kansas last week. Give me the Cyclones to win and cover!
LOCK: Iowa State (-1)
BRYAN CLINTON (RECORD: 7-2-1)
Somehow, the No. 4 team in the nation is getting 7.5 points to a 6-3 Texas Longhorns team, and I'm not really sure why. Quentin Johnston was out last week with a The Horned Frogs' offense is scoring 43.1 points per game, and that alone tells me that they can win this game. While Texas is good at home, I think that TCU is starting to smell blood in the water with regard to a Big 12 championship and a College Football Playoff appearance, and a win over an inconsistent but talented Longhorns team will get them one step closer to achieving that. However, if the Frogs do falter and drop a game, it will be by less than a touchdown.
LOCK: TCU (+7.5)
DEREK DUKE (RECORD: 4-4)
This is a huge game and is my Big 12 game of the week. The loser of this one is completely out of the Big 12 title picture and the winner will keep their hopes alive. Kansas State is a good football team, but they have moments where they don't look like a top team in the conference. Meanwhile Baylor is getting hot at the right time late in the season. Plus, this will be a night game in McLane Stadium and the crowd will be rocking. Give me the Baylor cover.
LOCK: Baylor (-2.5)
MATTHEW POSTINS (RECORD: 4-6)
C'mon. TCU has won four of the last five in Austin. They're also 7-1 when they're one of the featured teams on College Gameday and 3-0 when on the road. I don't know much about gambling. But I know enough about TCU to know that if they lose this game it won't be by more than seven points.
LOCK: TCU (+7.5)