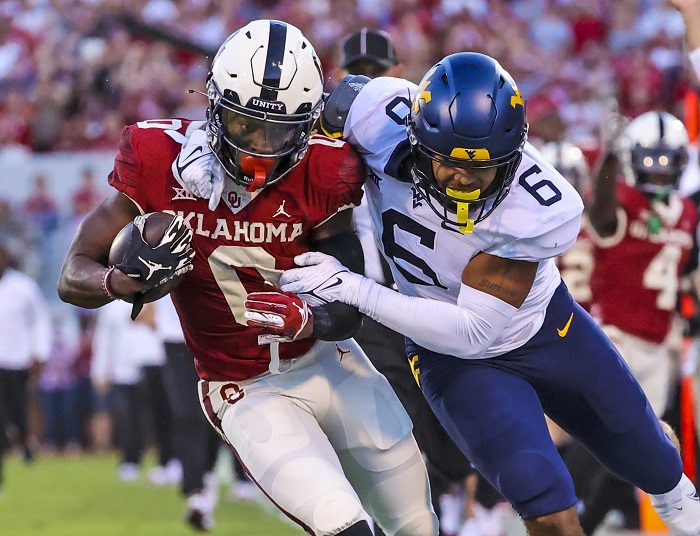 Here is everything you need to know about the upcoming matchup between the Oklahoma Sooners and the West Virginia Mountaineers.
GAME INFO
Saturday, November 12, 2022; 11:00 a.m. CT; Milan Puskar Stadium; Morgantown, West Virginia
TV: FS1 (Adam Alexander, Devin Garnder)
Radio: Sooner Sports Radio (Toby Rowland, Teddy Lehman, Gabe Ikard, Chris Plank); Mountaineer Sports Network (Tony Caridi, Dwight Wallace, Jed Drenning)
Records: Oklahoma (5-4, 2-4); West Virginia (3-6, 1-5)
Rankings: Both teams unranked
Last Week: Baylor 38, Oklahoma 35; Iowa State 31, West Virginia 14
Series History: Oklahoma leads 11-2
Last Meeting: Oklahoma 16, West Virginia 13 (2021)
Favorite: Oklahoma (-8)
Fun Fact: Saturday's game will mark the first for OU in its series against West Virginia in which it isn't ranked in the AP poll at the time of competition. The Sooners were ranked in each of the first 13 meetings, which included nine top-10 rankings and seven top-five rankings. OU's average AP ranking when facing WVU has been No. 7. – Oklahoma Game Notes
KEY PLAYERS
Oklahoma Sooners
QB Dillon Gabriel
Last week against Baylor, Dillon Gabriel was plagued by turnovers for the first time this season, tossing three interceptions against the Bears in a 38-35 losing effort. Before Saturday's game, Gabriel had thrown just one interception and had shown that he was capable of being both a game manager and an explosive playmaker. For the Sooners to win this weekend, and the rest of the games for that matter, Gabriel will need to bet back to taking care of the football.
S Billy Bowman
Over the last two weeks, the Oklahoma passing defense has actually been pretty solid. Two weeks ago, it held Iowa State WR Xavier Hutchinson to his season low in receiving yards and picked off Hunter Dekkers three times. Then, last week, the Sooners held Blake Shapen 14-23 for 132 yards and one interception, although the Bears did whatever they wanted on the ground. Much of the credit for the improvement in the back end of OU's defense has to go to the return of safety Billy Bowman. Brent Venables has mentioned Bowman several times as one of the most important players on the team and his involvement against West Virginia will be key.
West Virginia Mountaineers
RB Tony Mathis Jr
In each of the last two contests, West Virginia has been without running back Tony Mathis Jr. Then, when CJ Donaldson went down for the season and was forced to miss last week's game against Iowa State, the rushing offense was terrible, totaling just 76 yards on the ground. This week Mathis is set to return, which will boost the offense, and will give Oklahoma someone to worry about in the run game. The Sooners are dead last in the Big 12, giving up 219.8 yards on the ground per game.
LB Lee Kpogba
Junior linebacker Lee Kpogba has grown into a leader for the West Virginia defense that has faded a bit here down the stretch, but will be a major part of what the Mountaineers try to do to slow down the Oklahoma offense. Sooners' running back Eric Gray is among the nation's best with 6.44 yards per carry and 902 yards on the ground. Gray and a host of other ball carriers for the Sooners will keep Kpogba busy and help him build on his lead in tackles (58) for WVU.
KEY STORYLINES
Oklahoma Sooners
Can Oklahoma shake off a disappointing loss and grab a must-win game in Morgantown? Oklahoma can't afford to let another game slip this year, as they sit at 5-4 and have games against Oklahoma State and a trip to Lubbock after that. If OU can win this game and gain a bit of confidence back after their lost to Baylor, it could help them build a strong finish to the season and salvage their recruiting class, and hit the offseason running. If they can't and they drop another winnable game, things could start to get a bit dicey in Norman.
West Virginia Mountaineers
With Neal Brown seemingly one foot out the door already (and not by choice), can West Virginia rally under its head coach and find some motivation to win on Saturday. After a 43-40 win over Baylor, the Mountaineers have lost three straight by a combined score of 120-55. The game is at 11:00 a.m., so the crowd might be a bit lethargic and if WVU gets out to a slow start, Oklahoma is good enough to pile it on. Getting Tony Mathis Jr. rolling will be a key, and if they can do that, West Virginia has a good shot.
PREDICTION: OKLAHOMA 34, WEST VIRGINIA 21
Oklahoma needs one win to get to bowl eligibility and I worry that West Virginia might have checked out after three-straight losses, leading to my prediction of 34-21 in favor of the Sooners. Neal Brown likely isn't coming back regardless of how the season goes from this point and a home loss to knock them out of bowl contention might just be the final nail for him. I expect the Oklahoma offense to hum under a motivated Dillon Gabriel and a better showing from the Sooners' front seven that has been wildly inconsistent. Oklahoma gets to 6-4 and goes into Bedlam with a little confidence to build on.