Big 12 Basketball
Texas Tech Women's Basketball Starts Assembling 2023 Recruiting Class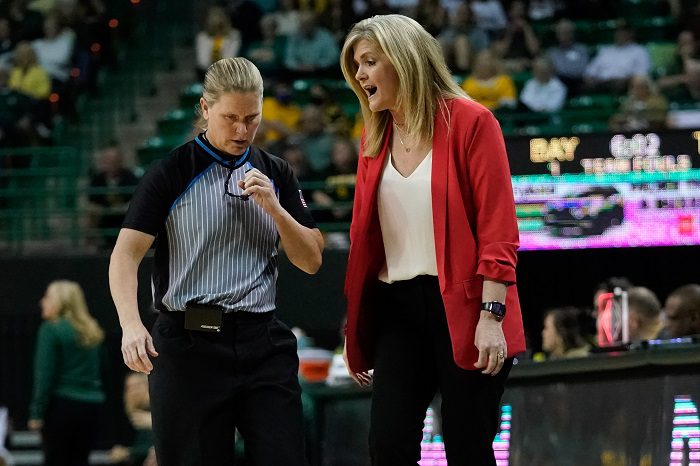 The Texas Tech Lady Raiders women's basketball team began assembling talent for its 2023-24 team as the NCAA's early-signing period opened on Wednesday.
The Lady Raiders, led by coach Krista Gerlich — who played on Texas Tech's 1993 national championship team — is entering her third season at her alma mater. Gerlich has won 21 games in her first two seasons with the Lady Raiders.
But she's had success at previous stops, leading UT-Arlington to a pair of WNIT bids and Division II West Texas A&M to five national tournament appearances, including an Elite Eight appearance in 2009.
Texas Tech is moving on without last year's leading scorer, Vivian Gray, who ran out of eligibility and is pursuing pro basketball.
Before the signing period, the Lady Raiders had three commitments, one of which — guard Loghan Johnson — is ranked among the Top 100 recruits in the country by ESPN. The Lady Raiders announced Johnson's signing early Wednesday afternoon. The Lady Raiders announced the signing of center Kelly Mora on Thursday. The Lady Raiders announced the signing of the entire class on Friday.
Texas Tech's 2023 recruiting class is below. Players who confirmed as signed are noted below. The list below also includes the Lady Raiders' season-opening roster.
The early-signing window closes on Nov. 16.
Texas Tech Women's Basketball 2023 Recruiting Class
G Loghan Johnson, 5-8, Houston Christian (Houston, TX) – Signed
C Achol Magot, 6-7, Southern Arizona Volunteer Prep (Tucson, AZ) – Signed
C Kelly Mora, 6-1, Monterey (Lubbock, TX) – Signed
(Johnson is No. 89 in the ESPN Top 100).
2022-23 Season-Opening Roster
C Ella Tofaeono (6-3, Sr.), G/F Kilah Freelon (6-1, Fr.), G Jasmine Shivers (5-8, r-Fr.), F/C JoJo Nworie (6-5, So.), G Rhyle McKinney (5-9, So.), F Bryn Gerlich (6-0, Sr.), G Saga Ukkonen (5-9, So.), F Lana Wenger (6-4, So.), G Bailey Maupin (5-10, Fr.), G Bre'Amber Scott (5-11, Sr.), G Ashley Chevalier (5-7, So.), G Tatum Veitenheimer (5-8, Sr.), G/F Katie Ferrell (6-1, Sr.), C Jazmaine Lewis (6-4, Jr.).
Player in Bold: Notes a player who is a senior and may be out of eligibility after this season, depending on whether they have a COVID-19 waiver.
You can find Matthew Postins on Twitter @PostinsPostcard.