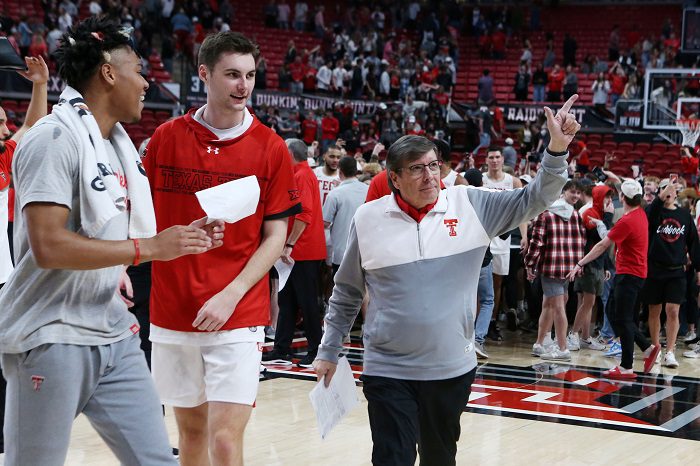 Over the past five years Texas Tech has become a force in basketball at a national level, they made the National Title game in 2019, Elite Eight in 2018, and Sweet Sixteen in 2022. It's a remarkable turnaround for a program that was basement dwellers in the Big 12 for a long time. Now that's not to say Texas Tech basketball doesn't have much history, they made five Sweet Sixteens before Chris Beard arrived, but just one since the turn of the millennium. While Chris Beard undoubtedly accomplished unprecedented things in his time in Lubbock and made them nationally relevant, the turnaround started with Tubby Smith before him. 
Tubby Smith Turns Tech Around
When Tubby Smith took over in 2013, Texas Tech was a mess of a program with no sense of direction. The previous two seasons Texas Tech won just four conference games, just one on the road, hadn't made the postseason in four years, and hadn't finished in the top eight of the Big 12 standings since 2008. Pat Knight was an unmitigated failure at Tech, Billy Gillespie won just one conference game in his only season before being forced out due to player mistreatment allegations. At the time Lubbock was a wasteland for men's sports, not only was basketball bad, but baseball hadn't made the tournament since 2004, and Tommy Tuberville was leaving for Cincinnati in the middle of a recruiting dinner. However, in 2012 and 2013 things began to change. 
In 2012 baseball hired Tim Tadlock, who's taken Tech to seven tournaments and four College World Series. In 2013 football hired Kliff Kingsbury, who did fail, but for a period of time reengaged a divided fanbase. That same year Texas Tech would change the trajectory of its basketball program by hiring Tubby Smith. In Smith's first year in charge, Texas Tech would again miss the NIT but get six wins in conference play, including two ranked wins which are as many as they had in the five previous seasons combined. While a 6-12 conference record isn't much to write home about, it was a decent first season record-wise considering where they came from. But throw that record out, what he did most importantly that season was recruit.
Smith's first recruiting class would completely change the trajectory of Tech basketball and lead them to a place they'd previously never gone. According to 247 Sports, six three-stars and a two-star were added. Amongst them Keenan Evans, Justin Gray, Norense Odiase, and two-star Zach Smith. Tubby's second season would be a regression record-wise, they went just 3-15 in conference play with a younger team, Toddrick Gotcher was the key holdover from the pre-Smith era, and one of the few veterans on the team. He'd be back for 2015-16, as would all four of the previously mentioned recruits.
2015-16 would be a massive step up for Texas Tech, they'd go 10-1 in non-conference play before a slow start to conference play at 3-7. After that though the team became a force, the season began to turn the corner with an 85-82 overtime win over #14 Iowa State, they followed that with a road win at #21 Baylor, then a home win over #3 Oklahoma. A couple more wins would follow to extend their win streak in Big 12 play to five. It'd come to a halt with two road losses to top 10 teams, but a win over Kansas State would give them their best Big 12 record since 2007, at 9-9. By Selection Sunday Texas Tech was a lock, and would be named as an eight-seed slated to play Butler. It was a tight game for the first 30 minutes, but in the middle of the second half, Butler would pull away, and eventually win 71-61. Ending Texas Tech's best season in recent memory, but Tech still appeared to have a good future and had found their guy. Then the change came.
Chris Beard Leads Tech to New Heights
On April 14, 2016, Tubby Smith surprisingly left Texas Tech to take the Memphis head coaching job. It came as a surprise to many Tech fans, at Smith's age many assumed he'd finish his career in Lubbock. After all, he had a good core returning, and was on an upwards trajectory. Texas Tech fought to keep him, even offering to increase his salary by $1 million, but it wasn't enough. The job hunt didn't last long, the next day Texas Tech hired Chris Beard, in an unsurprising and surprising move. After all, Beard was an assistant coach at Tech for 10 years, his stock was high, and his first NCAA Head Coaching job was with Angelo State, a member of the Texas Tech University system. It was a bit surprising considering just a few weeks before he was hired as the new UNLV coach, and one the UNLV AD certainly didn't like.
Beard's first season was a tough start, they lost a lot of competitive games, but would miss not only the NCAA Tournament but the NIT too. The silver lining had to be the recruiting class he pulled in, Jarrett Culver, Davide Moretti, and Zhaire Smith. The next season was a great one, Tech suffered a loss to Seton Hall in MSG, but bounced back with an overtime win over a ranked Nevada team. They'd then make a massive statement in the first week of conference play with double-digit wins over #18 Baylor and #10 Kansas on the road. They'd drop three of their next four, with their only win coming over #2 West Virginia. A seven-game win streak earned Texas Tech College Gameday against Kansas, and Tech looked to be frontrunners for the Big 12 title, but an injury to Keenan Evans against Baylor would end that. They'd lose in Waco and Stillwater, and enter their game with Kansas a game back, with three to play. Seniors Keenan Evans and Zach Smith played hurt, and another senior Justin Gray would be knocked out of the game early. Overall Kansas overcame a raucous atmosphere to win the Big 12 title again in Lubbock. By tournament time Keenan Evans wasn't 100%, but he was playing and Tech got to play in front of home fans in Dallas. They started the tournament by surviving a scare against Stephen F. Austin and tight, entertaining win over Florida followed to send Tech to their first Sweet Sixteen in over a decade. Once in Boston Tech handled Purdue, before falling to the future National Champions Villanova.
Entering the next season Texas Tech didn't look primed to offer a repeat performance after they lost both Smiths, Evans, Gray, Hamilton, and Stevenson. Beard did bring in their highest-rated recruit ever though in Khavon Moore, however, he was injured and left the program midseason. Tech would far exceed expectations though with the help of incoming freshman Kyler Edwards and transfers Tariq Owens, and Matt Mooney. After a blowout loss in Lawrence, Tech sat at 5-4 in conference play and senior Norense Odiase called a players-only meeting. After that Texas Tech rattled off nine straight wins clinching the Big 12 title on the last day with a win in Ames. While the previous year's first weekend of the tournament was stressful this one wasn't, they won their first two easily, even blowing out Michigan in the Sweet Sixteen. All that was in the way of a first-ever Final Four was a matchup with one-seed Gonzaga, Tech won a tight one throughout, pulling away in the final few minutes 75-69. In their Final Four game, Owens was hurt and had to leave the game for a stretch, and Culver struggled for most of the game. But the kid from Lubbock was clutch down the stretch as Tech pulled away to win 61-51. In the National Title game against Virginia, Tech struggled early before going on a run to get within three at the half, more clutch plays down the stretch and two free throws from Odiase put Tech up three and a stop away from the National Title. It wasn't to be Hunter hit a three, Culver missed a jumper and Virginia won in overtime.
The last two years of the Chris Beard era featured a lot of talent, but they underwhelmed. Sure Texas Tech had to replace a lot, and 2020 was understandable, but they fell in four of their five competitive non-conference games and lost their last four to finish 9-9 in conference play. Before their Big 12 Tournament game against Texas, both teams were sitting squarely on the bubble, the game was canceled due to Covid, but Tech could've easily been NIT bound if it wasn't for that. 2021 was a much better season, in a tougher Big 12 they went 9-8, but there were clear chemistry issues within the group. Kyler Edwards and Mac McClung were painful to watch as they just didn't fit in the backcourt together. Tech fell to Arkansas in the second round, missing two layups and the front end of a one-and-one that could've changed things, but it still had to be chalked up as a disappointing season. Worse than that Tech only had one incoming recruit, Jaylon Tyson, he wouldn't be seen on the court in Lubbock the next season though.
Beard Leaves, Adams Era Begins
On April 1, 2021, after about a week of speculation, Texas hired Chris Beard away from Texas Tech for a small raise. It's true Beard did get a raise after turning down a potentially higher-paying lifetime contract from Texas Tech. Many nationally thought that Texas Tech would return to being bottom feeders, not only did Beard leave he also took most of the staff and Tech's lone recruit, in fact, it looked like the roster may be gutted. However when Texas Tech hired Mark Adams, Kevin McCullar announced he was returning, and so did Kyler Edwards although that didn't last long. Edwards would transfer as would Burton, Peavy, Smith, Benson, and Goldin, McClung would also go pro. It was a tough start for Mark Adams. Everyone knew he was a good coach, but many doubted his recruiting. Those doubts would be silenced though as he pulled in Obanor, Williams, Warren, Batcho, Wilson, Allen, and Arms from the transfer portal. He was also given a huge boost when Terrence Shannon Jr. announced he'd be returning in the Summer.
It was a deep team featuring 11 players that could contribute, and that was tested when only seven scholarship players were available in Ames, they fought throughout but fell by four. Then without both Shannon and McCullar they beat Kansas at home, got back McCullar, and went on the road to beat #1 Baylor. The rest of the regular season was a mixed bag; they struggled on the road, but went undefeated at home, and swept Texas in two emotional games. When they got to Kansas City for the Big 12 Tournament it seemed like they were limping in, but blew out Iowa State, and escaped against an Oklahoma team coming off a win over Baylor. In their first Big 12 Title Game since 2005, Tech would fall in a tight one to future National Champs Kansas. In the tournament, they rolled over Montana State before having a bad shooting night against Notre Dame, and escaping to go back to the Sweet 16. Coach K's farewell tour would parade over Texas Tech in San Francisco, as Duke caught fire from the field in the final five minutes. It was a disappointing end to a very enjoyable season that got the fanbase as engaged as ever and proved Texas Tech wasn't intent on leaving the national stage with the departure of Chris Beard.
The Future
While it may take some time to come together this season with all the Freshmen, Texas Tech pulled in a high-level class at both the High School, and Transfer levels, arguably making this the most talented Texas Tech team yet. A lot of players are gone, only Obanor, Batcho, and Allen return, Jaylon Tyson joined the program midseason after transferring from Texas so he'll be familiar. But it remains a tall task to bring it all together. Many people try to credit Chris Beard for building what Texas Tech is, and he deserves praise for getting them to the national level. However, it was Tubby Smith that pulled this team out of the basement, and recruited, along with Beard, so much of that 2018 Elite Eight team. After Beard left it looked like Tech would be gutted, however, it was Mark Adams that pulled it all together and is even recruiting at an insanely high level. Coaching wise it's fair to credit the rise of Texas Tech basketball to both Smith and Beard, as both played different crucial roles in it. But for the sustainment part of Texas Tech remaining a power, you have to look no further than Mark Adams.