Baylor Bears
Five Biggest Takeaways From Week 11 of the Big 12 Football Season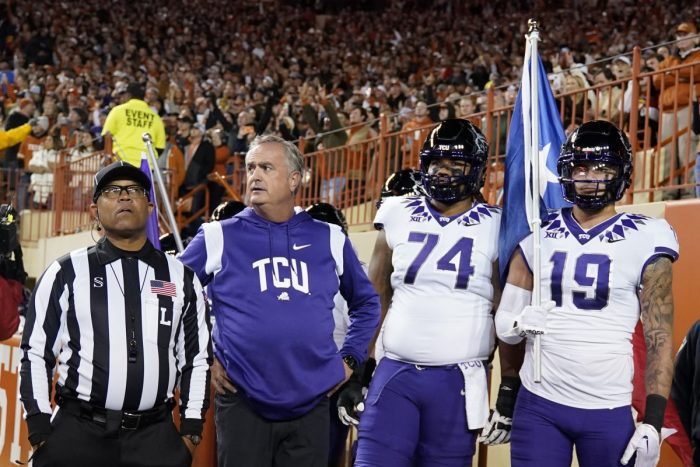 Week 11 of the Big 12 football season is in the books as the college football season begins the final month of the regular season. There were five games this week, with West Virginia upsetting Oklahoma 23-20, Oklahoma State beat Iowa State 20-14, Kansas State rolling Baylor 31-3, Texas Tech holding off Kansas 43-28 and TCU upsetting Texas 17-10.
So with another wild week in the books, here are the five biggest takeaways from Week 11 in the Big 12 Conference.
1. Where Have You Been Garrett Greene?
Did Garrett Greene save Neal Brown's job? Maybe, although that's probably too early to say. But regardless, Greene came into the game against Oklahoma in relief of J.T. Daniels and his dual-threat capabilities completely changed the game for the Mountaineers, who beat Oklahoma 23-20 and improved to 4-6 to keep their hopes of becoming bowl eligible alive.
Greene finished 12/22 for 138 yards and one touchdown pass, while rushing 14 times for 119 yards and two scores. It was a career-best game for Greene who has spent most of the season watching Daniels run the offense. But given how Greene performed on Saturday, he deserves to start next week against Kansas State. Neal Brown wasn't ready to go there after the game, at least not publicly, but it was clear his legs added a much-needed element to this offense that has been stale most of the season.
2. Spencer Sanders, Oklahoma State's Defense Step Up
Before the game against Iowa State, we knew Spencer Sanders wasn't going to play and that the OSU defense had been awful in recent weeks. Well, out of no where, both ended up saving the Pokes on Saturday in a 20-14 win over Iowa State. Despite a banged up shoulder, Sanders came in late in the third quarter after the offense was struggling under Gunnar Gundy, and he threw the go-ahead touchdown pass to Jaden Nixon with 9:18 remaining to put the Pokes up 17-14.
Meantime, the defense showed up after giving up over 80 points the last two weeks against the Kansas schools. Collin Oliver had two sacks and a hurry, safety Kendal Daniels had an interception, forced a fumble and had 1.5 tackles for loss, cornerback Jabbar Muhammad had an interception and two pass breakups, while defensive end Nathan Latu had a sack and a fumble recovery.
Spencer Sanders and the Oklahoma State defense combining to win the game on Saturday? No one could have predicted that right before kick off.
3. Kansas State Bounces Back in a Big Way
Kansas State at Baylor was basically an elimination game for the Big 12 Championship race and it was the Wildcats, off a tough loss to Texas, bouncing back with a dominant performance in a 31-3 win in Waco. As I wrote during the week, the loser of this game would officially feel like this season had been a disappointment based on the preseason expectations, while the winner would remain confident they can reach the Big 12 title game.
And as for the latter, K-State controls its own destiny with two weeks to go in the season. TCU has already punched a ticket to the Big 12 title game, and K-State sits alone at 5-2 in league play, ahead of three teams who are 4-3. So if the Wildcats win out against West Virginia and Kansas, they are 7-2 and will be playing TCU for a Big 12 Championship at AT&T Stadium in early December.
4. TCU Didn't Just Win, They Won the Right Way
TCU couldn't have asked for a better way to win against Texas than the way they did. This wasn't TCU's ideal game. The offense wasn't high-flying, but rather it was the defense that got it done. And since they were in the primetime ABC slot, they had more national eye balls than they probably had for most of their other games this season. And they won this game on defense and in fairly ugly fashion behind their running game.
Now I'm sure some national media folks will try to downplay TCU's performance, because, well, that's what the national media does when it comes to the Big 12, and especially TCU. But any objective observer should be very impressed by TCU, who improved to 10-0, and is right in the thick of the College Football Playoff hunt.
5. Texas Tech on Verge of Bowl Eligibility
Texas Tech had to win two of their final three games to reach a bowl game in Joey McGuire's first season on the job and now they're halfway there after beating Kansas and now have two very winnable games remaining on the schedule. Texas Tech travels to Iowa State next week. The Cyclones are 1-6 in Big 12 play this season. Then, they get the Sooners at home to wrap up the regular season. Oklahoma is currently 5-5 and has Bedlam next weekend. Could you imagine a scenario where Texas Tech and Oklahoma are playing in Week 13 for a trip to a bowl game? That's something I would not have predicted back in August.