Big 12 News
Adrian Martinez Out 4-6 Weeks With Leg Injury: Report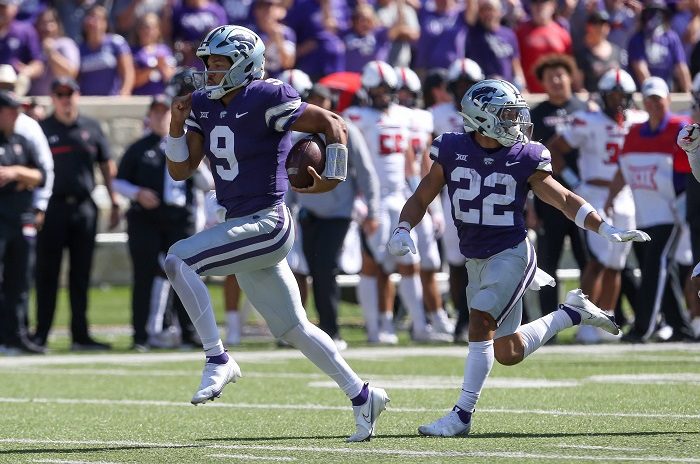 Kansas State starting quarterback Adrian Martinez is reportedly out for multiple weeks with a lower leg injury that he suffered in Saturday's game against Baylor.
In his absence, Will Howard stepped in and went 19-27 for 196 yards and three touchdowns in a 31-3 beatdown of the Baylor Bears in Waco.
After the game, Coach Chris Klieman told media that had they needed Martinez, he would have been able to return. However, Martinez's injury might be more severe than Klieman thought at the time.
"We were trying to keep him warm in hopes that (Martinez) could come back if we needed him to but I don't think he would have been 100%," Klieman said. 
According to GoPowerCat, a 247Sports affiliate for Kansas State, Martinez could be sidelined for four to six weeks, meaning that Howard might be the starter for the remainder of the year for K-State.
Some would argue that Howard has been the more impressive quarterback over the last several weeks and perhaps should've been the starter after his performance against Oklahoma State, and now he will get the chance as Martinez's injury seems to be severe.
In addition to Martinez's injury, GoPowerCat also reported that junior safety Kobe Savage also suffered a significant knee injury that might keep him out for the remainder of the season.
It's not terrific news for the Wildcats, but they are playing great football right now and have the inside track to make the Big 12 Championship game in a few weeks.