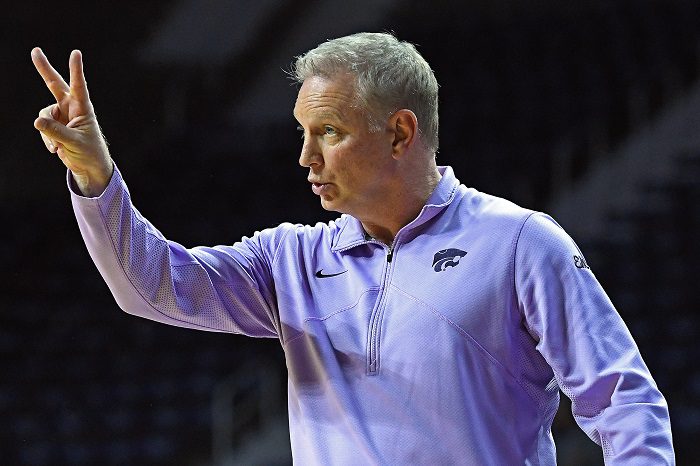 Big 12 Women's Basketball Week 1 Good, Bad and Ugly
The first week of Big 12 women's basketball went (mostly) according to plan. Here is this week's Good, Bad and Ugly from the first week of the season.
The Good
The Return of the Gab
If you enjoyed watching Oklahoma play basketball last year, you did so without getting a healthy dose of Gabby Gregory. She became lost the shuffle of the implementation of coach Jennie Baranczyk's high-octane offense. The thing is, Gregory should have been a great fit for that offense.
In her first two seasons at OU she averaged 11.3 points in 2019-20 and 16.7 points in 2020-21. But, a mix of injuries that kept her from hitting the floor until January and the rise of players like Kelbie Washington and Skyler Vann limited Gregory to 18 games and 2.6 points per game.
Once it was clear the Sooners' three super-seniors — Taylor Robertson, Ana Llanusa and Madi Williams — were all coming back, Gregory started looking for a new home. She found one at Kansas State.
She spent the first week reminding everyone what a healthy Gregory can do.
She averaged 22 points, 8 rebounds and 2.5 assists in her first two games with Kansas State, which is still sorting out how to play without center Ayoka Lee, who is out for the season. Gregory had a 50/40/90 shooting clip for the week.
Gregory represents a huge boost for Kansas State's offense without Lee. The offense will be guard-heavy this year. Guards Jaelyn Glenn averaged 14 points and Serena Sundell averaged 12.5 points, 6.0 rebounds and 6.0 assists for the week.
No matter what happens this season, Gregory is in her fourth year of college basketball and has her COVID-19 waiver. If she triggers it and Lee returns next season, as expected, Kansas State could be really dangerous. As it stands now, Gregory has the potential to keep the Wildcats moving forward, and this week's matchup with Iowa is a real litmus test for what this team can be without Lee this season.
Coaching debut starts
New Oklahoma State coach Jacie Hoyt won her first two games with the Cowgirls and they did so convincingly. New West Virginia coach Dawn Plitzuweit won her debut with the Mountaineers easily. The schedules get harder moving forward, the environments get more difficult. But new coaches want their programs to get off to good starts to build their culture, and both Hoyt and Plitzuweit managed that last week.
Hoyt even got a game ball.
The Bad
Oklahoma's Defense
After two games the Sooners are scoring 101 points per game. After two games the Sooners are giving up 84 points per game. That's a point differential of 17 points. If that's the point differential at the end of this season — a season after the point differential was just six points — Sooners coach Jennie Baranczyk will be quite happy. But, for now, I doubt she's happy about giving up 84 points per game.
The differential probably isn't going to end up that way. We're going to get a real good indication of the Sooners' improvement on defense this week with three games — at BYU (a future Big 12 rival), at Utah and UT Arlington, the last of which made last year's NCAA Tournament.
TCU's Opening Loss
I hate to put TCU here because they were basically the only Big 12 women's team to challenge itself in Week 1, with not only a game against a Top 25 team in North Carolina but going on the road to do it.
TCU lost, 75-48, but the Horned Frogs were down just six at halftime. A 27-6 North Carolina third quarter did TCU in.
TCU coach Raegan Pebley is hoping the loss of Lauren Heard, the program's all-time leading scorer, will have the effect of opening the floor for the rest of the team this season. She felt the offense became too "Lauren-centric" as she told me at Big 12 Media Day. The thing is, the Horned Frogs didn't have much around Heard last season, so the offense relied heavily on Heard for a reason. What Pebley really wants this season is balanced scoring to spread the floor and play five out.
The UNC game showed the Horned Frogs have a ways to go. Tomi Taiwo had 15 points and Emily Fisher added 10. The Horned Frogs needed more from Knisha Godfrey, who had 26 points in her season debut earlier in the week. But she only scored four against UNC.
TCU has a long way to go. TCU's road shooting must improve. The 25 percent clip they shot at against UNC won't work. Neither will the 24 turnovers. There's plenty of room to get better.
The Ugly
The Battle 4 Atlantis
This shouldn't be in the ugly category. This should be amazing. The second Battle 4 Atlantis Women's Tournament this weekend features four ranked teams — Texas, Tennessee, Louisville and South Dakota State. It should be a showcase for some of the best women's basketball you'll see all season. I can't wait to watch it in on … FloHoops?
Yep. One of the best non-conference tournament of the year will be on a streaming service. This is a tournament featuring eight of the best programs in the country. If you want to watch, that'll cost you $29.99 for a monthly subscription, assuming you remember to 'cancel anytime' after it's over.
This is less about FloHoops and more about equity. The men's Battle 4 Atlantis — which features a similar lineup of ranked teams, including Kansas — will be on the ESPN family of networks.
College basketball is trying to build more equity between the men's and women's game. ESPN is the game's primary partner. This is a bad look, plain and simple.
You can find Matthew Postins on Twitter @PostinsPostcard