Baylor Bears
Five Big 12 Teams Remain in Men's AP Top 25 Poll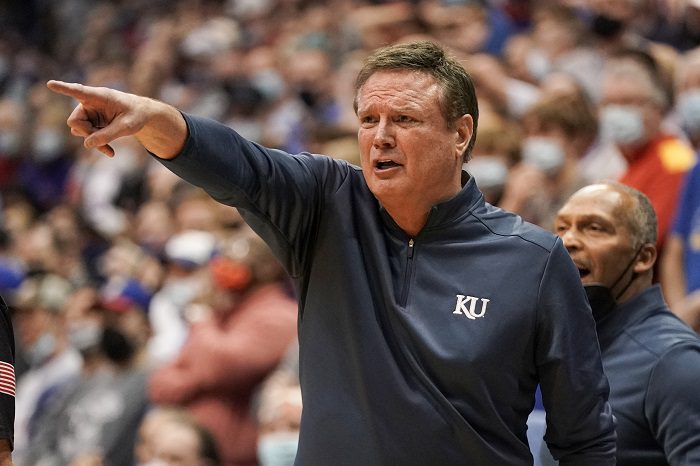 Five Big 12 teams remained among the nation's best as the Associated Press Men's Basketball Top 25 was released after the season's first week of games.
The Big 12 ranked teams included:
Baylor at No. 5 (tied for No. 5 in the preseason poll);
Kansas at No. 6 (tied for No. 5 in the preseason poll);
Texas at No. 11 (No. 12 in the preseason poll);
TCU at No. 15 (No. 14 in the preseason poll);
Texas Tech at No. 23 (No. 25 in the preseason poll).
Baylor went 2-0 for the first week, defeating two HBCU schools at home — Mississippi Valley State (117-53) and Norfolk State (87-70). Baylor is preparing to host Northern Colorado at Monday. Then the Bears face nationally-ranked Virginia in Las Vegas on Friday, with another game to be determined on Sunday.
Kansas also went 2-0 for the week, beating Omaha (89-64) and North Dakota State (82-59). Kansas will face Duke in Chicago on Tuesday in the Champions Classic. Bill Self will not coach for Kansas as he continues to serve his four-game suspension. Duke's Mike Krzyzewski retired at the end of last season. Kansas also hosts Southern Utah on Friday.
Kansas will be without Kyle Cuffe for the next 10-to-12 weeks. The redshirt freshman tore his MCL and PCL ligaments in practice. He will not require surgery.
Texas went 2-0 with victories over UTEP (72-57) and Houston Christian (82-31). The Longhorns will host Gonzaga on Wednesday in their only game of the week.
TCU went 2-0 for the week, although the Horned Frogs had a scare in their opener. TCU slipped by Arkansas-Pine Bluff, 73-72, and followed that with a win over Lamar, 77-66. TCU hosts Northwestern State on Monday and ULM on Thursday.
Texas Tech went 2-0 last week, beating Northwestern State, 73-49, and Texas Southern, 78-54. The Red Raiders host Louisiana Tech on Monday for their only game of the week.
Future Big 12 member Houston is No. 3.
The complete Top 25 poll is below:
No. 1 North Carolina, No. 2 Gonzaga, No. 3 Houston, No. 4 Kentucky, No. 5 Baylor, No. 6 Kansas, No. 7 Duke, No. 8 UCLA, No. 9 Arkansas, No. 10 Creighton, No. 11 Texas, No. 12 Indiana, No. 13 Auburn, No. 14 Arizona, No. 15 TCU, No. 16 Virginia, No. 17 San Diego State, No. 18 Alabama, No. 19 Illinois, No. 20 Michigan, No. 21 Dayton, No. 22 Tennessee, No. 23 Texas Tech, No. 24 Texas A&M, No. 25 UConn.
You can find Matthew Postins on Twitter @PostinsPostcard.