featured
Overreaction Monday: Oklahoma State is Back, Oklahoma is Missing, TCU On the Verge of Perfection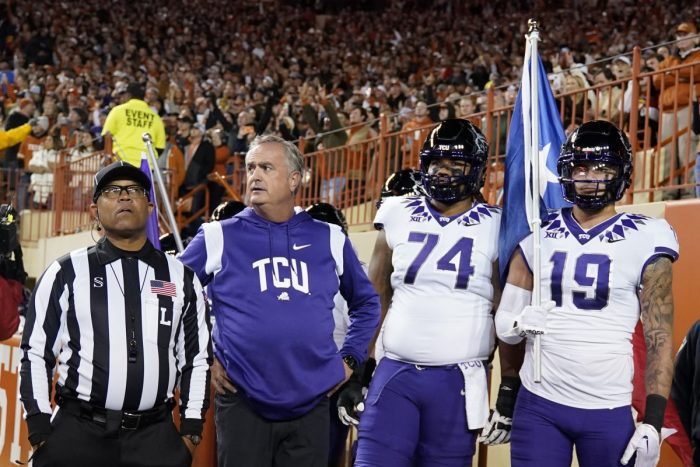 Every Monday during the college football season, fans of teams across the country return to work and discuss the events of the weekend with their coworkers. Around the water cooler or coffee machine, overreactions are born as suddenly one team is now a national title contender (they're not) and another's season is over after a tough loss (it isn't).
Let us sift through the rumors, false allegations, and straight-up nonsense for you this season with overreaction Monday, where we tell you whether you need to cool the jets or you legitimately have something to worry about.
Oklahoma State is Back in the Big 12 Conversation
Overreaction. Yes, Oklahoma State got back to its winning ways on Saturday, but it wasn't exactly a dominant performance by the Cowboys as they edged out Iowa State, 20-14. Gunnar Gundy got to start and completed five of 12 pass attempts for 103 yards and one touchdown but had two interceptions. Spencer Sanders did play in the game and was efficient in his time on the field, completing nine of 13 for 84 yards and a score. However, Sanders wasn't the same guy that we've grown used to seeing. Sanders' three rushing attempts (for a total of six yards) were the lowest he's had in any conference game of his career. That is clearly by design as Sanders is dealing with a shoulder injury, but when your leading rusher on the day has 14 carries for 41 yards (Dominic Richardson), that's an issue. Iowa State did more to lose that game than Oklahoma State did to win it, but in a league like the Big 12, you take wins any way that you can get them. Oklahoma State's offense has been its saving grace in 2022, but it will need to find itself again if they Cowboys hope to win out.
Oklahoma Might Miss a Bowl Game for the First Time in 23 Years
Not an Overreaction. With two games left in the regular season, the Oklahoma Sooners sit at 5-5 and are in danger of doing something that they haven't in nearly a quarter century: miss a bowl game. The Sooners were putrid in Morgantown last weekend, and a 23-20 loss to the Mountaineers might have been rock bottom for Oklahoma. However, if they don't find a way to pull together and beat Oklahoma State or Texas Tech, the program will reach new lows post-Bob Stoops. A lack of discipline and being downright bad at the worst times has cost OU three one-score games this season, and that has been the difference in 2022. For years, Oklahoma has found a way to come out on top in close games, but in 2022 it has been quite the opposite. There are plenty of issues that need to be addressed in the offseason, but right now OU needs to find a way to crawl to 6-6 or 7-5 so it can get those all-important bowl game practices before the offseason. If not, there might be riots in Norman, OK.
TCU Should Run the Table and Make the College Football Playoff
Not an Overreaction. Without question, TCU has been the best team in the Big 12 Conference in 2022 and has the chance to do something that nobody has since they joined the conference in 2012. Since the Frogs joined the Big 12, no team in the conference has ever reached the postseason with a perfect record. In fact, no team besides 2016 Oklahoma has made it through the conference schedule with a 9-0 record. Texas, in 2009, was the last team to get to 12-0 before losing to Alabama in the BCS National Championship. Now, in Sonny Dykes first year, the Horned Frogs look like legitimate playoff contenders and are one of four remaining undefeated teams in the country. A trip to Waco this weekend and then a home date with Iowa State are all that stand between TCU and perfection, and I think they will get there. Then, they will play in the Big 12 Championship game, and a 13th win in Arlington would send them to the College Football Playoff.