Big 12 News
West Virginia Fires Athletic Director Shane Lyons, Neal Brown's Future Not Decided: Report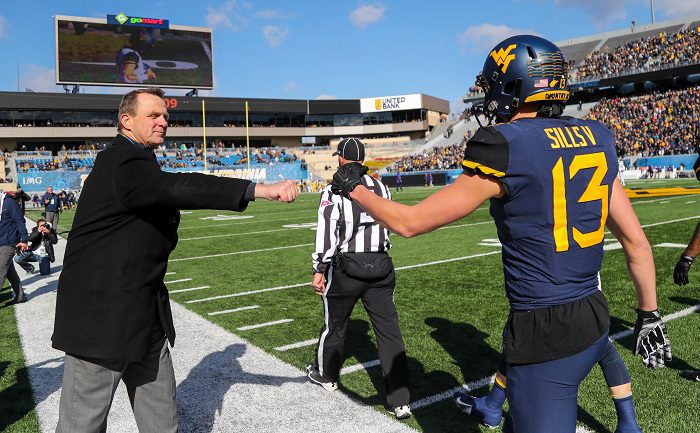 West Virginia has agreed to separate with athletic director Shane Lyons, according to ESPN.
Lyons has been West Virginia's athletic director since 2015, but the struggling football program, combined with budget issues has led to the change.
Lyons is expected to be replaced on an interim basis by Rob Alsop, who is the school's Vice President for Strategic Initiatives. The school is expected to immediately begin an athletic director search, with a hire expected to be made quickly.
Now, the elephant in the room is the future of football coach Neal Brown, which, according to ESPN, has not been decided yet.
However, it has been a popular move to pair an athletic director with a football coach, so it would signal that Brown's days may be numbered.
A sticking point in the recent conversations have been around Brown's buyout if dismissed after the regular season, which is expected to be nearly $17 million. Understandably, there's been plenty of second-guessing for WVU giving Brown an extension in April of 2021 when Brown had a record of 11-11. That pushed his deal through 2026.
Neal Brown is 21-24 through nearly four seasons as a head coach for WVU. The Mountaineers did beat Oklahoma on Saturday 23-20, but that puts WVU at 4-6 on the season, meaning they have to win their last two games to reach bowl eligibility.
Lyons is a well-respected administrator who came to West Virginia from Alabama, where he'd served as deputy athletic director from 2011-2015. Lyons's career includes multiple prestigious appointments, as he has chaired the Big 12 athletic directors, served on the NCAA Division I Council and the NCAA Football Oversight Committee. He's also a part of the current roster on the NCAA Transformation Committee.