Big 12 News
Brent Venables on Transfer Portal: 'We Don't Need a Quarterback"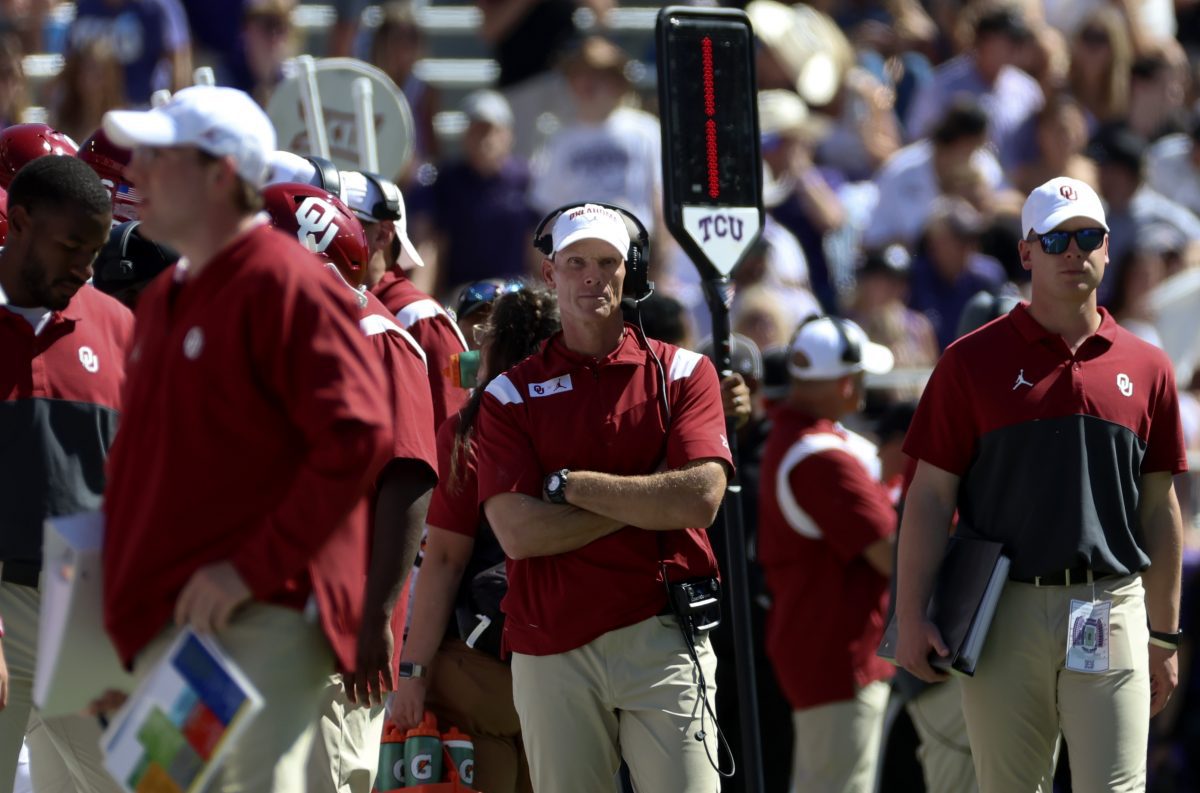 The Oklahoma Sooners are 5-5 in 2022, and that has many people in and around Norman concerned with the direction of the program under first-year head coach Brent Venables.
The majority of the issues that Oklahoma is dealing with this season are related to the defensive side of the ball, but any time a team is struggling, the quarterback is put under a magnifying glass and is almost always a target of scrutiny.
That is the case at Oklahoma now, as Dillon Gabriel, who is tasked with following up Caleb Williams, 2020 Spencer Rattler, Jalen Hurts, Kyler Murray, and Baker Mayfield, is not having a Heisman-caliber season.
However, he isn't having a bad season by any standard either, as he has a 16:4 touchdown-to-interception ratio and his unit has been the seventh-best in the country when he is healthy.
The noise around Gabriel's struggles in the last two weeks has gotten so loud that it reached Brent Venables during his Tuesday press conference, as he was asked about Oklahoma's needs in the transfer portal and he immediately shot down any notion that quarterback was a need for the Sooners in 2023.
"We don't need a quarterback," Venables started. "That's how I feel. Because you'll see some elite quarterbacks in the transfer portal, for whatever reason. Maybe because a staff is let go you might see some excellent players that are also great guys and workers. Are they running from something? That's what you have to ask yourself."
Venables also seemed to speak indirectly about Jackson Arnold, a five-star quarterback that is committed to OU, when addressing the kinds of things he's looking for as a recruiter at a school that's struggling like Oklahoma is.
"Say we had a top-notch quarterback committed," Venables started. "He could go anywhere in the country and schools are still coming after him really hard. Excellent schools that are in those big games, and are having successful seasons. But, somehow, some way he continues to stay loyal to you because he sees a vision. He sees a track record. He has dreams of having an amazing opportunity at your school. He's developed these relationships that mean something to him."
Arnold will likely push Gabriel next season, as he is arguably the top quarterback prospect in the 2023 class and won the 2023 Elite 11 MVP over the summer.
Venables went on to explain why he doesn't want the transfer portal to be the only answer for roster issues at Oklahoma.
"I told the coaches, 'That's [The transfer portal] not going to be the only answer; you're not going to get bailed out,'" Venables said. "Because I'm not gonna, you know, there's one guy that's been kicked off a team and I've got a couple coaches coming to me like, 'Hey man, this is the one. He's the one.' and I'm thinking, 'That coach kicked him off their team, and sometimes things happen, but this coach doesn't kick anybody of their team unless they've done something.' And that's supposed to be our answer?
"You spend all this time and these resources and you put them into your locker room. I'm telling these parents that I'm going to work really hard to surround your son with great people. People matter. People always make the place. It's about finding the right kind of people that are about the right stuff."