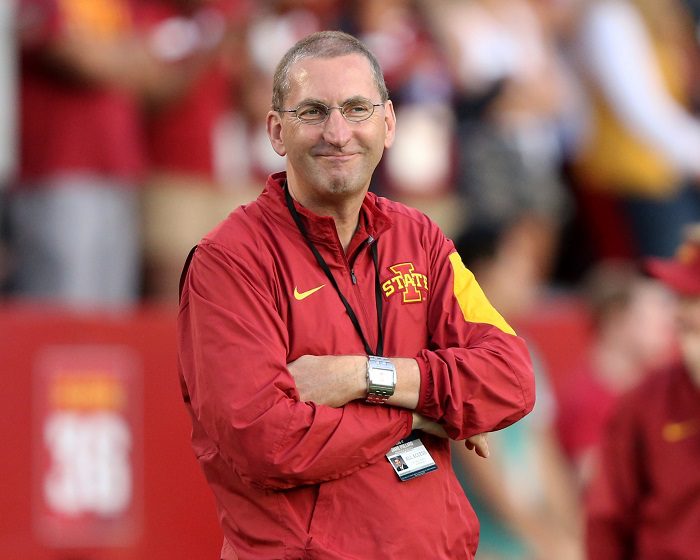 The Big 12 has been the deepest and most difficult basketball conference to play in over the last few year, and that has shown up in the postseason with a team from the conference playing in each of the last three national championships and winning the last two.
Now, we enter 2022-23 and expect more of the same as several teams in the conference look like conference title contenders on paper as the season gets underway.
However crazy as it might seem though, things are going to get even more competitive in 2023-24 when the Big 12 adds BYU, UCF, Cincinnati, and Houston to its membership. Houston is currently ranked third nationally, while the other three schools have had runs of success in recent years.
As Iowa State athletic director Jamie Pollard pointed out in a recent interview with 365 Sports, things in the Big 12 are about to get even tougher.
"Oh my, and that's both men's and women's (basketball)" Pollard started after being asked how strong the conference will be when it adds four teams in 2023. "You look and think, 'how could it get tougher?' It's going to get tougher. But, that's what makes it what it is. When I think of the Big 12 Tournament in Kansas City, I know the southern schools maybe go, 'Oh, that becomes a home game for KU or Iowa State or K-State,' but you watch. BYU will help fill that arena, the BYU folks are rabid about their programs, so yeah, this league is going to be a tough out. I mean, I can't imagine having to go on the road to Cincinnati, Houston, BYU, or Central Florida on top of having to go to Baylor, KU, and K-State. But hey, that's what we do it for."
All four schools that will be added to the Big 12 membership are well within the Top 100 of the 2023 KenPom rankings, as are all current Big 12 schools. Let's take a quick look at how things would be if those four schools were already here.
Current and Future Big 12 Members KenPom Rankings + Adjusted Efficiency Margin
Texas (2, +28.20)
Houston (4, +27.31)
Baylor (5, +25.60)
Kansas (10, +23.92)
Texas Tech (23, +19.14)
Oklahoma State (33, +16.94)
Oklahoma (46, +15.10)
West Virginia (50, +14.33)
Cincinnati (53, +14.07)
Iowa State (54, +14.07)
BYU (57, +13.86)
TCU (58, +13.54)
Kansas State (67, +11.89)
UCF (76, +9.95)
League Average: No. 30, +17.71
In a 14-team league, the average Big 12 team would be ranked 30th nationally and have an adjusted efficiency margin of +17.71. That makes for an incredibly deep and contested league, and that is the future that Big 12 basketball has to look forward to, so buckle up.