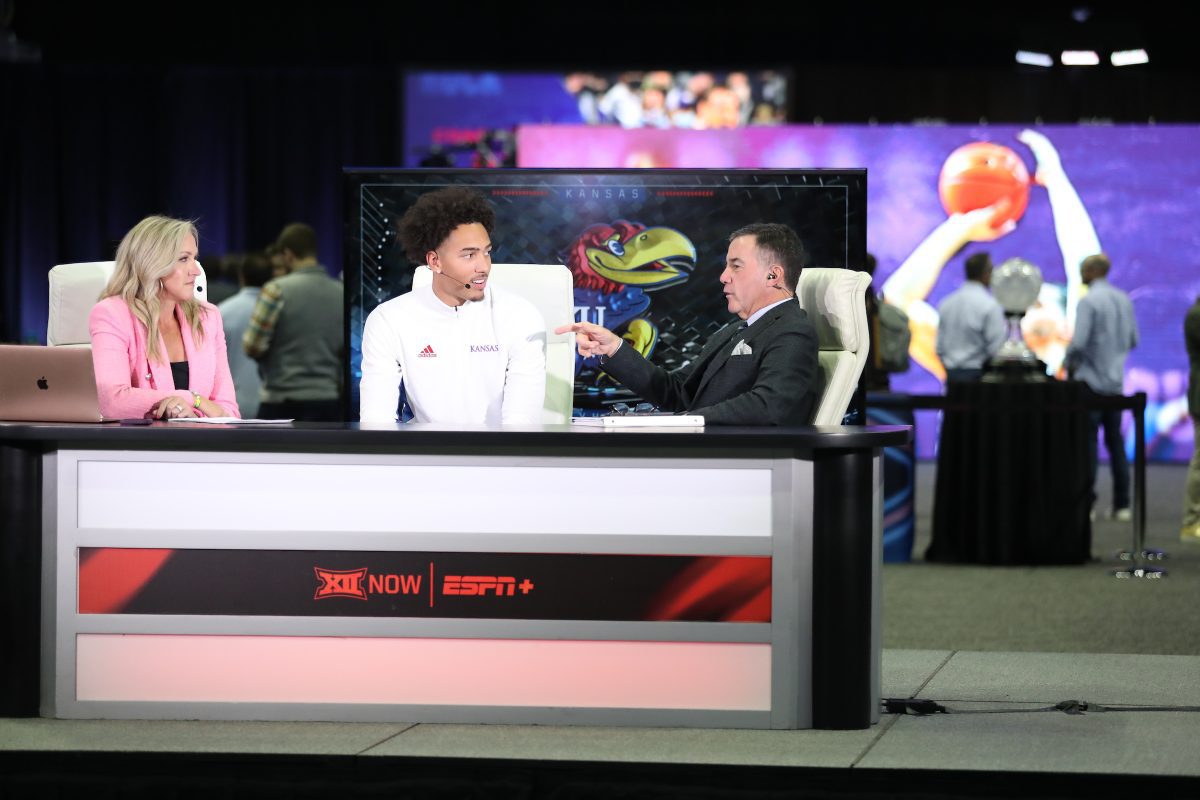 Kansas' game with Duke is one of eight games that are part of the Draft Kings Daily Fantasy Sports for men's college basketball on Tuesday.
This season, when a Big 12 game is part of the pool at Draft Kings, we'll provide our recommendations for who to take that night. In this case, the recommendations are for a Classic game, which features eight players — three guards, three forwards and two guard/forwards (utility). The lineup must contain players from at least two different games. The salary cap is $50,000.
For the purposes of nights that include Big 12 games, but not enough to fill out a complete Big 12 lineup, we'll take a guard, a forward and a utility player from each Big 12 team, and fill out the remainder of the lineup with players from the rest of the pool.
Here are Tuesday's recommendations:
Eventually, the price is going to go up on the freshman. But, for now, he's a bargain, even if his production probably won't quite approach what he's done in his past two games — 17.5 points, 4.0 rebounds, 2.0 assists and 1.5 steals. He's already second on the team in 3-pointers, and he'll pick up enough rebounds and assists to help him come close to the 29.5 fantasy points average he's put up in his first two games.
Forward: Jalen Wilson ($10,100)
He's one of the highest-priced players on the board, but for what he's doing you'll pay the premium. He's averaging 20 points, 10 rebounds and 4 assists and leads the Jayhawks in made 3-pointers. He's putting up an average of 40.8 fantasy points per game so far. I don't expect quite that much against a team like Duke. But, 30 fantasy points isn't out of the question.
Utility: Kevin McCullar ($6,000)
In two games he's hit every part of the fantasy box score. Even if the points don't come against Duke, he's going to defend, rebound and pass his way to 20 or more fantasy points. Plus, he's a good bargain given the cap hit.
The rest of the lineup
With $28,200 left over, this is how I would fill out my lineup with the remaining games in the pool — Northwestern at Georgetown, Vanderbilt at Temple, Kentucky vs. Michigan State, New Mexico at SMU, Marquette at Purdue, Memphis at Saint Louis and San Diego State at Stanford (as of Tuesday morning):
G – Zhuric Phelps, SMU ($4,800)
G – Jamal Mashburn Jr., New Mexico ($7,300)
F – Jacob Toppin, Kentucky ($6,700)
F – Colin Smith, Vanderbilt ($4,000)
UTIL – Lamont Butler, San Diego State ($5,200)
Scoring system: Point: +1 Pt; Made 3pt Shot: +0.5 Pts; Rebound: +1.25 Pts; Assist: +1.5 Pts; Steal: +2 Pts; Block: +2 Pts; Turnover: -0.5 Pts; Double-Double (Max 1 Per Player: Points, Rebounds, Assists, Blocks, Steals) +1.5 Pts; Triple-Double: Max 1 Per Player (Points, Rebounds, Assists, Blocks, Steals): +3 Pts
You can find Matthew Postins on Twitter @PostinsPostcard