Oklahoma Sooners
Five-Star 2023 EDGE on Pledge to OU: 'If It Wasn't Firm, I Wouldn't Have Committed'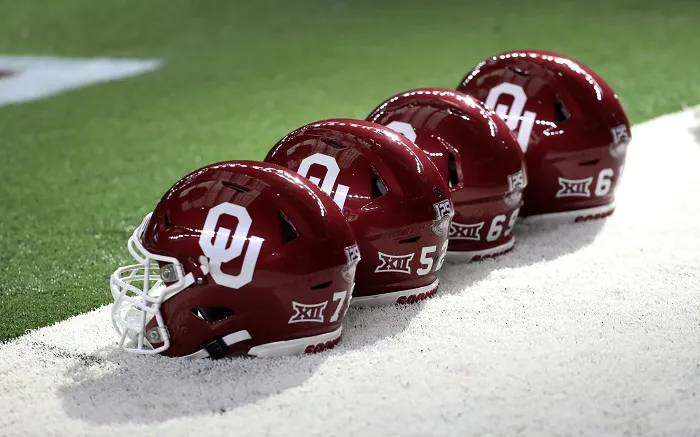 The 2022 season has been a tough one for Oklahoma fans, who have watched their team crawl to a 5-5 record with just two games remaining on the year.
Three wins. Three losses. Two wins. Two losses.
That has been the trend for the Sooners this year, and along the way we have heard rumors and speculation that Oklahoma's all-important 2023 recruiting class might fall apart.
This week, Eric Bailey of the Tulsa World interviewed two of OU's top commits in the class, five-star defensive end Adepoju Adeboware and four-star offensive tackle Cayden Green, and his question for them was quite simple: how solid is your commitment to Oklahoma?
"I'm very firm. It's a very strong commitment," Adebawore said. "If it wasn't firm, I wouldn't have committed. It'll stay that way."
"I won't be decommitting," Green said. "I'm signing next month and I'll be at school in January."
Adeboware and Green, both star recruits from the Kansas City area, are both set to be in town for Oklahoma's matchup with Oklahoma State this weekend in Norman. According to 247Sports, Adeboware is the No. 26 overall player in the country and the No. 3 player at his position. Meanwhile, Green is listed as the No. 65 overall player and the No. 9 overall offensive tackle in the class.
It will take players of that caliber to bring Oklahoma back to prominence, and while 5-5 isn't exactly what you'd like to see in Brent Venables' first years, both players understand the rebuild phase that Oklahoma is in.
"They know they have a lot of rebuilding that they have to do, which takes time," Adebawore said. "I feel like you really can't judge them too much off the season because you have to give them time to rebuild."
"They know that this is just the beginning," Green said. "Coach (Brent) Venables hasn't been in the office that long. They say don't give up hope. I know. I know by the time my class gets older, we'll have a national championship. That's why I signed up for it a long time ago."
Adeboware and Green are two of seven Oklahoma commits that are ranked in the top 100 of 247Sports' 2023 class, and keeping those commits intact will be vitally important to the Sooners improving in 2023 and beyond.
Guys like Jackson Arnold (No. 13 overall, No. 5 QB) and PJ Adeboware are getting phone calls and texts from high-profile schools, just checking to see if there is any way that they would sway on their commitment to Venables. But, so far, the Sooners class is holding together about as well as one could hope, because these guys know that this is all just part of the recruiting process.
"I understand if they want a guy, they're going to continue to try and go for them," Adebawore said. "I just laugh sometimes. The stuff they say sometimes … sometimes you can respect some people. Sometimes it's like they try to bash the college I'm committed to. Don't do that. It just makes it worse."
During his Tuesday press conference, Brent Venables talked about the challenges of recruiting as a 5-5 team, and what his message to recruits looks like in that situation.
"Schemes on both sides of the ball and coaches' experience in big games and successful teams and things of that nature, I think that goes a long way," Venables said. "And we have a long history, not a winning season here, winning season there. I'm talking about a long history of success.
"And then (prospects) in the recruiting game, on their side of it, they're trying to know people and what's real and what isn't as well. And so you come from a place of genuineness and authenticity. I think people see that, you know, when you're being real and you're being honest and it is relationship driven."
Oklahoma is set to host Bedlam this weekend with kickoff scheduled for 6:30 p.m. CT. The Sooners are currently favored by 7.5 points in that game and need one more win to get to bowl eligibility.