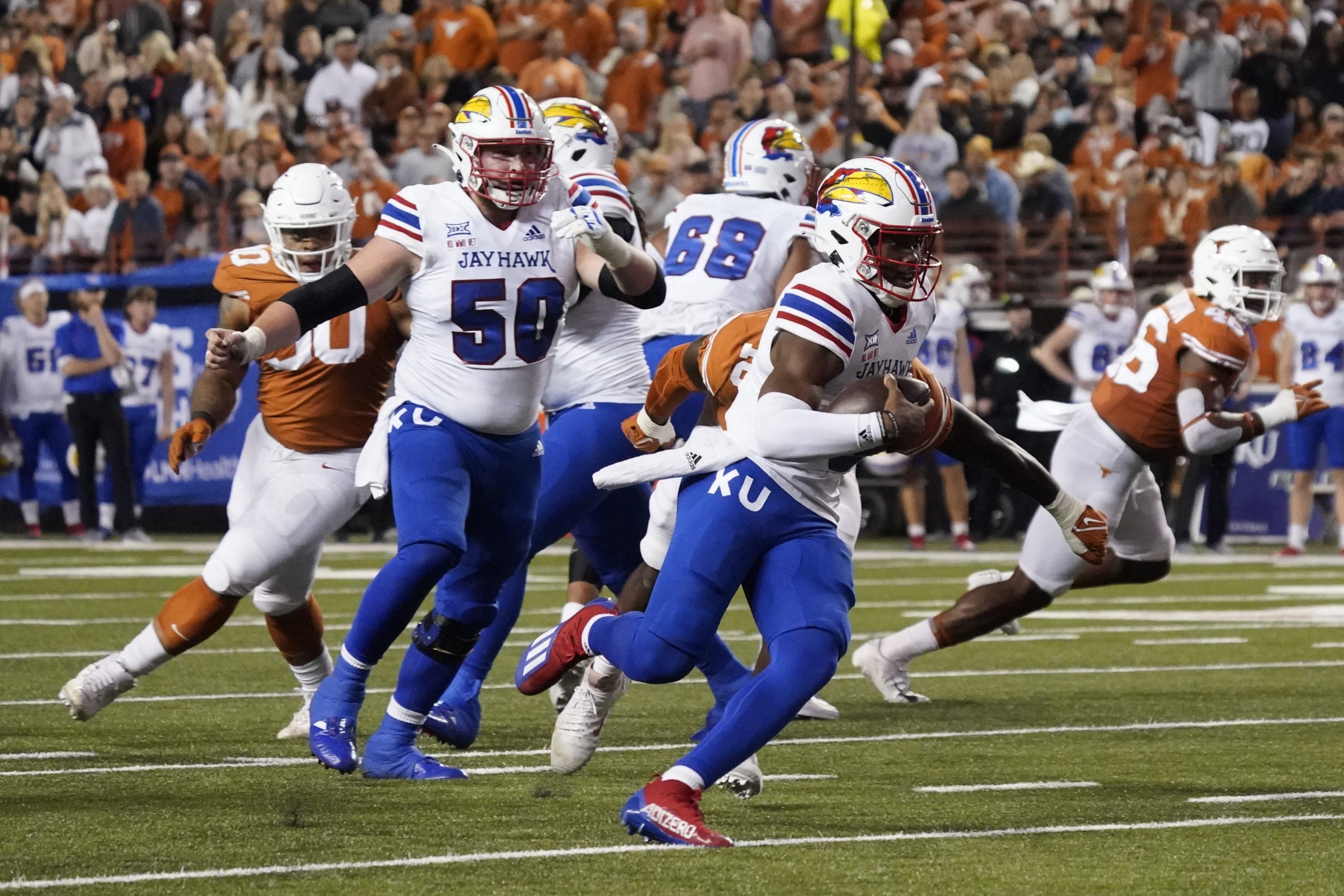 Here is everything you need to know about the upcoming matchup between the Texas Longhorns and the Kansas Jayhawks.
GAME INFO
Saturday, November 19, 2022; 2:30 p.m. CT; David Booth Memorial Stadium; Lawrence, Kansas
TV: FS1 (Noah Eagle, Mark Helfrich)
Radio: Longhorn Radio Network (Craig Way, Roger Wallace, Will Matthews); Jayhawk Radio Network (Brian Hanni, David Lawrence, Brandon McAnderson)
Records: Texas (6-4, 4-3); Kansas (6-4, 3-4)
Rankings: Both teams unranked
Last Week: TCU 17, Texas 10; Texas Tech 43, Kansas 28
Series History: Texas leads 16-4
Last Meeting: Kansas 57, Texas 56 F/OT (2021)
Favorite: Texas (-9)
Fun Fact: The Kansas Jayhawks enter their final home game of the season, averaging 7.33 yards per play this season, which ranks second nationally behind Ohio State (7.60).
KEY PLAYERS
Texas Longhorns
QB Quinn Ewers
Remember the talk that Quinn Ewers was the next coming of Colt McCoy after his performance against Oklahoma in the Red River Showdown? That seems like such a long time ago, and ever since that game Ewers has been a shell of himself, completing 71 of 145 (49%) of his passes for seven touchdowns and four interceptions. This Kansas defense is vulnerable, but its offense has made big plays all season long and could put some pressure on Ewers to score points. He will need to find a way to play a clean game and score some points for UT to win this time around.
DB Jahdae Barron
Texas junior defensive back Jahdae Barron led the Texas defense with 11 tackles and 3.5 tackles for loss last week in a 17-10 loss to TCU. Barron co-leads the Longhorns in interceptions with two on the year, tied with Jaylan Ford and D'Shawn Jamison. This week again Kansas, he will be tasked with helping keep Devin Neal and Jason Bean/Jalon Daniels from hurting them on big plays on the perimeter, on top of keeping Lawrence Arnold, Luke Grimm, and Quentin Skinner from coming open deep.
Kansas Jayhawks
QB Jalon Daniels
How poetic would it be for KU's starting quarterback to return against the team that he officially arrived against last season? Jalon Daniels was right in the middle of the Heisman conversation before he was hurt against TCU earlier in the year, forcing him to miss the last four games. If he comes back and looks like himself from earlier this year, it could be a scary situation for the Longhorns. With bowl eligibility already in grasp, Kansas is now just trying to work its way into a situation where it can play for a Big 12 title. If Jalon Daniels looks like his former self, that could be a real possibility.
DB Kenny Logan Jr.
Last season against the Longhorns, Kansas defensive back Kenny Logan Jr. had an 11-tackle performance and was an important part of the Jayhawks' monumental win. Now, he comes into the Texas game as KU's leading tackler with 80 stops on the year. Xavier Worthy is one of the premiere pass-catching weapons in the country, and with Logan playing safety for the Jayhawks, there's a good chance that the two will see a lot of each other with the ball in the air. Logan will need to win those one-on-one situations over the top if Kansas is going to win this game.
KEY STORYLINES
Texas Longhorns
Can Quinn Ewers get the monkey of his back this week and get back to playing the way he did earlier in the year? When he was playing his best football, Texas looked like a true threat to win the Big 12 title and maybe more. However, as of late he has regressed, and Texas has fallen to 6-4 as a result. Against Kansas, Ewers probably needs help the Longhorns score 30+ points to win the game. If he can do that, Texas should be in good shape.
Kansas Jayhawks
Will Jalon Daniels return and will KU's magical season continue to get better with two-straight wins against Texas? It's going to be a tall task, but not impossible. Texas is undoubtedly better than they were last season, but so is Kansas. This game will likely come down to who is more efficient offensively and Kansas has to feel good about its chances in winning that battle. The one thing that could derail it all? Kansas' rushing defense. If Bijan Robinson gets loose a few times, it could be the difference in the game.
PREDICTION: Texas 38, Kansas 27
As much as the world would love to watch Jalon Daniels beat Texas for a second-straight year, I have a gut feeling that Bijan Robinson is going to be the reason why Texas wins this game. Robinson is a game-changer and is capable of carrying Texas to a win in Lawrence, and I think that's exactly what's going to happen on Saturday. Robinson has a 150-yard, 2-touchdown performance and Quinn Ewers does just enough to keep Texas ahead in this one until the final whistle.