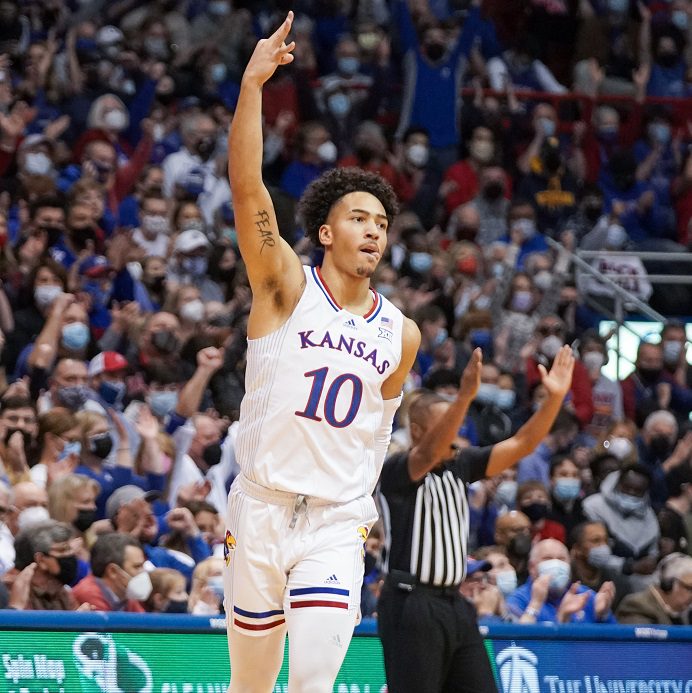 The Kansas Jayhawks beat the Duke Blue Devils, 69-64, in the second game of the Champions Classic in Indianapolis on Tuesday night. Here are three thoughts on the game.
Jalen Wilson Got the NBA's Memo
Last year at the Champions Classic, Kansas guard Ochai Agbaji had a coming-out party of sorts. Fresh off testing the NBA waters and getting an NBA report card that asked him to be more assertive offensively, he dumped nearly 30 points on Michigan State. Agbaji eventually became an NBA lottery pick.
I couldn't help but feel the same way about forward Jalen Wilson, who went through the same NBA Draft process this past summer, got his NBA report card and looked like he's applied it in much the same way. His first two games featured double-doubles against mid-major opponents.
But his 25-point, 11-rebound, 5-assist effort against Duke was much more indicative of the type of impact he can have on Kansas this season. He was the fourth player to have a 20/10/5 game against Duke in the past 20 years. His points and rebounds were a career high.
He looks like a better offensive player than a year ago. He's gotten off to a hot streak from the 3-point line. He's better at creating offense in traffic. He's leading. And that trademark ability to rebound from the perimeter is still there. That's always been one of his most consistent assets, his ability to rebound.
This early in the season it looks like this offense will flow through Wilson. Now, there will certainly be ebbs to that, as there were with Agbaji a year ago. He's also going to need help, and that help hasn't coalesced around him yet.
But, if Wilson tracks like Agbaji last season, those ebbs will be short, and Wilson's application of his NBA report card could result in another first-round NBA Draft pick from Kansas.
Gradey Dick's First Test
At times in his first two games, Kansas' Gradey Dick made playing major college basketball as a true freshman look easy.
Dick had two fine games to start the season, averaging 17.5 points and 4.0 rebounds.
Duke represented his first dose of reality. And his game ran the gamut.
He started on a hot streak, showing off one of the best shots I've seen in a long time — fundamentally sound with a quick release. It's the kind of shot that will help him break out of slumps quickly. In the first half he didn't look out of place. He drew a charge. He defended capably. He showed good instincts on both ends. And he had one savvy highlight-worthy reverse layup.
But as the game went on, you could see Duke finding ways to take him out of the game. The Blue Devils extended their defense, started denying him the ball more and then really took it to him one-on-one when he had the ball. For most of the second half, he was basically invisible.
Then, late in the game, Dick scored three straight baskets — including a 3-pointer — to give Kansas the lead for good in the final two minutes. He ended up with 14 points, and he worked for all of it.
That's life as a true freshman in college basketball. There will be up-and-down moments. But Kansas has to be happy with how he stuck with it when the game wasn't coming his way.
He's already drawing NBA Draft buzz. He fits the profile of a sharp-shooting wing at the next level, and the NBA likes to draft players early in their post-high school development because the league believes that's more time to capture that player's prime years. Dick could leave Kansas after one year. And, his performance on Tuesday isn't going to dissuade NBA scouts from taking a hard look if he declares.
But he got a taste of what life in the Big 12 is going to be like come January. It's going to be tough. He'll have to make adjustments and stick with it when the shots aren't falling, and he showed that late in the second half. I think the takeaway is that he's talented enough to make those adjustments and grow quickly into a primary option, something Kansas clearly needs alongside Wilson.
The Five-Out Proposition
For the past few years, Kansas has had a capable traditional center inside with Udoka Azubuike and David McCormack. That won't be the case this season. The Jayhawks have height, of course. But they don't have a true center. They're going to have to manufacture size where they can and work around that deficiency the rest of the time.
You saw Kansas play a lot of five-out offense on Tuesday night. There was a lot of cutting, elbow screens, back-side lobs and opportunities to use transition and quickness against Duke. When you don't have a true center, movement is key. So is keeping the paint relatively clean. Cut through it? Fine? Cut into it and make a home? Not so much.
There are obvious benefits. By spreading the floor and using the paint as a transition area as opposed to a post-up area, screen-action away from the ball becomes key, and that's where many of those dunks came from on Tuesday night. There are more lanes for dribble drives into the paint, and Wilson took full advantage. Stretching out the offense also stretches out the defense, which makes it harder for a team like Duke to rebound.
The drawbacks? Well, it's harder for Kansas to rebound, too. The Jayhawks have to make a concerted effort to crash the glass. When the shots aren't falling, especially from the 3-point line, grabbing long rebounds are key. Teams with seven-footers like Duke can make life in the mid-range difficult if their defensive assignment isn't able to clear them out.
Kansas wants to run the floor. That's nothing new. But without a true center, transition becomes more important and not just in the full court. The Jayhawks need to speed up the game in the halfcourt, too. It will be interesting to see how that translates to Big 12 play in January.
You can find Matthew Postins on Twitter @PostinsPostcard