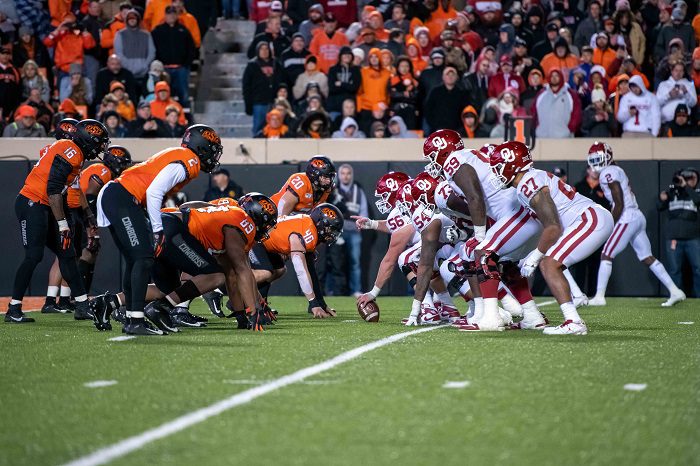 I grew up in Claremore, Oklahoma, a town of 18,743 (2019) people and about half that many trains. Every day, no matter where you're headed, you will be stopped by at least one slow-moving extremely long train. It's just a necessary part of life in Claremore. Just like the Walmart on the south side of town being chock-full Monday through Sunday. In case you were wondering, yes the dress code there is questionable, at best. It's just a part of life in Claremore.
Towns like Claremore really come alive in the fall; high school football on Friday night, hunting on Saturday morning, Sooners or Cowboys Saturday afternoon, church Sunday morning, NFL football Sunday afternoon, repeat. Football is a religion around here, and the highest point of contention revolves around those teams on Saturdays. I've found it to be a 50/50 split down the middle as far as orange or crimson goes in this town, but that doesn't necessarily mean they all have to get along. I have witnessed with my own eyes, a man wearing an "Orange Power" shirt, avoid me in Walmart because I was wearing the wrong colors. The Bedlam rivalry is as real as it gets, but I wouldn't have it any other way.
Bedlam History
The rivalry between Oklahoma and Oklahoma State goes back to 1904 when the first game was held at Mineral Wells Park, Formerly known as Island Park, in Guthrie, Oklahoma. SB Nation shared this, a synopsis of the inaugural game, back in 2017:
It's safe to say that the rules of football have changed some in the last 117 years! The game is now known as "Bedlam" but what exactly does that mean and where did it come from? Well, the word bedlam, according to the Merriam-Webster Dictionary, means "a place, scene, or state of uproar and confusion." That seems to describe this game rather well if you consider this finish. Or this one. Or this one. No one really knows when the first time "Bedlam" was used as the name for this rivalry, but an article from John Rohde of the Oklahoman tried to uncover it back in 2005. His conclusion?
"We might not know the bedlam series origin, but given the lunatic behavior often seen at OU vs. OSU, we can at least agree the word fits."
Lunatic behavior fits this game just perfectly! In 2013, when the final seconds ticked down and Oklahoma secured an improbable comeback win, fans in Stillwater started throwing snowballs, water bottles, and even turkey legs onto the field. Yes, turkey legs. Arguably the best part of the celebrated holiday bird. One such leg nearly took the life of a well-known radio personality, SoonerScoop's Eddie Radosevich:
Bravery is not something you come by easily, and I commend you, Eddie, for going back to that place where your life was nearly taken by a turkey leg.
Has Bedlam Passed the Red River Rivalry?
As much as it may surprise you if you live outside of the state of Oklahoma, I think that the general disdain for one another might be stronger between these two teams than OU and Texas has been of late. After all, the Cowboys have been better than the Longhorns for about a decade now. Stakes are usually higher when the Oklahoma teams play each other late in the year and it has certainly heated the rivalry up here recently.
The 2022 installment of Bedlam also promises to be filled with tension although its not quite as high stakes as folks around here are used to. Despite both teams struggling this season, there will be 86,000 screaming fans in Norman, Oklahoma on a frigid Saturday night to witness their Sooners and Cowboys do battle.
Oklahoma doesn't have a professional football team, and don't get me wrong there are some huge Dallas Cowboys and Kansas City Chiefs fans around here, but this landscape is dominated by those who are passionate about their teams on Saturday. Nearly every family that I know has fans on both sides of the fence and that leads to some interesting table talk come Thanksgiving. Therein lies the beauty of this rivalry. It's the people that you know and spend time with. People you see and talk to every day. Someone that you can have bragging right over for 364 days. It's personal and close-to-home.
Fan Commentary
To help me paint the picture I recently interviewed a couple of people that I see or talk to every day. I asked them a few questions about this rivalry and what it looks like from both points-of-view, being that one is an OU fan and the other an OSU fan. Our commentary is below:
When you are arguing with a fan of the other team, what is your "haymaker?" What is the one thing that you know will get under their skin or flat out end the argument?
OU Fan:  "How many times has Mike Gundy beaten us? That's all you have to ask. The series record, what is like 100 to like 10? Something like that. I just know it's not even close."
OSU Fan: "I hear Oklahoma fans say the Big 12 is too easy and they're leaving for the SEC… yet all Oklahoma can do is win the Big 12. They never do anything in the postseason, except get kicked out in the first round."
In contrast, what is the first thing you hear from an opposing fan? What is something that you hear every time that conversation gets heated?
OU Fan: "We would've beat you if… fill in the blank. Excuses. The refs screwed us. Our QB was hurt. It's a new one every year. Then it's the Chokelahoma stuff, talking about us losing in the Playoff. That sh*t gets old. To be honest I've gotten to the point that I just don't talk to OSU fans during Bedlam week."
OSU Fan: "90-19 (series record) that's all I hear every year is the updated record, it get's old. They talk about Gundy having three wins. I hear that one a lot too."
What do you think about the matchup this season, compared to seasons past?
OU Fan: "Typically, it looks like we are both going to score a million points. This year, they clearly have the better defense, and I think we have the better offense. I think this year will be all about momentum, more so even than in the past. If we grab momentum early at home, it could be dangerous for them. If we are going to win, we have to grab an early lead and not let it go. We need to force Sanders to make mistakes, so we need them to be chasing all game. If we win the toss, we need to take the ball and score."
OSU Fan: "I think we are definitely the better team this year. But we have been the better team more than 19 times, and certainly better than the 5 times that we have won in my lifetime. The 2011 and 2013 years we were the significantly better team, but we split those. So, who knows? But that's what annoys OSU fans about the (series) record. You can't argue; they have our number."
What's your score prediction for the game?
OU Fan: "31-28 Sooners."
OSU Fan: "23-20 Cowboys."
When it comes down to it, Bedlam is so important around here because it's a part of our holiday traditions. Every year in late November we can count on this game, just like the Thanksgiving turkey or the Christmas tree. It is a part of who we are as fans and family. And we wouldn't have it any other way. So whether it's "Boomer Sooner" or "Pistol's Firing" you'd better be loud and proud on Saturday.