Baylor Bears
Big 12 Bets: An Underdog, Lock, and Bad Bet for Week 12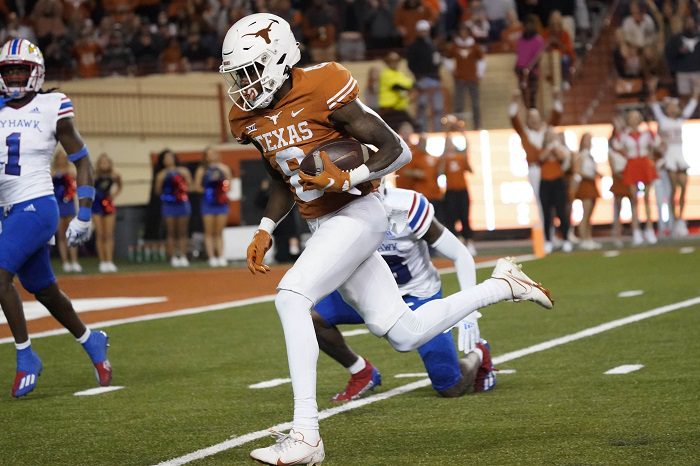 One of the beautiful things about college football is the parity and chaos that we see each and every week. There are, after all, 22 moving parts on the field every time that the ball is snapped, and just one player out of place can change the course of a game, hell even a season, in just one play.
While watching football and understanding the nuances of what is going on takes a bit of experience, the real talent is in being able to put your money where your mouth is when it comes to betting on the world's greatest sport.
Here are some betting trends you should pay attention to in Week 12 of Big 12 action, with an upset, a lock, and a bad bet to avoid on Saturday.
I am fairly confident that Texas will win this game, but there is a small part of me that says Kansas could pull off the upset. I think nine points is a lot, especially if Jalon Daniels returns to the lineup for KU and looks like himself from the beginning of the season. Lance Leipold has proven himself to be one of the best coaches in the country for what he has down in Lawrence, and I can't imagine anything better than for him to close out the final game of the year in David Booth Memorial Stadium with a win. The Jayhawks are 4-1 in Lawrence this season, with the only loss coming by way of TCU, 38-31. Watch out Texas fans, lighting might strike twice if the Longhorns aren't ready for a fight.
Underdogs for 2022: 4-6 SU; 6-4 ATS
I did pick the Sooners to win this game in a nailbiter, but it won't be by more than a touchdown. The Sooners team that we saw last week in Morgantown proved incapable of putting things away, and while the weather did have an impact on that game, both teams did play in it and the Mountaineers proved to be the tougher out. Meanwhile, Oklahoma State will have Spencer Sanders as its starter for the first time since the K-State game, but things have changed since the first half of the season. OSU's offensive line has gaping holes in it and the defensive front is full of missing playmakers. This game will be ugly, and close, so I'm taking the Sooners to win at home, but the Cowboys to cover.
Locks for 2022: 5-5
TCU's offense is one of the best in the country, averaging 40.5 points per game Baylor itself is averaging 34.8 points per game itself. Add to that the "revivalry" feel of this game and one team having a College Football Playoff berth, and this game has the feel of a heavyweight bout that will involve back-and-forth haymakers. Now, we might not see the total get anywhere near 75 points, but to clear 58 points, we just need these two teams to score 80% of their season average, and I think they will both do that.
Bad Bets for 2022: 8-2