Big 12 News
Phillips 66 to Host Pre-Game Festivities Ahead of Bedlam Game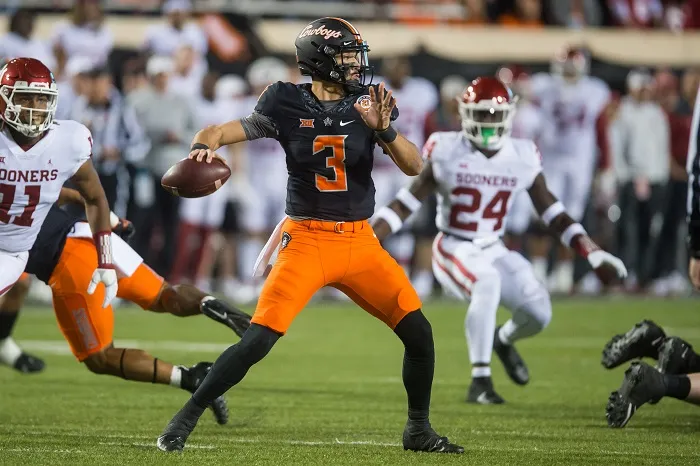 Oklahoma and Oklahoma State will play for the 112th consecutive year on Saturday, with the No. 22 Cowboys heading to Norman to take on the unranked Sooners.
The last time that Oklahoma State came into this game ranked and the Sooners weren't was 2009, and it was Oklahoma who came out on top in that game, 27- 0.
This game is always wild, wacky, and unexpected, hence the name: Bedlam.
Before fans around the state make their trek to Oklahoma Memorial Stadium for the game, there are a few events, courtesy of Phillips 66, going on around Norman that you might want to know about.
Bedlam Series Beats & Bites concert: Friday, Nov. 18
Kicking off game day weekend, country music acts Wade Bowen and The Eli Young Band will perform at the Bedlam Series Beats & Bites concert, presented by Phillips 66®. The concert will take place Friday, Nov. 18 at Riverwind Casino in Norman, Oklahoma. Whether you are rooting for OSU or OU, all football and country music fans are welcome. Tickets are $5 and can be purchased online or at the door starting at 5:30 p.m.
Pre-Game Meet-and-Greets with Jason White and Josh Fields
To keep the game day spirit alive, Phillips 66will also be at Gaylord Family – Oklahoma Memorial Stadium for the Nov. 19 Phillips 66 Bedlam Series game, offering meet-and-greets with former University of Oklahoma quarterback and Heisman Trophy winner Jason White and former Oklahoma State University quarterback Josh Fields.
Bedlam Series attendees are invited to stop by to receive autographed posters and pose for photos with White and Fields at Heisman Park on the east side of the stadium, starting three hours before kickoff. Fans who come by the booth will also have a chance to receive free vouchers to fuel up at their local Phillips 66® station after the game.
The fun continues during the game where all attendees are eligible to participate in a trivia contest and one lucky winner will receive a year's supply of gas*, which will be awarded after the third quarter.
The Sooners and Cowboys will kick off at 6:30 p.m. CT on Saturday, with the game televised on ABC. Oklahoma is currently a 7.5 point favorite at home over the Cowboys.