featured
ESPN is Right About TCU Being Misranked, It Should be Higher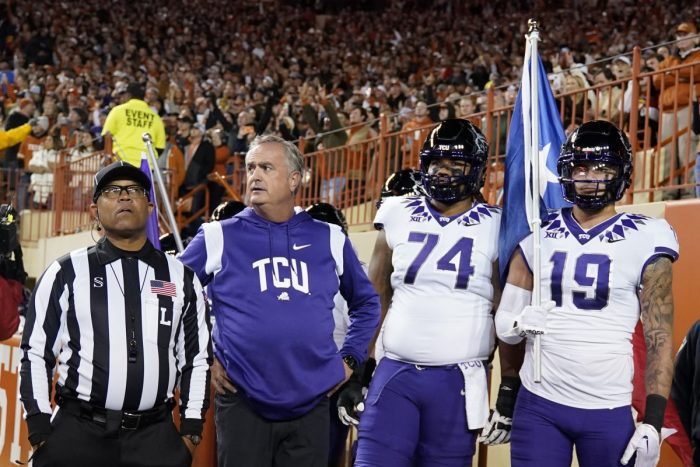 Welp, if you're on Twitter (for now), you probably saw the video of Stephen A. Smith and Paul Finebaum joining hands to bash TCU, claiming they shouldn't be in the top four. While anyone who's watched the Big 12 this season knows that's nonsense, ESPN executives were probably quite proud of the lies they were spewing. After all who wouldn't want to watch blue bloods Michigan, Ohio State, Georgia, and Tennessee battle it out in a four-team playoff? For casual fans it'd be great, ratings would boom.
However, for the fans that watch all year, go to sites like this one for coverage. They're sick of the same teams, from the same conferences, and want to see new blood. Not only that but if TCU could win their last three games, they'd accomplish something amazing, ten straight Big 12 wins without a bye, including six ranked wins, and by the way, their game the week before that stretch was at rivals SMU.
TCU's Rode Some Luck
It is what it is, TCU has gotten a bit lucky to get to 10-0, there's no shame in saying that. After all, Dillion Gabriel got injured against them, but that likely wouldn't have changed the outcome, as TCU was already up 34-10 when Gabriel went down. Against Oklahoma State, they definitely were fortunate that Spencer Sanders wasn't at his best, but even then Oklahoma State was in a good position to win the game, up 14 in the fourth. But it wasn't enough as TCU roared back and won in double overtime. The next week Adrian Martinez came into the game banged up and had to be pulled, but Will Howard came in and looked like the starter, leading them to a 28-17 lead at half. It didn't last of course, as Howard too got injured and TCU pulled away for a 38-28 win.
Now one important thing to point out in TCU's defense is that they also seemed to have bad luck at the Quarterback position. In their opener, Chandler Morris left with a serious injury, and in came former starter, Max Duggan. While Duggan lost the job in camp and struggled last season he has since looked like a player that deserves to be in New York for the Heisman Ceremony. There was one more game where TCU knocked out a quarterback, and that was against Texas Tech, where Behren Morton left with an ankle injury. This was certainly an interesting situation, Texas Tech's starter was out while TCU's wasn't, however, if you go by the depth chart from the first game it would've been Texas Tech's starter vs TCU's second string.
TCU's Resume
How did TCU get here? Well, it wasn't the smoothest start, they struggled in the first half against Colorado, but turned it around and exploded offensively when Duggan came in to get the 38-13 win. Against Tarleton State they did what was expected and just completely obliterated them, after that, an early bye came, and with it a matchup with cross-metro rivals SMU and nine straight Big 12 games without a bye week. This is where TCU would finally be tested, and they proved it early with a quality road win over SMU 42-34, which probably wasn't as close as the final score. Three games in, TCU had done what was expected, Colorado is one of the worst teams in the Power 5, Tarleton State is FCS, and while SMU was a challenge they were favored.
Then when conference play came they shocked everyone with a 55-24 beatdown of an Oklahoma team that everyone thought was a playoff contender on ABC. The momentum didn't stop there as they went on the road and survived against a ranked, and undefeated Kansas team that was hosting College Gameday, in their biggest football game since the 2008 Orange Bowl. After that, all doubt on whether TCU was a Big 12 contender would be removed, they came from behind in home games against both Oklahoma State and Kansas State to cement their place at number seven in the nation.
A couple of tight ones would follow, they survived in Morgantown where one of the worst beats of the season occurred for West Virginia bettors. Then came back in the fourth against Texas Tech after their defense stifled the Red Raiders' offense in the fourth quarter. But then the real test came, after the CFP committee vocalized concerns about the TCU defense, they would answer those concerns in a major way. In Primetime on ABC, TCU would keep an offense with one of the best running backs in the nation, and the highest-ever rated QB recruit, from finding the endzone in a 17-10 road victory, where they were 7.5 point underdogs.
They Should be Ranked Higher
In the last few days, even Tennessee fans have complained that TCU is ahead of them, after all their only loss was on the road to Georgia. But TCU is still 10-0 and has the number one strength of record according to ESPN's own FPI. So while the Stephen A Smiths and Paul Finnebaums of the world complain about TCU not playing anyone, their own companies' stats don't back that up. In fact, TCU should be above Michigan based on that logic. Michigan has played one ranked team all year, who did they even schedule in the non-conference? Hawai'i, Colorado State, and UCONN. That's a pathetic non-conference schedule, at least TCU scheduled a power 5 school, and even went on the road for it. Their Group of 5 game featured an intense rivalry matchup with all the built-in storylines surrounding Sonny Dykes.
The national media will continue to bash the Big 12 and TCU, probably because all they've seen of them is a few highlights of their game in Austin where they probably just assume their offense stinks. But that's not what's really going on with this TCU team, they're eight games through what could end up being the most impressive run a Big 12 team has had. Should they finish with three more wins they would have won 11 games in 11 weeks against either conference opponents, or on the road in a rivalry game. Never mind they're doing it in the most competitive Big 12 ever, while SEC schools enjoy their annual late November cupcakes this week, TCU will go on the road to take on their rivals Baylor. What TCU's done this season has been impressive, and should they complete this run you'd have to say it's the most impressive season a Big 12 team has had in over a dozen years.