Baylor Bears
Oklahoma State, Baylor Daily Fantasy Sports Picks for Friday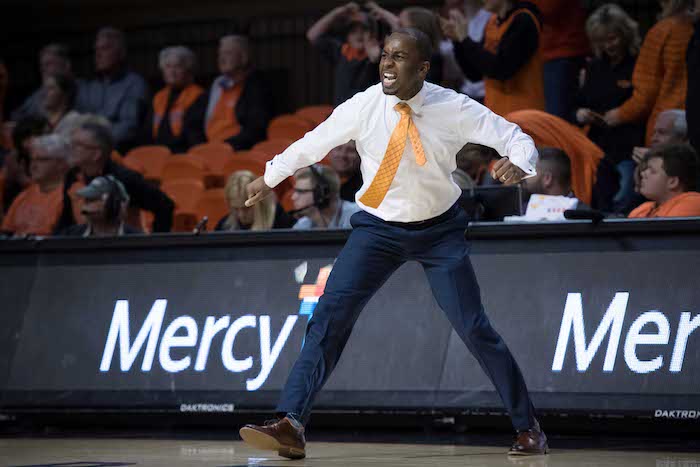 The Oklahoma State-UCF game and the Baylor-Virginia game are two of eight games that are part of Draft Kings Daily Fantasy Sports games for men's college basketball on Friday.
This season, when a Big 12 game is part of the pool at Draft Kings, we'll provide our recommendations for who to take that night. In this case, the recommendations are for a Classic game, which features eight players — three guards, three forwards and two guard/forwards (utility). The lineup must contain players from at least two different games. The salary cap is $50,000.
For the purposes of nights that include Big 12 games, but not enough to fill out a complete Big 12 lineup, we'll take a guard, a forward and a utility player from each Big 12 team and fill out the remainder of the lineup with players from the rest of the pool.
But since we have two Big 12 games in the pool, we're going to try and fill out an ENTIRE lineup featuring Oklahoma State and Baylor.
Here is Friday's lineup:
Guards
Bryce Thompson, OSU ($7,100); L.J. Cryer, Baylor ($6,800); Dale Bonner, Baylor ($4,900)
Players like Keyonte George and Adam Flagler at Baylor, and Avery Anderson III at Oklahoma State, were on the high side. So I opted to find value. Thompson has the second-most fantasy points for OSU and there isn't a wide gap between him and Anderson. Cryer's accuracy from the 3-point line isn't there quite yet, but he's made as many as George (both have nine) and he's shot more 3-pointers than anyone on the team. Bonner doesn't start, but he plays a role as the back-up point guard. He's going to collect assists and he leads the team with 11 steals. If he can score 10 points off the bench with a couple of steals, that's good value.
Forwards
Moussa Cisse, OSU ($7,900); Jalen Bridges, Baylor ($6,900); Josh Ojianwuna, Baylor ($3,900)
Cisse is nearly averaging a double-double with 10 points and 9 rebounds per game, and he leads the team in blocked shots. For what he's producing, the salary is solid value. So is Bridges' cap figure. While he's not bringing in a lot of rebounds, he is Baylor's second-leading scorer, averaging 16 per game. Ojianwuna is a bit of a risk given the opponent, but he's been productive in a bench role. His fantasy numbers were comparable to the starter, Flo Thamba, but Ojianwuna's cap figure made him too irresistible to pass up.
Utility
Langston Love, Baylor ($5,400), John-Michael Wright, OSU ($6,600)
Love was Baylor's top recruit last season and he tore his ACL. He's working his way back and averaging seven points in 14 minutes per game so far this season. I'm banking that he can collect a few extra points as the Cavaliers pay attention to Flagler and George. As for Wright, he's great value for the cap figure. He's averaging 11.6 points per game, but he's shooting nearly 47 percent from the 3-point line. Taking Ojianwuna instead of Thamba allowed me to sneak Wright in under the cap, with $500 to spare.
–
Scoring system: Point: +1 Pt; Made 3pt Shot: +0.5 Pts; Rebound: +1.25 Pts; Assist: +1.5 Pts; Steal: +2 Pts; Block: +2 Pts; Turnover: -0.5 Pts; Double-Double (Max 1 Per Player: Points, Rebounds, Assists, Blocks, Steals) +1.5 Pts; Triple-Double: Max 1 Per Player (Points, Rebounds, Assists, Blocks, Steals): +3 Pts
You can find Matthew Postins on Twitter @PostinsPostcard