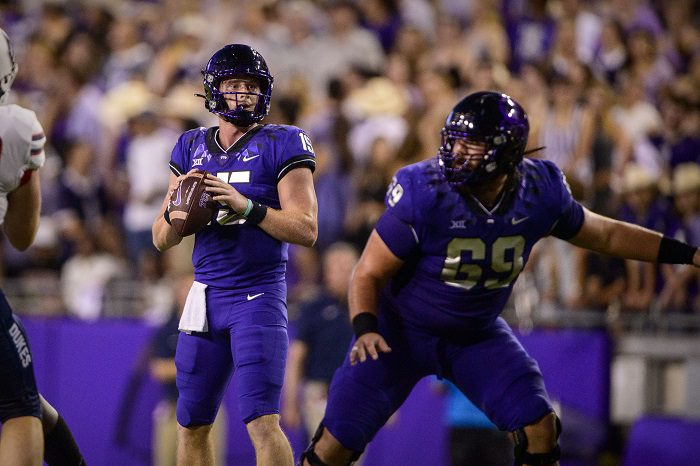 Here is everything you need to know about the upcoming matchup between the TCU Horned Frogs and the Baylor Bears.
GAME INFO
Saturday, November 19, 2022; 11:00 a.m. CT; McLane Stadium; Waco, Texas
TV: FOX (Jason Benetti, Brock Huard)
Radio: Horned Frog Sports Network (Brian Estridge, John Denton, Landry Burdine); Baylor Sports Network (John Morris, J.J. Joe, Ricky Thompson)
Records: TCU (10-0, 7-0); Baylor (6-4, 4-3)
Rankings: TCU ranked No. 4 (CFP Top 25); Baylor unranked
Last Week: TCU 17, Texas 10; Kansas State 31, Baylor 3
Series History: TCU leads 57-53-7
Last Meeting: TCU 30, Baylor 28
Favorite: TCU (-3)
Fun Fact: With just two games left in the season TCU is trying to become the first Big 12 team since Texas in 2009 to have a 12-0 regular season.
KEY PLAYERS
TCU Horned Frogs
RB Kendre Miller
Miller continues to have one of the best seasons in the Big 12 that no one is talking about. Miller has rushed for at least 100 yards in five-straight games and seven of the last eight games. Last week against Texas he rushed for 138 yards, including a 75-yard touchdown run. Miller is second in the Big 12 in rushing yards per game (114), which is one yard behind what Bijan Robinson is averaging. His 13 rushing touchdowns are tops in the Big 12, tied with Baylor running back Richard Reese.
DB Tre'Vius Hodges-Tomlinson
Hodges-Tomlinson got off to a slow start this season, but has played really well the last month of the season. He had a big interception of Quinn Ewers last week as TCU's defense won them the game. He now has interceptions in two-straight games, along with three of the last four games. He has five passes defended the last two games as well.
Baylor Bears
QB Blake Shapen
Shapen needs to bounce back after a really bad performance against Kansas State last week when he went 22/38 for 203 yards and two interceptions. The last two games against K-State and Oklahoma he has thrown three interceptions and zero touchdowns and his QBR was 30.6 last week and 16.0 two weeks ago. It has been more than a month since Shapen threw for more than 211 yards. He has to get back in a groove to lead Baylor to an upset win.
DB Christian Morgan
Morgan is the leader of this secondary that will need to bring its A-game to slow down TCU's passing attack with Max Duggan and Quentin Johnston. Morgan is in the Top 10 in the Big 12 in passes defended on the season and will be needed plenty against a TCU wide receiver corps that is talented and deep.
KEY STORYLINES
TCU Horned Frogs
Does the pressure start to build? TCU is 10-0. A 13-0 season and trip to the College Football Playoff is getting real. Nerves will get more real each and every week and now when playing a rival who would love nothing more than to possibly knock you out of playoff contention, that can play a serious factor in this race.
As for the X's and O's, TCU needs to get its offense back on track because relying on their defense to hold opponents to three points like they did last week against Texas is too much to ask. The offense will need to bounce back with a big performance and that will start with Max Duggan, who threw for a season-low 124 yards last week.
Baylor Bears
Arguably Baylor's best game of the season came against Texas Tech when they racked up six sacks and eight tackles for loss. Baylor hasn't been as consistent in getting to the quarterback as I expected they would be this season. The last two weeks against Oklahoma and K-State they had a combined one sack and three tackles. TCU's offensive line hasn't been great, allowing 22 sacks in ten games, which is the third most in the Big 12. Baylor needs to take advantage.
PREDICTION: TCU 31, BAYLOR 21
The Horned Frogs are two wins away from a perfect 12-0 regular season before the Big 12 Championship Game. Can Baylor ruin TCU's hopes of a CFB Playoff? They can, but I don't think they will. The Horned Frogs got through a tough road test last week at Texas and should carry that confidence, in a tougher road environment, into Waco and pick up a victory.