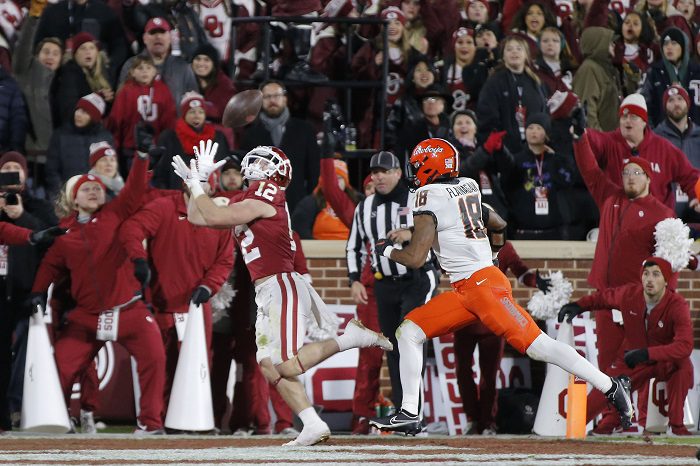 Bedlam. There are few rivalries like it in all of college football. This was one unlike many in recent years, as neither team was in the hunt for a Big 12 Championship, but it's still Bedlam. Oklahoma came in still looking to become bowl eligible at 5-5, while Oklahoma State's season had fallen apart in recent weeks, even with their win over Iowa State in Week 11. The Pokes came in having dropped two of three and three of five games, but the good news was that they had Spencer Sanders back at starting quarterback.
Unfortunately for the Pokes, that wouldn't make much of a difference, as the Cowboys came up short Gaylord Memorial Stadium on Saturday night in a 28-13 loss to the Sooners. Oklahoma continued its dominance in this series, improving to 91–19–7 against their in-state rivals.
Here are three thoughts on the game.
1. Oklahoma's Red-Hot Start
The Oklahoma Sooners couldn't have asked to get off to a better start than they did. They scored touchdowns on their first two drives and three of their first four drives. OU opened the game with a six-play, 75-yard drive ending in a Dillon Gabriel two-yard touchdown run. After an OSU three-and-out, it was a nine-play, 93-yard drive in under three minutes as Gabriel hooked up with Jalil Farooq for a 30-yard score. Two drives later, after an interception of Spencer Sanders that set up Oklahoma at the OSU four-yard line, Eric Gray took it in from two yards out for a score as Oklahoma took a 21-0 lead at the 8:06 mark in the first quarter.
From there, the route was on. The Sooners took a 28-3 lead into the locker room at half time, with Oklahoma racking up 365 total yards to Oklahoma State's 164 yards.
Now with that being said, the Sooners did everything in their power offensively to screw it up in the second half. OU's refusal to run the clock down in the fourth quarter was an inexcusable coaching decision and gave the Cowboys an extra drive or two in this game. Luckily, OU's defense held strong in the second half, but boy, they got away with it.
2. Mike Gundy Disappoints Against vs. Oklahoma
With this loss, Mike Gundy fell to 3-15 in his career as head coach against Oklahoma. Gundy and the Pokes won Bedlam last year, which punched their ticket to the 2021 Big 12 Championship Game, but as great as that win was, this one was just as big of a letdown, especially given how quickly this game got out of hand on Saturday night.
To put this in perspective, Mike Gundy is 153-58 against everyone else in college football as head coach at Oklahoma State.
What Mike Gundy has done for Oklahoma State football should never be understated or underappreciated. He IS Oklahoma State football. And there is a lot to be grateful for. Before Mike Gundy, Oklahoma State had three 10-win seasons. In his 18 seasons, the Pokes have seven. His 17 bowl appearances are one more than the Cowboys had in program history (16) from 1899 to 2004. But one can be grateful for all his accomplishments and still be bothered by these continued letdowns against their in-state rivals.
3. Oklahoma is Bowl Eligible
Earlier in the week, the OU coaching staff was discussing the importance of becoming bowl eligible, which required them to win one of these last two games.
"The importance of playing in a bowl game, there's a lot of things that go into that," OC Jeff Lebby said Monday. "But first-year staff obviously think the biggest thing is more time with our guys. That's the first thing that comes to mind."
Well, this first-year staff has achieved its goal with the win on Saturday as this team avoids becoming the first Oklahoma squad since 1998 to miss a bowl game. Granted, this season still is not one that anyone around the program would say has gone as planned or met expectations, but as Brent Venables continues this rebuild, getting the extra practice and time with his guys to instill his culture will be as valuable as anything else that happens in the coming weeks and will play an important role in the future of Oklahoma football under this staff.