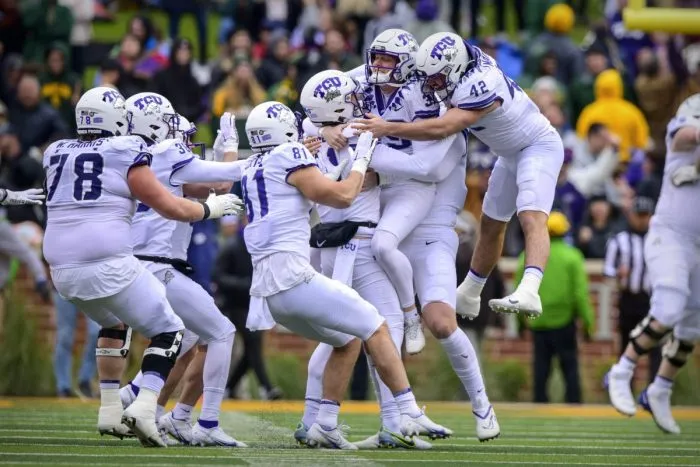 The TCU Horned Frogs went into Waco with their 10-0 record on the line taking on a Baylor team that was fresh off its worst loss of the season (31-3 to K-State). These two rivals have played some epic games over the last 10 years since the Frogs joined the Big 12, with conference title implications, along with CFB Playoff implications on the line.
And on Saturday, it was another incredible match up between these two teams as TCU came back to beat Baylor on a game-winning field goal by Griffin Kell.
Here are three thoughts on TCU's 29-28 win over Baylor.
1. TCU's Final Two Drives
TCU trailed 28-20 with just a few minutes remaining, but the offense then turned it up a notch. First, it was an 11-play, 90-yard drive in 4:41 that resulted in a touchdown, although the two-point conversion came up short. At that point, TCU trailed 28-26 with two minutes to play. But TCU had all three time outs remaining, which came in handy as Baylor ran the ball three times and burned only 33 seconds off the clock. TCU got the ball back and from their own 31-yard line took the ball down to Baylor's 24-yard line where Griffin Kell ran onto the field to kick the game-winning field goal as time expired.
Here's the video of the game winner.
After the win, TCU head coach Sonny Dykes told FOX, "We practice it. It looks more frantic than it is."
Max Duggan added after the game "We practice that all the time. It's like brushing our teeth."
It sure did look frantic. But regardless, the Horned Frogs are now 11-0 and a College Football Playoff remains a real possibility.
2. Baylor's Rushing Attack Nearly Won Them The Game
One week after TCU held Texas running back Bijan Robinson to less than 30 rushing yards, the Horned Frogs got absolutely gashed by the Bears on Saturday, and it began right out of the gates. Baylor RB Craig "Sqwirl" Williams had more rushing yards on that first drive (30) than Bijan Robinson had against TCU all of last week (29).
Then, things only got worse. Baylor finished with 232 rushing yards on 46 carries, good for 5.0 yards per carry.
However, Baylor did not finish strong and tried to run the clock out late. On their last two drives they had six carries for a total of 15 yards. Both drives ended with three-and-outs, which kept TCU in the game and allowed them to make their comeback. It was arguably too conservative, but that may be some Monday Morning Quarterbacking. However, Blake Shapen was having himself a day as well, averaging 9.0 yards per pass, and he didn't throw a pass the final two drives.
3. A Big 12 First
No Big 12 team has ever started 11-0 in the College Football Playoff era. TCU now has. The two other teams who began 10-0 were 2012 Kansas State and 2015 Oklahoma State. Coincidentally enough, both those teams ended up losing to Baylor. The Bears nearly pulled it off again on Saturday, but came up short.
The Horned Frogs are now two wins away from making a College Football Playoff. No Big 12 team other than Oklahoma has reached the College Football Playoff.
There's no doubt there will be those who don't think TCU is worthy, but let's not forget their Strength of Record is No. 1 in the country.
After the win, TCU quarterback Max Duggan had this to say about the doubters to FOX, "We don't care what people say outside of our program and our walls. We know we're a competitive group, tough and gritty. We love to practice and love to play and we're just trying to win the next game."
That about sums it up.
Just keep winning for the Frogs and they're in. And they will have earned it, regardless of what ignorant national talking heads have to say.