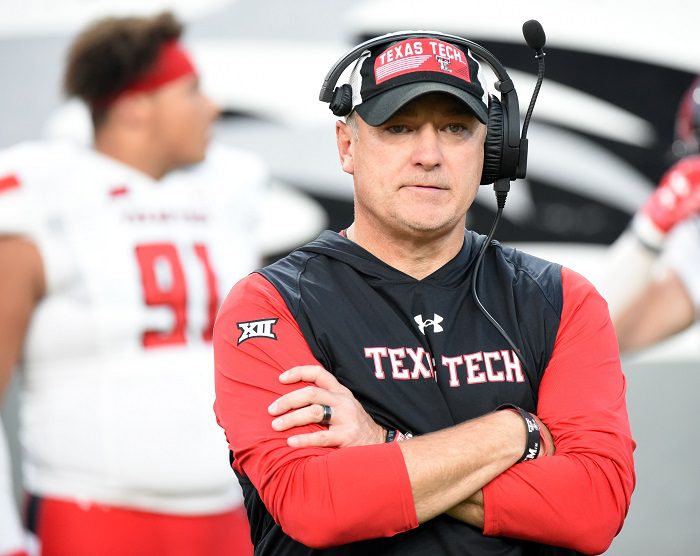 Coming into this weekend there are just two games left of the regular season. We have a full slate of Big 12 football as the race for the conference crown continues as we make our way to the final week.
While some teams are still fighting for that last Big 12 championship spot, others are fighting just to make a bowl game. That was the case on Saturday in Ames, Iowa as Iowa State hosted Texas Tech.
The Cyclones came into this game with a 4-6 record and needed to win their final two games to become bowl eligible. Meanwhile, the Red Raiders were just one win away from getting to that magic number six which they got. Here are my three thoughts on Texas Tech's 14-10 win over Iowa State.
1. Texas Tech Made Plays When It Mattered Most
Texas Tech didn't need much offense to win this game as 14 points was enough to walk out of Ames, Iowa with a win. Tyler Shough got the start on Saturday night, and he wasn't great by any means, but he got the job done. Texas Tech's first touchdown came from a long 14-play drive that ended with Donovan Smith finding the end zone. Then when this offense had their back against the wall, they responded with another long touchdown drive in the fourth quarter as Tyer Shough found Baylor Cupp for a four-yard score. That last touchdown ended up being enough for Texas Tech to take the game. I know it wasn't the best display of offense, but that last scoring drive was extremely impressive in my book.
As for the defense, they did a tremendous job. Outside of one drive, they shut down the Iowa State offense when it counted. Sure, they gave up some yards, but this defense had two key stops from inside their own five-yard line. They also held Iowa State scoreless on nine of their eleven offensive drives. It didn't matter how many yards they gave up because they gave up just ten points on the scoreboard.
2. Iowa State Missed Opportunities
If you have been watching this team play at all this season, you know that they rarely take advantage of opportunities. Kicker Drake Nettles went 1/3 on his field goal attempts and missed a key kick before the first half ended. Six points were left on the field from the kicking game alone. Of course, I can't forget about the two horrendous offensive drives in the third quarter. The first bad drive was when Iowa State needed just one yard to get a first down on the Texas Tech two-yard line. They ran three straight run plays up the gut and got stuffed on every one of them. On the very next drive, they had two chances to find the end zone from the two-yard line once again and failed to get points. This offense is flat out embarrassing to watch and there should be a serious discussion this offseason about making a change at offensive coordinator. This whole thing with Tom Manning isn't working out at all.
3. Texas Tech is Going Bowling
Before the Kansas game, Texas Tech lost four out of their last five games. They were 4-5 and I wasn't sure that they would be capable of winning two out of their last three games to get to six wins. Well, they proved me wrong as they put a beatdown on Kansas last weekend and found a way to win on the road in Ames on Saturday night. I picked Texas Tech to finish ninth this season and they made me look like a fool. Texas Tech isn't where they want to be as a program just yet, but this is a big first step in the right direction for first year head coach Joey McGuire. Those bowl practices should help tremendously and will start getting them ready for next season.