Baylor Bears
Five Biggest Takeaways From Week 12 of the Big 12 Football Season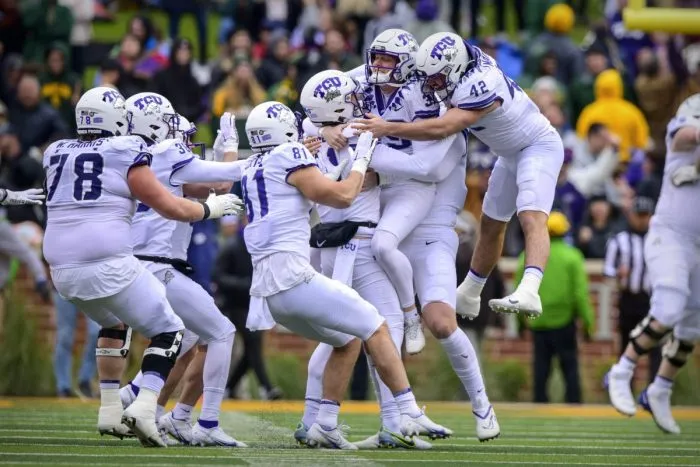 Week 12 of the Big 12 football season is in the books as the college football season heads down the home stretch. There were five games this week, with TCU beating Baylor 29-28, Kansas State rolling West Virginia 48-31, Texas crushing Kansas 55-14, Texas Tech beating Iowa State 14-10 and Oklahoma holding off Oklahoma State 28-13.
So with another wild week in the books, here are the five biggest takeaways from Week 12 in the Big 12 Conference.
1. TCU Does What No Big 12 Team Has Done
No Big 12 team has ever started 11-0 in the College Football Playoff era. TCU now has after a stunning comeback 29-28 win over Baylor. The two other teams who began 10-0 were 2012 Kansas State and 2015 Oklahoma State. Coincidentally enough, both those teams ended up losing to Baylor. The Bears nearly pulled it off again on Saturday, but came up short.
The Horned Frogs are now two wins away from making a College Football Playoff. No Big 12 team other than Oklahoma has reached the College Football Playoff.
There's no doubt there will be those who don't think TCU is worthy, but let's not forget their Strength of Record is No. 1 in the country.
After the win, TCU quarterback Max Duggan had this to say about the doubters to FOX, "We don't care what people say outside of our program and our walls. We know we're a competitive group, tough and gritty. We love to practice and love to play and we're just trying to win the next game."
That about sums it up.
Just keep winning for the Frogs and they're in. And they will have earned it, regardless of what ignorant national talking heads have to say.
2. Kansas Gets Embarrassed
Kansas is bowl eligible for the first time in 14 years, but the Jayhawks had lost four of five games coming into this one, and after getting smoked by Texas, they have now lost five of six. But this was the first time Kansas got absolutely embarrassed in a loss.
Kansas trailed this one 41-0 before finally putting points on the board in the third quarter. It was Texas who came out looking for revenge from their loss last year. They were not flat at all, as Bijan Robinson ran all over the pitiful Kansas run defense.
After a first half that consisted of 172 yards on 19 carries that resulted in three touchdowns (a fourth was called back due to holding), Robinson continued his run of terror on the Jayhawks defense as the second half began. He took his 22nd carry of the game 31 yards for his fourth touchdown of the day. Head coach Steve Sarkisian smartly took him out of the game after one more offensive possession and Robinson ended the game with 243 yards and four touchdowns.
3. Oklahoma, Texas Tech are Bowl Eligible
Well, these two fan bases likely have different feelings about bowl eligibility. Tech fans are thrilled to be going bowling in Year 1 under Joey McGuire after a hard-fought 14-10 win in Ames against Iowa State. The Red Raiders have officially hit the "over" on their preseason win total of 5.5 and are going to a bowl game for just the second time in the last five years. Tech fans have to feel great about this program under Joey McGuire and now they guarantee an extra few weeks of practice, which is critical for any first-year head coach.
Meantime, the Sooners never expected to be waiting until Week 12 to become bowl eligible, but they finally got their after beating Oklahoma State on Saturday night in Norman. This group avoids becoming the first Oklahoma team since 1998 to miss a bowl game. Granted, this season still is not one that anyone around the program would say has gone as planned or met expectations, but as Brent Venables continues this rebuild, getting the extra practice and time with his guys to instill his culture will be as valuable as anything else that happens in the coming weeks and will play an important role in the future of Oklahoma football under this staff.
4. Another Week, Another One-Score Loss for Iowa State
The Cyclones fell to 1-7 in Big 12 play and 4-7 overall after losing to Texas Tech on Saturday night 14-10. This is now six of Iowa State's seven losses that have been decided by less than one score. They lost to Baylor 31-24, came up short against Kansas 14-11, lost to K-State 10-9, fell to Texas 24-21, lost to Oklahoma State 20-14 and now the Texas Tech loss.
Their only loss by more than one score was a 27-13 defeat at the hands of Oklahoma.
This can be the foundation to re-establishing Iowa State football over the next couple of seasons. We all knew they had a ton of young players replacing the best group in program history, with many heading to the NFL, but even by the biggest pessimist's standards, this season has come as unexpected.
5. The Big 12 Race Comes Down to This…
The TCU Horned Frogs punched their ticket to the Big 12 Championship Game last week. They're now two wins away from becoming the first Big 12 team not named Oklahoma to reach the College Football Playoff.
Meantime, Kansas State just needs to beat Kansas on Saturday night and they're in the Big 12 Championship against TCU. However, Texas is still in the mix as well. If Texas beats Baylor on Friday and K-State losses to Kansas, then the Longhorns would reach the Big 12 Championship game to take on the Horned Frogs.