Big 12 News
TCU Leads Three Big 12 Teams Ranked in Week 13 AP Poll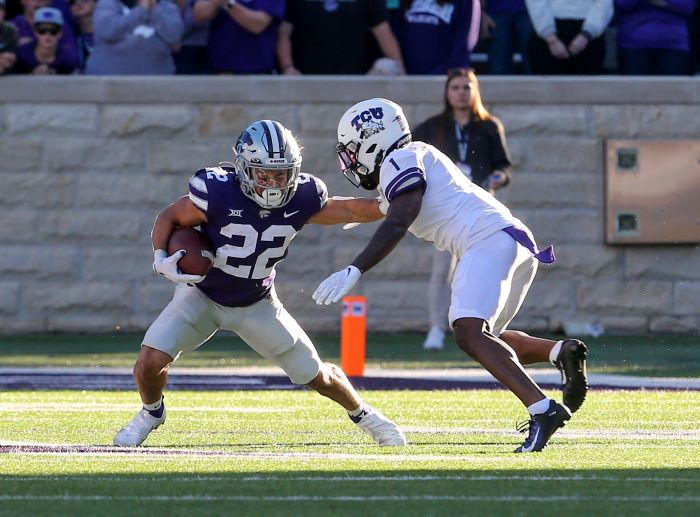 The Week 13 AP Poll was released on Sunday with three Big 12 teams ranked. TCU led the way at No. 4 after a stunning comeback win over Baylor on Saturday. Kansas State rolled over West Virginia to reach No. 15, while Texas re-entered the Top 25 after a huge win against Kansas.
Around college football, Five other AP-ranked teams lost over the weekend. No. 5 Tennessee was blown out against South Carolina, which completely shocked the nation and could have major ramifications for the eventual College Football Playoff. No. 13 North Carolina (21-17 vs. Georgia Tech), No. 14 Ole Miss (42-27 vs. Arkansas), No. 17 UCF (17-14 vs. Navy), and No. 24 Oklahoma State (28-13 vs. Oklahoma) also lost on Saturday.
Top 25 AP Poll
1. Georgia
2. Ohio State
3. Michigan
4. TCU
5. USC
6. LSU
7. Clemson
8. Alabama
9. Tennessee
10. Oregon
11. Penn State
12. Washington
13. Notre Dame
14. Utah
15. Kansas State
16. Florida State
17. UCLA
18. North Carolina
19. Tulane
20. Ole Miss
21. Cincinnati
22. Oregon State
23. Coastal Carolina
24. Texas
25. UCF
Oklahoma State fell from the rankings after losing to Oklahoma on Saturday. The Pokes were the only other Big 12 team to receive votes (2) from the AP Poll voters.