Baylor Bears
Big 12 Football Week 13 Power Rankings: TCU, K-State in Control, Oklahoma State Reeling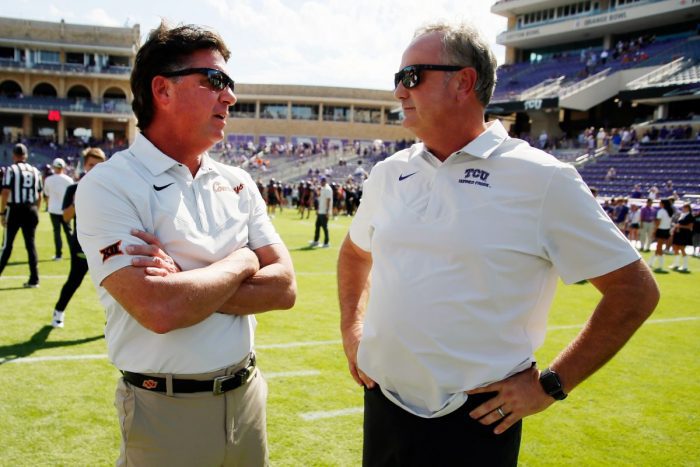 The 2022 college football season wrapped up Week 12 and the Big 12 season is heading down the home stretch. There were five games this week, with TCU beating Baylor 29-28, Kansas State rolling West Virginia 48-31, Texas crushing Kansas 55-14, Texas Tech beating Iowa State 14-10 and Oklahoma holding off Oklahoma State 28-13.
So now it's time for our Big 12 Power Rankings. Here's a reminder on how I've done this for years: It's about how your team looked and how it played, not always about if your team won or lost. And last week's rankings have little impact on this week's. That's what makes this fun. These are also not predictions for the way the season will end, just a Power Rankings based on the most recent performances.
1. TCU Horned Frogs (Last Week: 1)
Well, it wasn't looking good with just a few minutes to play, but TCU came back from being down 28-20 to score twice on their final two possessions for a 29-28 win over the Baylor Bears on Saturday in Waco to maintain their perfect season at 11-0. Max Duggan earned himself a trip to New York City for the Heisman Trophy ceremony after that performance down the stretch.
2. Kansas State Wildcats (Last Week: 2)
Kansas State is playing arguably the best football in the Big 12 Conference right now. TCU fans will scoff at that, but they shouldn't. The Wildcats have absolutely dominated their competition as of late against Oklahoma State, Baylor and West Virginia. Yes, they lost to TCU and Texas, but it's fair to wonder if K-State's season would have gone differently had they started Will Howard in each of those two games. He's been the difference in opening up this offense in a way it can't under Adrian Martinez.
3. Texas Longhorns (Last Week: 3)
Well, Texas is right in the thick of the Big 12 race with one game to go. UT did not sleep walk into Lawrence, Kansas on Saturday and got revenge for last year's loss to the Jayhawks. Texas racked up over 400 rushing yards and now Texas needs to beat Baylor on Friday and then hope Kansas can do them a solid and upset K-State and the Longhorns will be playing for a Big 12 Title in Steve Sarkisian's second year on the job. A reminder: Tom Herman played for a Big 12 Championship in his second season at Texas.
4. Texas Tech Red Raiders (Last Week: 4)
The Red Raiders continue to quietly take care of business and are now bowl eligible in Joey McGuire's first year in Lubbock. Kansas' Lance Leipold gets all the praise and is probably the Coach of the Year in the Big 12, but McGuire deserves to be a close second based on what this team has done this season. Tech's defense has been more impressive than at any point in nearly two decades and it was on display in a hard-fought win in Ames on Saturday night in the frigid cold. This team can win in a multitude of ways and its fun to watch.
5. Baylor Bears (Last Week: 6)
Well, the Bears almost got it done. Almost. Baylor had ruined two other 10-0 seasons in the Big 12: K-State in 2012 and Oklahoma State in 2015. But they couldn't quite get it done on Saturday against TCU. The Bears were too conservative on their last two drives, with six rushes for 15 yards, and that gave the Horned Frogs life. Baylor's season has not met expectations, but they can still end on a high note with a win over Texas on Friday.
6. Oklahoma Sooners (Last Week: 9)
The Sooners may be having a down season, but three things can be guaranteed for OU fans: Death, taxes and beating Mike Gundy. It was an ugly game and despite the win, it's fair to wonder what the heck happened to Oklahoma's offense in the final three quarters, but you take the win, and the fact that OU is now bowl eligible, and try to wrap up the season with a win over Texas Tech in Lubbock on Saturday.
7. Oklahoma State Cowboys (Last Week: 5)
The Pokes have really hit the skids in the second half of the season. Mike Gundy is now 3-15 in his career against Oklahoma. No matter what, Gundy just can't figure out the Sooners. It feels mental as much as anything. One can be grateful for all his accomplishments and still be bothered by these continued letdowns against their in-state rivals. And or this season, no doubt injuries have played a factor, but there's more to it than that, and much of it starts on the offensive line. What a mess.
8. Kansas Jayhawks (Last Week: 7)
Kansas has now lost five of six games and their worst performance of the season, possibly under Leipold, came on Saturday in their 55-14 loss to Texas. KU looked flat and like the less-motivated team than Texas. The run defense has been abysmal for most of the season and that was on full display again on Saturday, giving up over 400 rushing yards to the Longhorns. Now, KU tries to end the regular season by spoiling K-State's bid at making the Big 12 Title game.
9. West Virginia Mountaineers (Last Week: 8)
The Mountaineers were basically no-shows on Saturday against Kansas State. Garrett Greene was kept in check with just 17 rushing yards after coming in and rushing for 119 yards against Oklahoma the week prior. The defense couldn't slow down the Wildcats. When does all this end for Neal Brown?
10. Iowa State Cyclones (Last Week: 10)
Yikes. Make it six of seven losses by one score or less. This season was expected to be a bit of a "reset" for Iowa State. But with how these games have gone down, and the struggles on offense, may require more of a self-reflection period in the off-season. We'll see what happens.