Baylor Bears
Iowa State Enters Top Five of AP Top 25 Women's Poll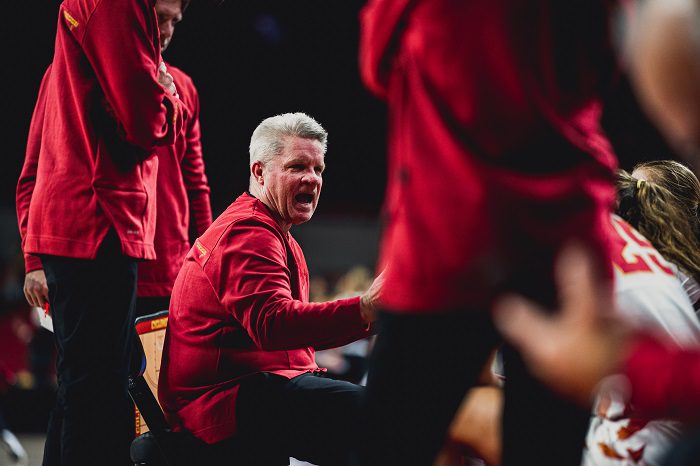 The Big 12 managed to keep four teams in the AP Top 25 Women's Basketball Top 25, released on Monday after Week 2 of the season.
Those teams included:
Iowa State at No. 5 (No. 7 last week);
Texas at No. 19 (No. 3 last week);
Baylor at No. 21 (No. 17 last week);
Kansas State at No. 25 (unranked last week)
Kansas received 25 votes in the preseason poll and received 11 votes on Monday. Oklahoma went 2-1 last week but fell 124-78 to Utah and ultimately fell out of the rankings after coming into last week at No. 16. The Sooners are receiving 69 votes in this week's poll
Iowa State (4-0) won both games last week, defeating Northern Iowa, 88-85, and Columbia, 99-76. Now, the Cyclones are headed to Portland, Ore., for the Phil Knight Tournament where they will open against Michigan State on Thanksgiving Day.
Texas (1-3) had a brutal week, losing all three games – vs. UConn (86-76), vs. Marquette (68-61) and Louisville (71-63), all without starting point guard Rori Harmon, who is out due to injury.
Baylor (3-1) beat SMU, 58-55, a game in which it lost Aijha Blackwell to injury. She wasn't available for Sunday's loss to Maryland, 73-68.
Kansas State (5-0) beat a top-five Iowa team last week in an 84-83 thriller and that combined with wins over URTGV (70-45) and Utah Tech (91-82) was enough to elevate them into the AP Poll.
This week's AP Top 25 women's poll looks like this:
No. 1 South Carolina, No. 2 Stanford, No. 3 UConn, No. 4 Ohio State, No. 5 Iowa State, No. 6 Indiana, No. 7 Notre Dame, No. 8 North Carolina, No. 9 Iowa, No. 10 Louisville, No. 11 Virginia Tech, No. 12 LSU, No. 13 North Carolina State, No. 14 Maryland, No. 15 Arizona, No. 16 Creighton, No. 17 Utah, No. 18 Oregon, No. 19 Texas, No. 20 UCLA, No. 21 Baylor, No. 22 Michigan, T-No. 23 Tennessee, T-No. 23 Villanova, No. 25 Kansas State.
Big 12 teams receiving votes: Oklahoma (69), Kansas (11)
You can find Matthew Postins on Twitter @PostinsPostcard.