Big 12 News
Mike Gundy Explains How College Football's Future Could Resemble the NFL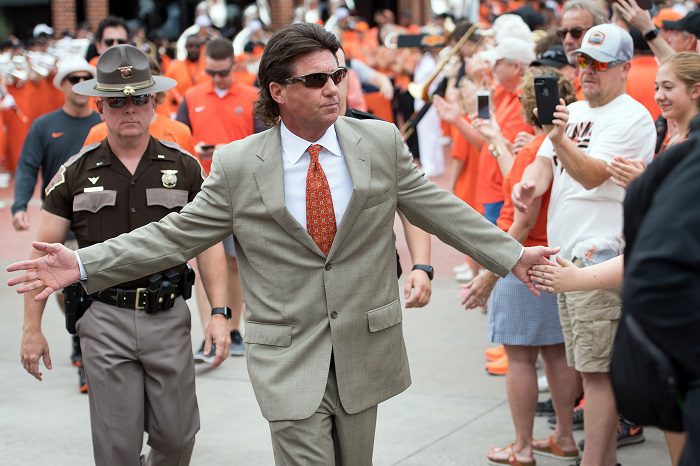 There's no doubt that college football feels like it's becoming less "college athlete" and more "professional athlete" by the day. Obviously, there are billions of dollars tied to the sport, which means the professionalization will happen whether we like it or not.
And during his weekly press conference on Monday, Oklahoma State head coach Mike Gundy told reporters what he predicts the future of college football to look like.
Gundy said, "College football is going to turn into the NFL. You're going to have a scouting service just like they do in the NFL."
Gundy believes football programs will eventually get to the point where they will have a dedicated staff to travel on a weekly basis and scout prospects at the high school level, similar to how NFL teams have scouts who travel to college games to watch players as evaluate them for the next level.
College football staffs continue to grow and get millions of dollars of investments at the top programs in America. And as the money involved with the schools continues to grow, especially with the next TV contracts that begin in the coming years when SEC and Big Ten teams will end up making over $80 million per year per school and the Big 12 in the $50 million range, these are the kinds of investments that are likely to happen.
As always, Mike Gundy is a step ahead of the curve on these things. If only he could have that same foresight before he plays Oklahoma.