featured
Overreaction Monday: Big 12 the Best Conference, TCU Playoff Lock, Oklahoma's Biggest Win Since 2020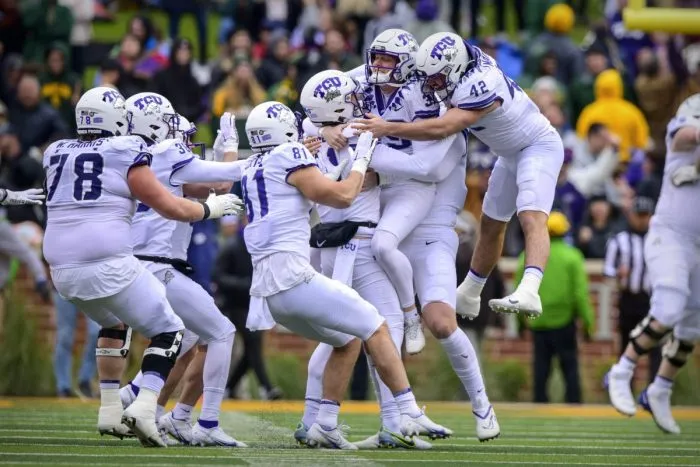 Every Monday during the college football season, fans of teams across the country return to work and discuss the events of the weekend with their coworkers. Around the water cooler or coffee machine, overreactions are born as suddenly one team is now a national title contender (they're not) and another's season is over after a tough loss (it isn't).
Let us sift through the rumors, false allegations, and straight-up nonsense for you this season with overreaction Monday, where we tell you whether you need to cool the jets or you legitimately have something to worry about.
Top-to-Bottom, the Big 12 is the Best Conference in College Football
Not an Overreaction. The Big 12 will have 80% of its league in bowl games this postseason after the Oklahoma Sooners and Texas Tech Red Raiders locked up bowl eligibility this week. Only Iowa State and West Virginia will miss out on bowl season, and what's amazing is that neither of those teams are "bad" football teams. According to ESPN's Football Power Index, Iowa State comes in a No. 28 while West Virginia comes in at 57th overall. The Big 12's average FPI ranking comes in at 22.9, meaning that the average Big 12 team ranks 22nd in the country according to ESPN's metric. There literally aren't any weeks off in this conference, and that has proven itself all season long. Underdogs in this league have gone 15-25 straight up in conference play. That's true conference depth, which is just another reason why Steven A. Smith and Paul Finebaum's comments about TCU are asinine.
TCU is a Playoff Lock After Baylor Win
Overreaction. Look. To be fully transparent I think TCU is making the College Football Playoff field, but to call them a lock at this point is a bit hasty. The Horned Frogs must beat Iowa State and then likely K-State for the second time in the Big 12 Championship game. That's gonna be a tough matchup, as the Wildcats are playing some good football right now. The clutch win over Baylor gets TCU one step closer, but let's not call them a lock. The other worry that I have is the rest of the field. I can guarantee that LSU will find its way into the field if it finds a way to beat Georgia in the SEC championship, and the Bulldogs won't be left out with one loss on the year. Plus, USC is going to rise to No. 5 in tomorrow's rankings and will be breathing down TCU's neck if they can win a Pac-12 title and finish 12-1. TCU will get the nod if it goes 13-0, but don't be surprised if there is some debate about it if other things happen around them.
Oklahoma's Bedlam Win is its Biggest Since 2020
Not an Overreaction. The Sooners picked up a 28-13 win over Oklahoma State on Saturday to get them to 6-5 and bowl eligible for the 23rd consecutive year. The win for Oklahoma was its biggest of the last two seasons, and its not really that close. Sure, the Alamo Bowl win over Oregon and the Red River comeback over Texas in 2021 were big wins, but beating No. 22 Oklahoma State in Bedlam will have a much larger impact on the Sooners' future. Oklahoma had nearly 30 visitors in Norman this weekend and a good majority of them were defensive prospects. Oklahoma's defensive performance on Saturday night was its best of the season and perhaps the best performance its had in the last few years. That will impact how the Sooners finish out their 2023 class in a big way, and this win might have just saved Oklahoma a lot of grief going forward. While OSU might not have been the best team its played since then, this was the biggest win because it will give Oklahoma ~15 bowl practices that will be crucial for its development going forward.