Big 12 News
Lance Leipold, Kansas Agree to Contract Extension Through 2029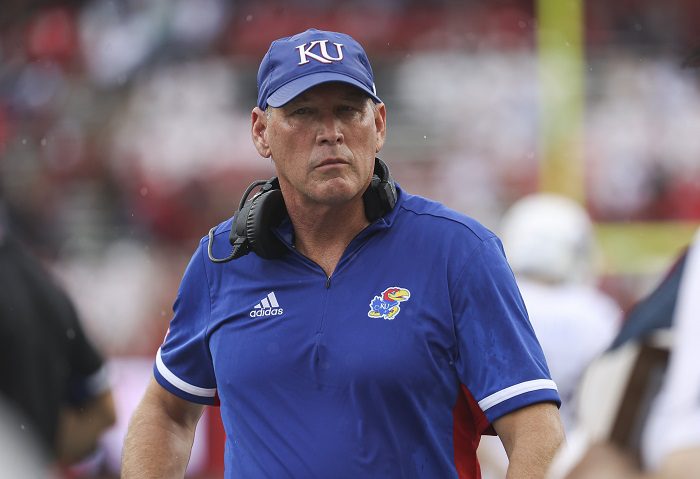 The University of Kansas and head football coach Lance Leipold have agreed to terms on a new contract that includes an extension through the 2029 season, according to ESPN.
In just his second season in Lawrence, Leipold has led the Jayhawks to a 6-5 record and its first bowl game since the 2008 season.
Leipold took over during an incredibly difficult time for Kansas football following Les Miles' ugly departure, which included a 3-18 record over two seasons. During his first year on the job in 2021, Leipold led the team to its signature win over the Texas Longhorns in Austin, who they were 31-point underdogs against, which also snapped a 56-game conference road losing streak.
Then, this season, KU began the year 5-0 and then hosted College GameDay, the first time the ESPN program had ever come to Lawrence for a football game. Kansas lost that game to TCU, and have lost five of their last six, but that has not stopped Leipold from being connected to multiple job openings, most notably Nebraska and Wisconsin, where he both has ties.
Leipold came from Buffalo, where he had coached since 2015. His time there was preceded with six national titles at Division III Wisconsin-Whitewater, where he went 109-6.
Leipold's extension shows the university is serious about football after over a decade in the basement of the Big 12 Conference. Leipold has done what none of his predecessors, Turner Gill, Charlie Weis, David Beaty and Miles, could do, and that's revive the program after the firing of Mark Mangino in 2009. In October, the school announced a stadium overhaul project and other facility improvements that are expected to cost more than $300 million.
This is Leipold's second extension this season; the school announced an extension through the 2027 season in September.