featured
TCU Holds Steady at No. 4, K-State, Texas Climb in Latest College Football Playoff Rankings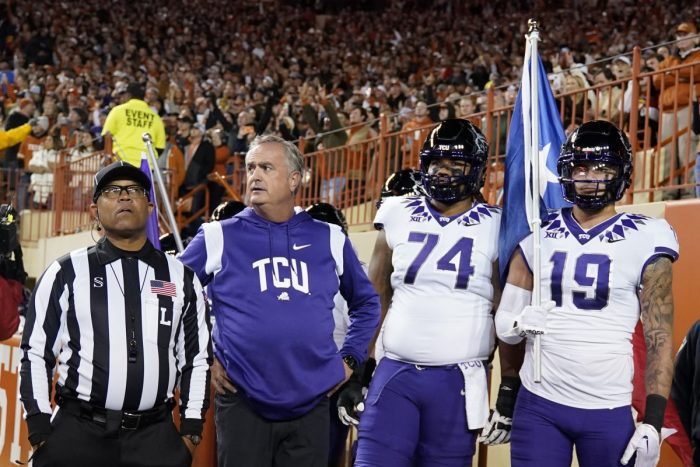 The TCU Horned Frogs eeked out a 29-28 win over the Baylor Bears on Saturday and in doing so retained their spot at No. 4 in the latest College Football Playoff rankings, which were released on Tuesday night.
TCU is ranked behind Georgia, Ohio State, and Michigan again this week, as it has been since it ascended to No. 4 two weeks ago. The Horned Frogs will host Iowa State this weekend ahead of the Big 12 Championship game next weekend, in which they will play either Kansas State or Texas.
The biggest loser in this week's rankings is Tennessee, which came into the week ranked fifth, but after a 63-38 loss to South Carolina, the Vols are no longer breathing down TCU's neck as they fell to No. 10.
Kansas State climbed a few spots from No. 15 in last week's poll to No. 12 this week and will face unranked Kansas with a spot in the Big 12 Championship on the line.
Texas is the final team Big 12 team in the College Football Playoff rankings, coming in at No. 23 after a 55-14 win over Kansas last weekend. With a win over Baylor and a Kansas State loss, the Longhorns will get a second chance at TCU in the Big 12 Championship.
Oklahoma State dropped out of the rankings after its 28-13 loss to Oklahoma last week in Bedlam.
Here's a look at the entire College Football Playoff rankings.
Georgia (11-0)
Ohio State (11-0)
Michigan (11-0)
TCU (11-0)
LSU (9-2)
USC (10-1)
Alabama (9-2)
Clemson (10-1)
Oregon (9-2)
Tennessee (9-2)
Penn State (9-2)
Kansas State (8-3)
Washington (9-2)
Utah (8-3)
Notre Dame (8-3)
Florida State (8-3)
North Carolina (9-2)
UCLA (8-3)
Tulane (9-2)
Ole Miss (8-3)
Oregon State (8-3)
UCF (8-3)
Texas (7-4)
Cincinnati (9-2)
Louisville (7-4)