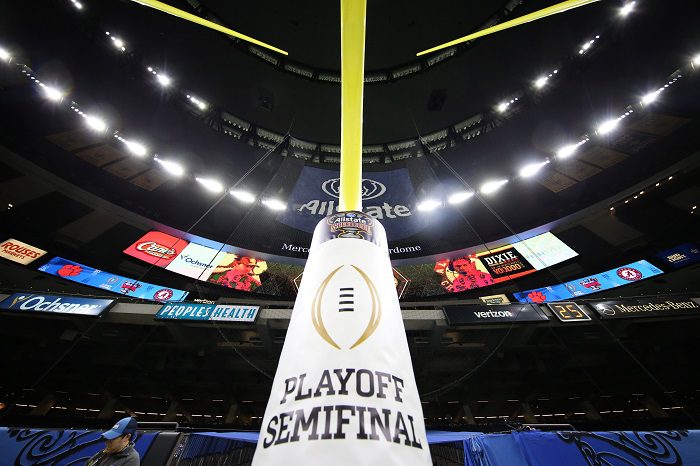 The month of November brings many things in the world of college sports. College football is in full swing, the start of college basketball begins and then of course we get the College Football Playoff rankings every Tuesday night.
There have been plenty of head scratching moments from the playoff committee on a weekly basis so I thought it would be fun to share my three thoughts on this week's playoff rankings.
1. TCU Needs Two More Wins
For the third straight week, the TCU Horned Frogs are ranked as the number four team in the country. They are coming off a huge nail-biter win over Baylor last Saturday when Griffin Kell drilled a 40-yard field goal as time expired to give his team the victory. After that wild win, TCU became the first Big 12 team in the College Football Playoff era to start 11-0. Going into the final week of the regular season, the Frogs are taking on a 4-7 Iowa State team at home. They are already in the Big 12 title game where they will face either Kansas State or Texas. Not only do they need to take care of business this Saturday against the Cyclones, but they need to win a Big 12 championship as well to get into the College Football Playoff. No matter what the talking heads on ESPN say, this is a top four team in college football and it's about time some of those doubters show some respect.
2. Kansas State Keeps Climbing
Despite losing three games, Kansas State was ranked fifteenth last week and moved up three spots after beating West Virginia in Morgantown. The Wildcats remain as the highest ranked three loss team in college football. I keep saying that I am surprised at the amount of respect the committee has for a three loss Big 12 team not named Texas or Oklahoma. Kansas State is a good football team and Will Howard has made them a very dangerous one who can knock off anyone. If they can beat Kansas on Saturday, then they will punch their ticket to Arlington. As good as TCU is, I would not want to play Kansas State right now because they are red hot.
3. Texas is Back
Don't let the headline fool you because Texas isn't back as a program, they are just back in the top 25. After putting a beatdown on Kansas where they rushed for a whopping 427 yards, the Longhorns snuck their way back in the rankings. Even with their 7-4 record, they are ranked ahead a 9-2 Cincinnati team and a 7-4 Louisville team. While it may not seem like a big deal right now, this is a big deal for head coach Steve Sarkisian. Even if Texas doesn't make the Big 12 championship game, they will be going to a bowl game where they could have a shot to finish the 2022 season ranked inside the top 20. Or if Kansas State somehow loses this weekend and if Texas beats Baylor, then they will find themselves in the Big 12 title game. As crazy as it sounds, this Texas team could win a Big 12 title and a NY6 bowl game. That is a long way from last year's 5-7 record.