Baylor Bears
Tirade Tuesday: Oklahoma State Reeling, Two Big 12 Teams Staying Home for Bowl Season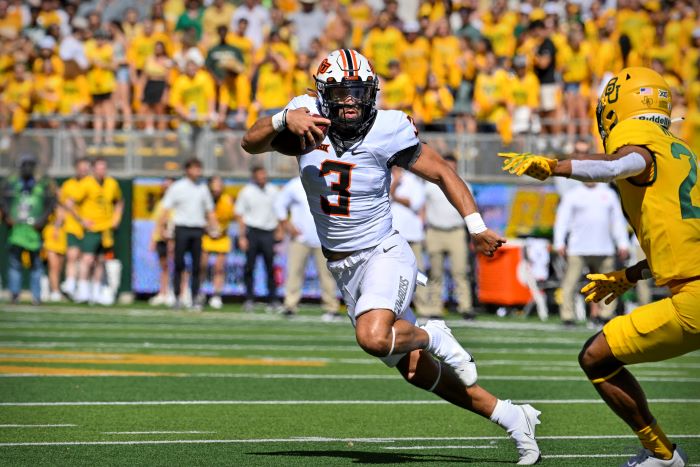 The Oklahoma State Cowboys are coming off a 28-13 loss to their in-state rivals, and the infamous Bedlam record has now climbed to 91-19-7, which I am sure Pokes' fans have been reminded of already this week.
The good news for Oklahoma State is that they reached bowl eligibility before they started to spiral out of control, which isn't something that Iowa State and West Virginia can say. 80% of the Big 12 will make a bowl trip this postseason, but the Cyclones and Mountaineers will have to sit at home and watch everyone else have fun.
That leads me to this week's tirade(s), which in this case, have some validity.
Oklahoma State SO DONE with Oklahoma
Despite Oklahoma coming into this game at 5-5, the Sooners again dominated a Mike Gundy-led Cowboys team, which leaves the Pokes' head coach with a 3-15 record against OU. Oklahoma State is now 7-4 on the season and has lost four of its last six games in 2022.
Outside of his record agaisnt OU, Mike Gundy is the best thing that has ever happened to Oklahoma State football. He has established a winning culture in Stillwater and has made the Pokes one of the Big 12's most successful programs.
Because of that, Oklahoma State fans are rejoicing after their latest Bedlam loss and are just glad that Oklahoma is SEC-bound before too long.
After asking a few Oklahoma State fans their thoughts on the Sooners leaving, this is a sentiment that is fairly common around Stillwater. Oklahoma State fans are happy that the Sooners are moving on because it gives them room to breathe and expand from under their rivals' shadow. Plus, more often than not, Bedlam has been an automatic loss on their schedule, so having that issue removed is actually a good thing.
Unfortunately for HalftimePhil, I'm afraid he will have to suffer one more Bedlam than he is anticipating, as it seems pretty cut and dry that Oklahoma is sticking around until the 2025 season. That means one more grueling trip to Norman before the Pokes reach the promised land, and likely at least one more string of posts like this (NSFW).
Iowa State's Offensive Woes Must Go
Iowa State lost its seventh game of the season on Saturday, falling to Texas Tech, 14-10. With that loss, the Cyclones will miss a bowl for the first time since Matt Campbell's first year in Ames (2016).
The offense in Ames has been very bad, which is a shame because the defense remains one of the nation's best, ranking eighth nationally in total defense.
Offensive coordinator Tom Manning is in hot water with the fan base, and for good reason. Iowa State has averaged 20.7 points per game and just 103.4 rushing yards per game. That simply won't get it done in a confernce chock-full of offensive guru's like Sonny Dykes, Steve Sarkisian, Jeff Lebby, and Zach Kittley.
During Saturday's game, Iowa State fans took to Twitter to let the world know how bad Manning's play-calling was going against Texas Tech.
Iowa State will now face No. 4 TCU and will be staring a 4-8 finish in the face if they dont find a way to pull off their biggest upset of the season.
Neal Brown's Time in Morgantown is Coming to an End
After a 48-31 loss to Kansas State, West Virginia head coach Neal Brown has likely coached his last game in Morgantown and will don the WVU logo for one more game this season in Stillwater, Oklahoma.
Brown has accumulated a 21-25 record as the Mountaineers' head coach, which simply isn't good enough compared to what WVU has seen in recent history. It wasn't that long ago that the Mountaineers were competing for a spot in the Big 12 championship, but right now that seems like such a distant reality.
It's time for a reset in Morgantown, and WVU fans have made that much clear.
It likely won't happen until after New Year's, but Neal Brown won't be the head coach at West Virginia in 2023. That much is certain with Shane Lyons getting the boot last week.
Bonus Content: Baylor Fan Ready to Show Dave Aranda the Door
Unlike the other teams on this list, I just don't see any merit to this argument. But, if BaylorGuru says it, then it must be true. Lol.