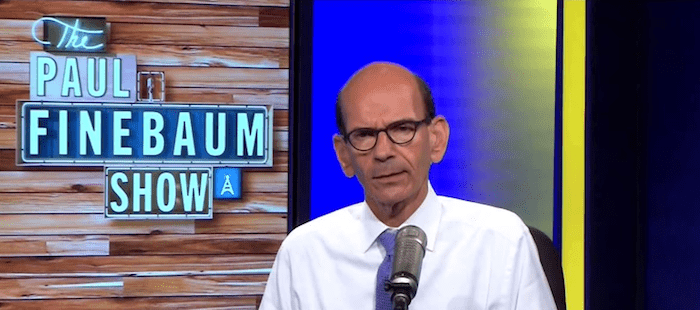 On Tuesday, ESPN personality Paul Finebaum took his second shot in as many weeks at the TCU Horned Frogs and the Big 12 Conference.
During an appearance on ESPN's First Take, Finebaum, Stephen A. Smith, and Keyshawn Johnson were discussing the possibility of USC getting into the College Football Playoff. During Finebaum's answer, he brings up TCU, saying, "Assuming TCU continues to win in the Big 12, they have Iowa State and then the Big 12 Championship Game, which none of us are going to be watching very closely."
It was a predictable dialogue from one of ESPN's most biased employees, but the length at which he went to take shots at the Big 12's credibility didn't go unnoticed.
On Wednesday, the Big 12 Conference caught wind of what Finebaum had to say and promptly put the talking head back in his place with something that he doesn't like to use to back up his statements: facts.
So, while PAWL is busy drinking all the SEC Kool-Aid that he can get, the rest of us will gladly see things through a reasonable perspective. An 11-0 TCU is every bit as worthy of a playoff spot as an 11-0 Georgia, an 11-0 Ohio State, or an 11-0 Michigan.
Undefeated Power Five programs are rare, and the Horned Frogs have worked their way through one of the most competitive leagues in the country. While teams like Alabama and LSU were playing Austin Peay and UAB, the Horned Frogs were playing Baylor in their ninth-straight week without a bye, and beat their rivals 29-28 to get to 11-0.
The fact that Finebaum continues to throw mud at the Big 12 is a bit offputting, considering that ESPN and the conference just inked a new media rights deal that lasts through 2031. It's people like Finebaum that have driven a wedge between ESPN and the Big 12 over the years, and until his tune changes, it will likely continue to be that way. However, one thing has been made clear today: the Big 12 won't stand for the slander anymore.