Trending Now
Joel Klatt on CFP Committee: 'No One Trusts What's Going On'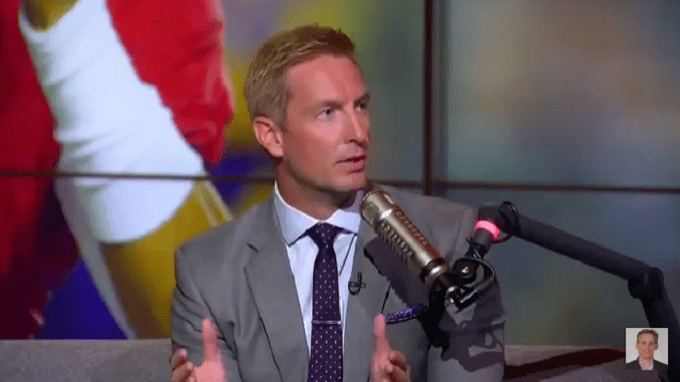 At this point we've all had an issue, at one point or another, with the College Football Playoff committee and the process by which it ranks the Top 25 over the last month of each season since its implementation.
In 2014, both Baylor and TCU were left out of the College Football Playoff at 11-1 each, because neither was deemed the true Big 12 Champion.
We've seen a one-loss Alabama get into the playoff twice without a conference championship, which directly contradicts the issue that kept out the Big 12 teams nearly 10 years ago.
Fast forward to 2022 and we see a two-loss LSU team, who has a 27-point home loss to Tennessee on its resume, ranked fifth in the latest CFP Poll. If that's not an SEC bias, I don't know what is.
Clearly, things need to change, and they will when the 12-team playoff is greenlit in 2024 (hopefully), but what will we do until then? Because, as FOX's Joel Klatt points out, we just can't trust the committee to do the right thing at this point.
"I don't believe it's very good for college football when the process that crowns our ultimate champion starts to get eroded from within because nobody trusts what's going on," Klatt said of the CFP committee. "Now some would say, 'hey, it's just for entertainment, it's just because we've got a put these on television every week, and so hey, it doesn't really matter.' But I've argued for a long time it that it does matter. It matters where you're ranked. It matters in particular in a subjective sport, in a sport in which perception is a really strong currency for a coach when he's out on the recruiting trail, it matters how people think about your team, and/or the entire process of what's going on.
"When you show that there is not a rhyme or reason, then people start to distress the process. There are a lot of people, and you might be one of them listening to this or watching this, that distrust the process for the college football playoff, and candidly I can't tell you that you're wrong. When you see what's gone on, first and foremost, is nothing's really changed for the last couple of weeks and you might be thinking of yourself, 'well that's fine, we don't want it jumping all around.' Okay, maybe. But we've also seen games and college football does not happen on a nice linear path, right? There are adjustments made, teams play well, they play worse, there are injuries that happened, opponents come and go, quality opponents, not-so-quality opponents. Because of that, your résumé and the evaluation of each program needs to change on a weekly basis. That's the way I try to do it and I think this committee should start to behave that way, because right now it honestly just looks like you 12 (speaking directly to the committee) waste a bunch of money to fly to Dallas, drink a bunch of free coffee, probably have a free dinner, eat a bunch of free scones, and then just put out exactly what you did before. Regardless of what happened on the field.
"See, that's not good for the sport now is it? I don't think it is. It's pretty clear that this committee values their own opinion a great deal and, quite frankly, over the last couple of weeks we've seen things that have happened, games that have played out, teams that have played specific types of opponents, that should adjust what you think, and if it doesn't, then that's a problem."
It's hard not to agree with Klatt's perspective, especially when I cover the Big 12 on a daily basis and hear the kinds of things that I do coming from ESPN's talking heads like Paul Finebaum. It's time for changes to be made to the committee. Let the BCS computer model rank the teams, and implement the playoff field using the computer's rankings. Take opinions out of the matter and do this the right way, not the way that gives ESPN the best ratings come Playoff time.