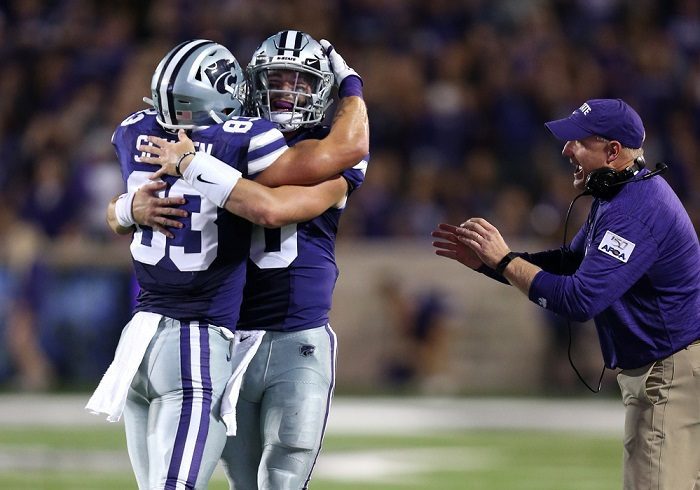 There is never a lack of storylines to write about during Sunflower Showdown week. The biggest storyline in the game is that if K-State wins, they will play TCU in the Big 12 Championship game. Win, and they're in, as they say. For that alone, the stakes could not be higher.
As I drove around Kansas City at work today, I found myself in a bad part of town. Trying to take a shortcut from Westport to a destination east of the city is not always the best idea. But I digress.
I am hosting my Thanksgiving for my family again this year, and all I could think about was how stressed I am about the day tomorrow, wondering what I already have and still need to get from the store. I was deep in my thoughts as I witnessed two homeless gentlemen sitting on a curb sharing food wrapped in some tin foil. Then it hit me. Why am I stressing and worrying about hosting the perfect Thanksgiving when there are people in this world that do not have a Thanksgiving? I should be happy that I have a family to spend time with that has plenty of food on the table. So I scrapped any ideas I had for writing about the game and decided I would do a Thanksgiving-themed piece about what I am thankful for this Thanksgiving. With a K-State sports edge to it, of course.
If you are like me, your parents went around the table on Thanksgiving and made everyone say what they are thankful for. I always hated it, but it is a good exercise to verbalize, and in this case, write about, what you appreciate and how blessed you are. I will keep this K-State and sports-themed since that is what I write about.
Here is what I am thankful for this Thanksgiving:
I am thankful that Chris Klieman is K-State's head football coach. It could have been Neal Brown, and look what has happened at West Virginia. Brown is about to get fired, and Klieman has K-State in a great position to win the Big 12 in his fourth year on the job. I would call that exceeding expectations.
I am thankful that K-State has Gene Taylor as its athletic director. He hired Chris Klieman, which may end up being a homerun hire, and followed that up with the hire of Jerome Tang, which may be another homerun hire.
I am thankful that Jerome Tang is K-State's basketball coach. What a breath of fresh air he has been for K-State basketball fans. He has assembled a rock-star coaching staff and put together a very athletic and talented roster in a short time. This team will likely make the NCAA tournament this season, exceeding everyone's expectations.
I am thankful that K-State remains a member of the Big 12. Conference realignment got hairy once again in the past 12 months, but the Big 12 has survived once again and remains a player on the national stage even after losing Texas and Oklahoma. The Big 12 may be the best basketball league in the country, too.
I am thankful that K-State has a winning football program. College football is my favorite sport, and K-State winning makes it that much more fun. There are only a couple games left this season, but this has been one of the most enjoyable football seasons I can remember.
I am thankful to Pete Mundo and the Heartland College Sports staff for allowing me to be a part of this operation for over two years now. Pete and his staff have been nothing but supportive of me and these guys give me a lot of "likes," "shares," and "retweets." I appreciate it.
I am thankful for my readers. It is not easy doing what I do, especially in the current social media climate. It's easy to get discouraged, but every positive comment that I get keeps me going. I always tell people that I love sports WAY too much, but it is one of my passions, and I love that I have a couple of outlets to write about it.
I am thankful for my podcast partner, Reggie Blackwell. (Can I shamelessly plug my podcast? Guess we'll find out.) Public speaking was never my "thing," but Reggie has been very encouraging and supportive of me. We keep getting positive feedback, so I guess we are doing something right.
Happy Thanksgiving, everyone. Enjoy the day, and thank you for being great K-State Wildcat and Big 12 fans.
Oh, I almost forgot: K-State 41 Kansas 20.