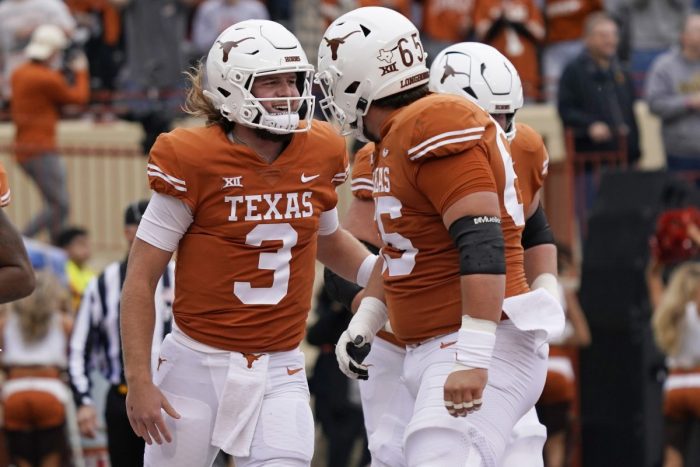 It's the final week of the college football regular season and the Texas Longhorns were hosting the Baylor Bears in Austin, Texas on Black Friday. Texas still had hopes of reaching the Big 12 Championship Game, as they needed to win this game and then hope for a Kansas upset of Kansas State on Saturday night. Meantime, Baylor was out of the Big 12 Title race, but was looking to improve its positioning for a bowl game and finish the regular season above .500.
These two teams have played close games the last decade, with five of the past 10 decided by one score or less. And on Friday, it was as close game throughout until Texas pulled away late for a 37-28 win over Baylor.
Here are three thoughts on the game.
1. Lead Change After Lead Change
This game featured six lead changes on Friday in Austin, highlighted by safeties, turnovers for scores and more. Baylor jumped out to a 9-0 lead thanks to an early safety and then a touchdown following the safety. But Texas would not be deterred, responding with two-straight touchdown drives, one 75-yard drive capped off with a Quinn Ewers three-yard touchdown run, and then UT took advantage of a short field with a Bijan Robinson two-yard run to finish the 29-yard drive and take a 14-9 lead. Baylor ended the first half with a five-play, 45-yard drive for a touchdown, ending with a Blake Shapen 14-yard score to Ben Sims, which put Baylor back on top 19-17.
In the second half, the fireworks really picked up. Texas went 78 yards in 10 plays late in the third quarter with Roschon Johnson running it in from the one-yard line to give Texas a 24-19 lead. Two drives later, Texas had the ball at its own 33-yard line, Quinn Ewers was sacked by Al Walcott, who forced a fumble and it was recovered by Gabe Hall for a touchdown as Baylor went on top 27-24 after the two-point conversion.
But Texas responded again, as the Horns rolled up an 11-play, 74-yard drive with Bijan Robinson finishing off the drive again with a short touchdown run to go up 31-27 with 8:25 remaining. And that would be the final lead change of the day as Texas tacked on some insurance for a 38-27 victory.
2. Texas Stays in the Big 12 Title Race
First off, 8-4 sounds a lot better than 7-5 for Steve Sarkisian in Year 2 on the job at Texas. 7-5 would have been a huge disappointment for a team that was 6-3 going into the TCU game at home with a solid chance of reaching a Big 12 Championship.
Now, they're at the 8-4 mark, which is a big improvement over last year's 5-7 season and still can reach the Big 12 Title if Kansas pulls off the upset over Kansas State in the Sunflower Showdown on Saturday night in Manhattan.
Some Texas fans may look at this as still a disappointing season given the talent on the roster, but it's very clear this team made big progress in Year 2 under Steve Sarkisian and while they await Saturday night's results, Longhorns fans should feel like this program is trending in the right direction, regardless of the outcome in the Little Apple.
3. Baylor's Disappointing Season Ends
Some of us thought (myself included) Baylor could run it back as Big 12 Champions this season, but that was wishful thinking as the Bears finished 6-6 (4-5) in Year 3 under Dave Aranda. And to make matters worse, Baylor ended the regular season with a three-game losing streak against Kansas State, TCU and Texas. Granted, that's as tough as stretch as there is in the Big 12 this season, and they nearly pulled off the upset against the Horned Frogs, but 6-6 were not the expectations in Waco based on the talent returning and coming in for this team.
With that being said, two things can be true at once: 1) This season was a disappointment. 2) Dave Aranda is a great fit for Baylor and the fanbase should be thankful for him this Thanksgiving weekend.